En savoir plus sur Sortly
Sortly Pro est une solution cloud de gestion des stocks qui s'adresse aux petites et moyennes entreprises de divers secteurs. Les fonctionnalités clés comprennent le suivi des activités, le suivi des emplacements, la gestion des stocks, les codes-barres et les pistes d'audit. Sortly Pro permet aux utilisateurs d'ajouter des notes ou des étiquettes aux articles, ce qui les aide à rechercher et à suivre les articles par quantité, prix ou information produit. Les utilisateurs peuvent mettre en évidence des photos pour identifier un objet spécifique et sauvegarder leurs données et leurs ressources. La solution permet également aux utilisateurs d'imprimer des étiquettes QR personnalisables pour les articles et de scanner les codes-barres UPC, ISBN et EAN pour rechercher des articles spécifiques. De plus, les utilisateurs peuvent envoyer des rappels pour les éléments prêtés, pour les dates de retour ou les expirations de garantie et importer des fichiers CSV. Des applications mobiles pour appareils iOS et Android sont également disponibles. Les services sont proposés sur la base d'un abonnement mensuel comprenant une assistance par téléphone et par e-mail.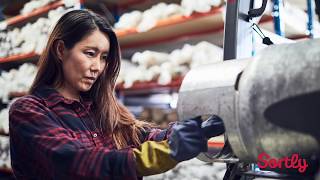 Sortly est disponible en version gratuite et propose un essai gratuit. La version payante de Sortly est disponible à partir de 49,00 $US/mois.
Version d'essai gratuite :
Produits similaires à Sortly
Évaluation des fonctionnalités
Secteur d'activité : Design
Taille de l'entreprise : 11-50 employés
Logiciel utilisé

tous les jours

pendant

6 à 12 mois

Provenance de l'avis
---
Great for small business inventory
We have an enormous amount of holiday inventory that we needed to keep track of with pictures. We use Sortly to help us keep track of what we use each season, which assists us greatly in purchasing of new product for the following season. It also helped immensely to track what items we had sold out of, so we were never in an oversold situation with our customers.
Avantages
Having both the desktop and mobile versions was great. Easy to use, very intuitive and self-explanatory. Allows you to make it as complex or as simple as you need it to be.
Inconvénients
Some small glitches, but those were easily fixed with updates.
Secteur d'activité : Divertissement
Taille de l'entreprise : Auto-entrepreneur
Logiciel utilisé

tous les jours

pendant

plus d'un an

Provenance de l'avis
---
Perfect for Camera Equipment
Sortly pro has been great. I was in the process of designing my own custom app for tracking my equipment, but am glad I didn't go too far down that road before I discovered Sortly.
Avantages
What I love about this software is how flexible it is... if pressed for time I can quickly snap some pictures of what I need to inventory, and come back later to fill in the details. Also, the custom fields really help me fit it into my own systems. Also, the more you use the software, the less time consuming it becomes because the information tends to be already input... now I mostly am just moving things around.
Inconvénients
A lot of what I do is basically "Checking in" and "Checking out" equipment... making sure what SortlyPro says is in the case is actually still there... there's no simple solution for that... but I've worked out my own way of doing it.
I also wish the "History" option worked better for what I do... would be nice to be able to easily see where a piece of equipment has been... but the current format for History is basically a very complicated list.
Secteur d'activité : Immobilier
Taille de l'entreprise : 2-10 employés
Logiciel utilisé

tous les jours

pendant

plus d'un an

Provenance de l'avis
---
Absolutely no customer service
Avantages
Pictures. Would be relatively easy to use with Pugh all the glitches
Inconvénients
Have had nothing but problems with this program. It is very simple programming errors that they seem not to care about or address at all. Every time we have had issues, we try to call, but there is no number they just make you email. However I receive a response saying they will get back to us and then never respond from there. We are basically just communicating with a computer system with no human interaction.
Problems we have: (1) website doesn't communicate with app and is severely delayed. (2) Items don't update when you edit them. For instance, I change a quantity on an item, press save, and it doesn't update. Have to do that about ten times or more for it to register. Causes major problems. (3) when you move like items back into a folder, they don't merge. So if you have 2 of the same item, move one over to a stage, and then move it back, it duplicates the item instead of merging back with the original.
OVERALL LOTS OF PROBLEM AND ABSOLUTELY NO HELP ON BEHALF OF SORTLY. IF YOU ARE LOOKING FOR A BASIC INVENTORY SYSTEM WITH LOTS OF GLITCHES, THIS IS FOR YOU!
Logiciel utilisé

tous les jours

pendant

1 à 5 mois

Provenance de l'avis
---
The App was easy to use and helpful at first, but in the end it did not do everything needed.
I was able to get a pretty solid list of inventory and was able to manage it manually for a few weeks.
Avantages
I liked that I was able to take pictures and scan the product into any folder. I liked that i was able to create as many folders as I needed.
I really liked the style and functionality of the app. It just didnt accomplish everything that my bosses needed.
Inconvénients
I was not able to search through my items by quantity, I would like to know what I am out of so that I can restock what I do not have.
It would be nice to be able to communicate with the other users on the account. I pay for Users, and it would be nice to be able to message them about specific items arriving, through the same app. Maybe a notification system of some sort.
I also wish that it were easier to move items back and forth from folder to folder. It is not as user friendly as it should be when it comes to searching for the folder to move the item into. Specifically on the mobile app because when searching for the destination folder you have to click on just the arrows on the right hand side of the parent folder. Maybe implement a quick touch and a hold down action.
It would also be nice to be able to receive boxes and deliveries and be able to sort them into specific folders automatically, based on what is scanned. So predetermined folders.
Secteur d'activité : Comptabilité
Taille de l'entreprise : 51-200 employés
Logiciel utilisé

tous les jours

pendant

plus d'un an

Provenance de l'avis
---
Great product for what we need
Great experience. Easy to setup, print labels, tag, and track. We know who has what, when. I have recommended this to others as well.
Avantages
Being able to asset track our equipment. We know who has what or what they have checked out quickly and easily.
Inconvénients
I do wish they had the ability to attach multiple assets to a single user without have to set it on each item.