En savoir plus sur Zoho Inventory
Zoho Inventory est une solution cloud de gestion des stocks conçue pour les petites et moyennes entreprises. Elle comprend des modules de gestion des stocks, notamment le reporting et l'analyse, un outil de Vendor Managed Inventory et la traçabilité des lots. La solution est fournie avec une application mobile pour les appareils iOS et Android. Zoho propose des fonctionnalités intégrées d'estimation des expéditions, de suivi et de confirmation de livraison qui permettent aux utilisateurs de facturer, d'expédier et de suivre des produits. La solution permet aux utilisateurs de créer des bons de commande, des commandes en attente et des livraisons directes. Les utilisateurs peuvent suivre chaque élément de l'inventaire avec des numéros de série et une fonctionnalité de suivi des lots. Zoho Inventory peut intégrer plusieurs sites d'e-commerce comme eBay, Etsy et Amazon. Elle est proposée sur la base d'un abonnement mensuel qui est calculé en fonction du nombre de commandes traitées par mois. En tant que produit Zoho, la solution est intégrée à Zoho Finance Suite. et comprend une intégration à Books, la solution de comptabilité de Zoho. La solution est disponible sous forme d'abonnement mensuel.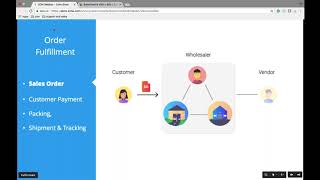 Zoho Inventory est disponible en version gratuite et propose un essai gratuit. La version payante de Zoho Inventory est disponible à partir de 79,00 $US/mois.
À partir de :
79,00 $US/mois
Version d'essai gratuite :
Oui
Produits similaires à Zoho Inventory
Évaluation des fonctionnalités
Secteur d'activité : Services et technologies de l'information
Taille de l'entreprise : 501–1 000 employés
Logiciel utilisé

tous les jours

pendant

plus de deux ans

Provenance de l'avis
---
Track inventory on the go!
Zoho Inventory is highly recommended, affordable and value for money software. Very useful for Micro, small & Medium Enterprises. Awesome if you use Zoho books.
Avantages
Zoho Inventory is a feature loaded tool and following are the gamechanger pros of the tool:
1. Comes with multiple APIs to integrate system
2. Comes with frequent and timely updates
3. GST compliant: HSN and tax rates
4. Easy integration with Zoho Books
5. Easy order and warehouse management
6. Quick and easy dashboarding and pre designed reports
Inconvénients
Zoho Inventory is a fabulous software to manage inventory. Inventory In and Out Manual changes can be more user friendly.
Secteur d'activité : Automobile
Taille de l'entreprise : 2–10 employés
Logiciel utilisé

tous les jours

pendant

1 à 5 mois

Provenance de l'avis
---
Fit Our Client's Needs Very Well
Although it's early the client has a much better grasp of their unique inventory management challenges and have been quickly adapting to a much more comprehensive solution that is ultimately easier to use
Avantages
Our client, a trucking parts supplier, needed a warehouse/ inventory management system that would integrate with their new Shopify sales channel. The seamless integration and robust features of the software are what fit the bill for this particular business situation perfectly.
Inconvénients
For the Canadian market the accounting module of Zoho has some minor shortcomings when compared with more popular accounting solutions in the region.
Pourquoi choisir Zoho Inventory 
The accounting that the company had been using was not sufficient to manage their complex supply chain and multiple selling channels. Staying with the existing software would require a custom integration solution that would have been financially prohibitive for the company at this time. Zoho came with the features and integrations that were required for a small fraction of the comparative costs.
Pourquoi passer à Zoho Inventory
The main factors were the excellent integration with Shopify, as well as the attractive pricing
Secteur d'activité : Meubles
Taille de l'entreprise : 2–10 employés
Logiciel utilisé

Autre

pendant

plus de deux ans

Provenance de l'avis
---
Shopify users, beware of Zoho!
Impossible to contact the dev team, even by email, which would have saved me two years of lost development time on my end. There is not even an effective communication channel between Customer Support and their own development team. It's one of those "I.T. doesn't talk to inferior beings" outfits. You know the type.
Low integrity: If you make a mistake and misguide a paying customer, accept responsibility and issue a refund. It's the very least they could have done.
Avantages
On paper, Zoho had all the flexibility and scalability we were looking for, but it turns out that it is incompatible with a Shopify store that has more than a few months of data. It won't import the data. This is not a misunderstanding and there is no workaround. Details below.
Inconvénients
We bought it to be our CRM and Inventory Management System for our Shopify office furniture store. On installation, it would only import the last two months of transactions from Shopify. That's a disaster. For all of our regular customers, they'd have two accounts and we'd have to look in both places to find a past order, not to mention re-creating all of their account data by hand in the new system if they hadn't purchased in the last two months, and we'd have no idea what their lifetime value was.
Zoho support was sure I had done something wrong. It took weeks for them to decide that Shopify was the problem. They told me Shopify was blocking the export of the data. So I called Shopify. They told me (in an hour) that they have an automatic block to prevent hacking but all Zoho had to do was to call them and they'd unblock them!
Over a period of weeks, I tried to get to the right department to tell the install team or dev team about this, and no one seemed to know what I was talking about. They kept insisting it was a Shopify problem. A support rep got back to me a few months later and said the limitation had actually been built into Zoho and it would be fixed in the next version update. So, foolishly, I kept paying. I kept checking in and finally, two years later, they told they have no plans to fix this problem, and no, I couldn't have a refund even though I was waiting for them to fix what they told me they would fix, and had never used the product.
Secteur d'activité : Logiciels
Taille de l'entreprise : 11–50 employés
Logiciel utilisé

tous les jours

pendant

6 à 12 mois

Provenance de l'avis
---
Zoho Inventory review
Avantages
Zoho Inventory is user-friendly with a wealth of features that simplify inventory management. It boasts a sleek interface and is highly customizable. Additionally, its integration capabilities with other Zoho applications and external products enhance its effectiveness as a tool for inventory management.
Inconvénients
The most significant drawback of Zoho Inventory is the limited customization options. Users are unable to tailor the software to their unique requirements. Furthermore, navigating the user interface can be challenging and the lack of customer support can be a source of frustration.
Secteur d'activité : Biens de consommation
Taille de l'entreprise : 2–10 employés
Logiciel utilisé

tous les jours

pendant

1 à 5 mois

Provenance de l'avis
---
Zoho Review
Keeping track of sales on eBay, our website, and other platforms where we sell such as Google Shopping can be confusing but Zoho makes it very easy to keep track of all three on one database without the confusion.
Avantages
Zoho is really easy to use and affordable, especially for a small business. I like that it creates your own invoices that you can send to customers. I like that you can keep track of multiple warehouses on one page. These are small features that make Zoho really great.
Inconvénients
The software is easy to use but still has some features that I would love to see changed. We run a small eBay business and there is often difficulty in merging products. I cannot go back and fix this later on. Sometimes this will make the inventory numbers look different than what they are. This is also part of a human error, but I wish there was a feature on Zoho that would help me reconcile inventory when I make a mistake with merging products.