En savoir plus sur BigChange
BigChange est une solution cloud de planification qui aide les entreprises de toutes tailles à gérer leurs effectifs et à suivre leurs travaux. Ses principales fonctionnalités sont le suivi des véhicules, la réservation des clients, le CRM (Customer Relationship Management), la gestion des ressources et les notifications en temps réel. Le système comprend une application mobile qui permet aux clients d'effectuer des réservations en ligne pour les services. De plus, les responsables peuvent utiliser ce système pour gérer les appels des clients, envoyer des messages, gérer un parc de véhicules et préparer des rapports. Le suivi des véhicules permet aux utilisateurs de surveiller les journaux des conducteurs et de suivre les dépenses. BigChange permet aux équipes de synchroniser les données entre le back-office et le personnel en intervention et d'enregistrer les heures facturables. Sa fonctionnalité de gestion de la relation client aide les membres de l'équipe à stocker les données des clients et à les aider lors de la détermination du prix des contrats, des travaux, de la main-d'œuvre et des pièces. BigChange est disponible sous forme d'un abonnement mensuel et l'assistance est assurée par téléphone et par e-mail.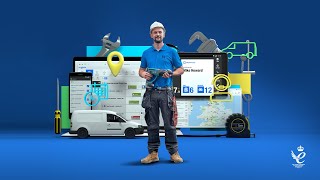 BigChange n'est pas disponible en version gratuite et ne propose pas d'essai gratuit. La version payante de BigChange est disponible à partir de 64,95 €/mois.
À partir de :
64,95 €/mois
Version d'essai gratuite :
Non
Produits similaires à BigChange
Évaluation des fonctionnalités
Secteur d'activité : Eau/gaz/électricité
Taille de l'entreprise : 51–200 employés
Logiciel utilisé

tous les jours

pendant

plus de deux ans

Provenance de l'avis
---
Big Change Review - It can really help your business grow and it is fantastice for mobile...
We solved our scheudling problems and manging our mobile workforce, we went from our teams doing 1 to 2 jobs a day to over six at times. It really can make your business more cost effective. Great experience love the Big Change team.
Avantages
It is actually very simple to use, easy to set up but you will time to do it properly. The Big Change team are great and will support you. If you are looking for a cost effective solution for your business I would recommend this.
Inconvénients
Data extraction for any business the data is so important, Big Change are working on this and once they get this right the product really sells it self.
Pourquoi choisir BigChange 
2019
Pourquoi passer à BigChange
As it was simple to set up you did not need expensive software developers
Réponse de

BigChange

Hi Sally-Ann

Thanks for your feedback and for being part of the BigChange Community and shaping how we provide an even better service to our customers.

It is great to see your growth from using BigChange and how you have managed to significantly increase the number of jobs being completed by the team.

Looking forward to working with you on the evolution of our dashboards so we can help make the data even easier to navigate.

If you or your team need any further help, please do not hesitate to reach out to your Customer Success representative or to me directly.

Many Thanks

Ian Burgess
Chief Customer Officer

Répondu le 08/01/2023
Secteur d'activité : Matériaux de construction
Taille de l'entreprise : 201–500 employés
Logiciel utilisé

tous les jours

pendant

plus de deux ans

Provenance de l'avis
---
The good, the bad and the getting it right!
On boarding was fantastic, being able to use the system to achieve what we want is a really good feature. Down side for myself, we as a business don't utilize it in other departments such as accounts. Doing this would stream line the whole process as Big Change can certainly do it
Avantages
NOTES!!!! being a transport manager being bale to have files on the fleet, with real time actions, keeping all documents together showing a stream from report to completion of faults and issues which keeps us compliant
Inconvénients
One small change in a job type for example and you have to go back and change everything related to this, worksheets, alerts, ....
Secteur d'activité : Sécurité et enquêtes
Taille de l'entreprise : 2–10 employés
Logiciel utilisé

tous les jours

pendant

1 à 5 mois

Provenance de l'avis
---
Big Change Review
Overall if the tweaks and issues noted could be resolved this system could be so much more user friendly and it seems odd that features like these have been missed out as they are available in other areas of the data base.
Avantages
The system is internet based which is a good feature as can be accessed remotely with ease. This system is quicker and has more features than our previous one, although more assistance in setting these up from big Change is required. Big change continues to develop and add features that are needed.
Inconvénients
The monthly invoices is a massive issue, it shouldn't be such a long winded process to submit our monthly invoices. We also have different customer categories on the system and due to the data being different on the detail tab, if the drop down is changed accidentally, even if not saved all data is lost - this has caused numerous issues whilst learning how the system works. The onboarding process was more bundled in data than understanding how the system works and how to input the data, it has been with monthly issue since our go live in March with has caused additional unnecessary administration work. The hand over was also pretty rushed and felt like once on boarded we were left to get on with it rather than assisted in the continuous development of the newly taken out system.
Secteur d'activité : Construction
Taille de l'entreprise : 2–10 employés
Logiciel utilisé

tous les jours

pendant

1 à 5 mois

Provenance de l'avis
---
J.Hull Plant Engineers
Onboarding representative [sensitive content hidden] was brilliant at helping to get us up and running, helping with any snags we have come across and offering alterative ways to use the functions of Big change to suit our needs. And equally our now [sensitive content hidden] is great at helping us this any snags or issues we come across as we get further into using the system.
Avantages
The first thing we benefited from moving to Big Change is digital job cards that are filled out by the engineers link straight to the job, previously we were on paper. With the job cards now being digital it has reduced the hours and man power to transfer the paper job card to the invoice as now they are automatically liked. Secondly is pricing, having the correct pricing atomically calculated in the financials. Again taking the time and man power out of the invoicing, meaning we can invoice out more frequently with ease which is improving the cash flow for our business. Since using Big Change we have achieved a more stream line process for job management, financials and starting to achieve more stock control with in the company. Also keeping record of services and maintenance under taken and parts used against our customers machines. We really feel if you take the time on the initial set up you reap the benefits long term.
Inconvénients
The stock and inventory section could do with some tweets to make this area be more flexible to fit the needs of different customers. And stock control needs improving, not letting you go into minus numbersThe search facility- it doesn't actually 'search anything' as it says!Not having access to view our Big Change invoices for use of the software online all in one place.
Réponse de

BigChange

Hi Susan,
Thank you so much for your positive feedback! We're glad to have you as our customer and to see that you're enjoying the all-in-one job management system.
It makes us incredibly happy to know that we were able to help you achieve your goals.
We'll continue working hard to provide you with an excellent experience.
Thanks for taking the time to write this review; it means a lot to us. Cheers!
P.S. If you ever need help, please don't hesitate to reach out; we're always here.
Best Wishes
Louise

Répondu le 22/05/2023
Secteur d'activité : Jeux d'argent et casinos
Taille de l'entreprise : 51–200 employés
Logiciel utilisé

tous les jours

pendant

plus de deux ans

Provenance de l'avis
---
tracking
Avantages
being able to easily idenifty where vehicles are in real time
Inconvénients
the tracking is hard to find when things go wrong for example we lost 3 days worth of tracking
Réponse de

BigChange

Hi George,
Thank you so much for your feedback!
We're sorry to hear about your negative experience with tracking, that's definitely not what we want for our customers. We would love to help turn this around for you.
If you know who your Customer Success Manager is, please reach out to them for assistance. Alternatively, please email me directly, and I will escalate it. [email protected]
Best Wishes
Louise
Customer Marketing Manager

Répondu le 22/05/2023