En savoir plus sur Jobber
Jobber est une solution logicielle de gestion des interventions basée sur le cloud qui permet aux petites et moyennes entreprises de services de gérer le personnel en intervention, de fournir un support client et d'étendre les opérations commerciales via une application mobile ou un tableau de bord de bureau. En tant que solution pour les entreprises prestataires de services, Jobber prend en charge plus de 50 secteurs d'activité et fournit des outils interchangeables tels qu'un CRM (Customer Relationship Management) intégré, la planification et la répartition en temps réel, le suivi des dépenses, la création et le traitement de factures, la réservation en ligne, un centre client en libre-service, la création de devis, des rappels pour les clients, des e-mails automatiques, etc. Grâce à la fonctionnalité de gestion du temps, le module de planification de Jobber permet aux utilisateurs de mettre à jour n'importe quelle tâche en temps réel, notamment les informations sur les tâches accomplies et l'avancement des projets, afin que la direction puisse suivre efficacement le personnel intervention. Pour les affectations, les équipes de gestion peuvent mettre en place des tâches individuelles ou des contrats récurrents et affecter plusieurs techniciens d'intervention à une seule tâche. Les utilisateurs peuvent créer des factures professionnelles à l'aide de modèles personnalisables et Jobber envoie automatiquement des factures par e-mail. Pour les paiements électroniques, Jobber s'associe à diverses applications de paiement électronique, telles que Stripe et PayPal, pour rationaliser ce type de facturation. Le module CRM de Jobber permet de suivre les anciennes coordonnées des clients et les utilisateurs peuvent créer des champs personnalisés et des balises, joindre des fichiers ou des numéros de téléphone, etc. Le tout est lié à la facturation et aux antécédents professionnels. En outre, tout client peut approuver des devis, planifier des ordres de travail, payer des factures et communiquer avec les équipes de service à l'aide du hub client en libre-service de Jobber. L'application Jobber est disponible pour les appareils iOS et Android.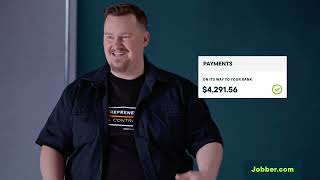 Jobber n'est pas disponible en version gratuite mais propose un essai gratuit. La version payante de Jobber est disponible à partir de 19,00 $US/mois.
À partir de :
19,00 $US/mois
Version d'essai gratuite :
Oui
Produits similaires à Jobber
Évaluation des fonctionnalités
Secteur d'activité : Vente en gros
Taille de l'entreprise : 11–50 employés
Logiciel utilisé

tous les mois

pendant

1 à 5 mois

Provenance de l'avis
---
Excellent produit
Dans l'ensemble , Jobber est l'un des meilleurs logiciels qu'il faut utiliser pour les entreprises de services à domicile et qui offre de belles choses de fonctionnalités, permettant également de synchroniser automatiquement les tâches , générez des devis , envoyez des notifications et plannifiez également les services de l'entreprise et rend les choses faciles et avec une meilleure solution d'assistance
Avantages
Jobber , un logiciel très intéressant et utile pour répondre aux besoins des entreprises en offrant de l'assistance gratuit grâce à ses services. Plannifier et envoyez des notifications et en communiquant avec les clients , qui synchronise automatiquement les données de comptabilité de votre entreprise
Inconvénients
Jobber est un logiciel très pratique et utiliser pour aider les entreprises mais n'est pas disponible pour tout les pays et un peu coûteux également
Réponse de

Jobber Software

Hi Serge Isidore! We're so happy to hear that you've found Jobber both practical and useful for your business. We're constantly looking for feedback like yours, so we appreciate you taking the time to leave a review! It would be great to learn more about any feedback you might have on our pricing and anywhere else we may be able to improve, so please don't hesitate to get in touch with our Support team at 1-888-721-1115, [email protected], or by live chat. Have a great day!

Répondu le 03/07/2023
Secteur d'activité : Produits alimentaires
Logiciel utilisé

tous les jours

pendant

plus de deux ans

Provenance de l'avis
---
Excellent company and excellent product
Makes things work so much better for us! There are small issues but we work through them. Nothing is perfect and for the price point this is phenomenally the best on the market.
Avantages
Absolutely great system and easily adaptable to service companies. They are constantly adding features and functions and I hate to give only 4 stars on that but there are a few things that we would like to have but it doesn't incorporate. They are ALWAYS open to listening and I have actually had some of my ideas incorporated into the program. If I could give 10 stars on the customer service and value for the money I absolutely would. It is a simple program to use once you play with it for a bit. They are always updating which is awesome always new functionality available!
Inconvénients
I don't like the fact that Visits and Jobs are treated separately with no way to combine them. I wish that you could set this up and for us, just delete the visit altogether because for us a Job is a Visit. They are always 1 to 1 ratio for us. It makes some of the scheduling frustrating because you can schedule a job but not have a visit scheduled. I can completely see how other companies need the ability for multiple visits on 1 job though.
Would like to see compulsory custom fields so you don't forget to fill out important data on quotes or invoices.
This is a big one, if you don't use the Stripe Jobber Payments then you cannot post a refund to a clients account. You basically have to do a work around and then post a negative invoice. It is very frustrating for a basic accounting function. We often have customers place deposits or pay in advance and they don't use their full deposit for our service. We have to issue a refund and it is a real pain to do.
Secteur d'activité : Services aux consommateurs
Taille de l'entreprise : 2–10 employés
Logiciel utilisé

tous les jours

pendant

plus d'un an

Provenance de l'avis
---
Jobber Customer Support Employees Deserve a Raise
Avantages
Jobber definitely has a learning curve. Any time I have ever had a question, though, Jobber support has been ULTRA helpful. Now that I am comfortable with the software, I love it. The setup makes it so easy to see what needs to be done so I don't miss anything, and the step-by-step process makes quoting, scheduling, and invoicing very streamlined.I find myself going "Oh, cool, Housecall Pro wouldn't let me do that" often.
Inconvénients
The top two main concerns are issues with multiple contacts under a profile and calendar colors. I have no way of knowing what phone number/email goes to who, and I have up to 7 numbers under some of our commercial accounts. I need to be able to custom label numbers/emails other than "Work, Mobile, Home" Calendar colors is the only thing I miss from Housecall Pro. I could enter the HTML color code which made it so much easier to tell people apart on the calendar. While I'm at it, I'd like to be able to click and drag things at 15 minute intervals instead of 30 minutes; that would save me so much time.
Réponse de

Jobber Software

Hey Olivia! This was such a detailed review, so thank you so much for sharing this with us! It's so nice to know that our Support team was able to help make sure you were set up and feeling comfortable with Jobber and that you've now got everything in place so that you won't miss anything.

Really appreciate you flagging those concerns to us too! Our Support team can definitely offer suggestions for both the contact info you're needing to be more clearly labelled and calendar colors, so feel free to reach out to us to chat more about those pieces. It'd be great to hear from you!

Répondu le 11/05/2023
Secteur d'activité : Construction
Taille de l'entreprise : 2–10 employés
Logiciel utilisé

tous les jours

pendant

plus de deux ans

Provenance de l'avis
---
Could be fantastic, but lacks features in quoting/estimating and as communication hub.
good
Avantages
Very good app except the very basic quoting/estimating, job scheduling and customer communication 'capabilities'. Jobber works very well without glitching both on browser and on app, very clean look, without too much going on to be distracting. However the issues I have with above mentioned make me constantly search for alternatives. If they continue to improve and make changes to these 3 areas, the software would be perfect. I don't see that happening soon though since focus seems to be on integrating very expensive 3rd party apps that don't benefit small businesses.
Inconvénients
The scheduling function is good but could be much better if they allowed for other schedule types that aren't one time or on an easily recurring schedule. For landscape, we have visits on one contract that are weekly, bi-weekly, monthly, twice yearly, etc. So usually between 45-60 visits included in a single quote. But because they don't all fit into a neat recurring schedule, I usually include the highest frequency regular visits like 28 weekly mows, then have to create all the remaining visits one by one!!! the most frustrating thing ever! So much work and it takes so long! Its one of the absolute WORST things about scheduling.There are work arounds of course, but then my jobs are not associated with the quotes that were approved, so all this information is spread out on 8 different jobs, but the deposit and totals only associated with one quote. It is incredibly frustrating when I have to invoice later or trying to get accurate job costing because I have to write everything down or go back and forth between jobs and associate the labor and materials to approved job that has the actual total and I just gave up. It should not be this hard. Also for any jobber people reading this PLEASE allow BULK DELETION of JOBS. Its too many clicks into a job, then you have to click back to the top of the job list page to search for the next one. It should be a button on each job in list or the ability to filter and bulk delete.
Réponse de

Jobber Software

Thank you for the review and feedback, Andora! We really appreciate the detail you shared, especially around scheduling out your landscaping jobs.

This kind of context really helps as we build solutions for small businesses. We will be sharing this with our developers but would also love to discuss possible workflow solutions with you!

A member of our Support team will be giving you a call to help and to gather any more feedback you might have. Thank you again!

Répondu le 19/10/2023
Secteur d'activité : Équipements publics
Taille de l'entreprise : 2–10 employés
Logiciel utilisé

tous les jours

pendant

1 à 5 mois

Provenance de l'avis
---
So grateful we switched!!
Since switching to Jobber my job managing the office has became so much easier. I cannot recommend this software enough.
Avantages
What isn't the most useful is a better question! I have tried other companies for our workflow and nothing compares. Everything I could have thought of that we needed in a software company is already implemented with you guys. Whether it be scheduling, live GPS tracking for technicians, job costing, estimate options, job pictures, etc. It's all right here. Not to mention I can link about every other software we use so they can be integrated.
Inconvénients
I don't have any! Everything I need is already there.
Réponse de

Jobber Software

Hey Jillian! We're so grateful that you switched too and that you've had such a great experience! Finding the right fit for your workflow is so important and we're so happy that Jobber has been able to integrate so seamlessly with your needs and keep everything that you need in one place.

Thank you very much for your feedback here! Appreciate you!

Répondu le 29/09/2023