En savoir plus sur Homebase
Homebase est une solution de gestion du temps et de planification basée sur le cloud qui aide le personnel des ressources humaines à organiser et à gérer la planification du personnel, les feuilles de temps et la paie. Elle s'adresse aux entreprises de secteurs tels que la restauration, le commerce de détail, la santé, les logiciels, etc. Les utilisateurs peuvent créer des plannings du personnel à l'aide d'une interface de type glisser-déposer. Les horaires peuvent être envoyés aux employés par SMS ou par e-mail. La solution permet également aux utilisateurs d'obtenir une visibilité sur les coûts de la main-d'œuvre en suivant les heures des employés et les heures supplémentaires. Homebase propose également un reporting d'erreurs automatique et diverses fonctionnalités d'exportation de données. Les intégrations incluent plusieurs solutions de point de vente telles que Clover, Poynt, Talech, Square, Breadcrumb, Lightspeed et Revel Systems. Des applications mobiles sont disponibles pour les appareils iOS et Android, permettant une utilisation à distance. Les services sont proposés avec un abonnement mensuel. La formule complète comprend une assistance par téléphone, e-mail, chat et des webinaires.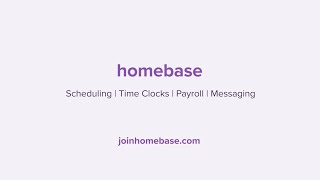 Homebase est disponible en version gratuite et propose un essai gratuit. La version payante de Homebase est disponible à partir de 0,00 $US.
Version d'essai gratuite :
Oui
Produits similaires à Homebase
Évaluation des fonctionnalités
Secteur d'activité : Internet
Taille de l'entreprise : 1 001-5 000 employés
Logiciel utilisé

tous les jours

pendant

plus d'un an

Provenance de l'avis
---
Great system for employee time tracking.
Great experience! US-based representative whom were very kind, understanding and WILLING AND READY to resolve any and all issues when I needed to call to resolve the only issue I've ever had.
Avantages
Homebase is extremely easy to set up employee time clock which happens to be free if your business has a single location and with a single location you may set it up for unlimited employees. For a small business owner where every dollar and cent matters, it's a no brainer. A business owner may assign or allow the employee to set up their clock in and out code. Also, it may be set to take a photo of the employee during the clock in and out sessions to help or eliminate other employees from clocking in and out for them. Homebase offers an iPad, iPhone and an android app. You may also use your device's browser. We downloaded the app, installed it on an iPad for our employees to clock in and out on. The administrator has 100% access via web browser login. There's also a feature which allows employees to clock in and out in the field which would geo-tag the location of the clocking activities.
Inconvénients
Not a lot a negative things to say. This software is best if you have multiple employees who may have a staggered schedule. Example: an employee opens, then you have a mid day shift, then a closer. You also have many employees that may be out in the field. geo-tag is not the best choice for a single entrepreneur who's trying to track their time, set up easier ways to do so.
Secteur d'activité : Gestion de l'enseignement
Taille de l'entreprise : 51-200 employés
Logiciel utilisé

tous les jours

pendant

plus d'un an

Provenance de l'avis
---
Game Changer
Finally getting up to speed with technology. We had so many issues with our previous time clock provider, I'm so glad we found Homebase!
Avantages
Being able to use the software anywhere and have the ability to change the schedule, communicate with staff, find coverage and my staff to always be up to date with what's going on.
Inconvénients
Sometimes staff tell me they don't get notifications of schedule change when I post it.
Secteur d'activité : Hôpitaux et soins de santé
Taille de l'entreprise : 501-1 000 employés
Logiciel utilisé

toutes les semaines

pendant

plus d'un an

Provenance de l'avis
---
Easy to use except.....
Avantages
Easy features and great for team communication
Inconvénients
Not a ton of features and time tracking can be iffy
Secteur d'activité : Gestion de l'enseignement
Taille de l'entreprise : 11-50 employés
Logiciel utilisé

tous les jours

pendant

Essai gratuit

Provenance de l'avis
---
Still on free trial, but LOVE the software!
Avantages
I have been looking for software that combines payroll and schedule seamlessly. I love seeing the payroll cost per hour on my schedule!
Inconvénients
I haven't found a feature I do not like yet. If I have to be super picky, having a visual of individual teams on the schedule would be great!
Pourquoi passer à Homebase
much easier setup and superior functionality.
Secteur d'activité : Hôtellerie
Taille de l'entreprise : 2-10 employés
Logiciel utilisé

tous les jours

pendant

plus d'un an

Provenance de l'avis
---
Good product with too much fluff and mediocre UX
Overall, we are still with homebase because everyone is now used to it and our system is setup this way. Writing this review though, it is certainly about time i checked the timeclock-scheduling-team market again. Because the product is quite slow and features are being added which i don't need.
Avantages
We decided to go for Homebase because it mostly resembled what i was doing in as spreadsheet before. The timeclock is rather solid, we have set up a dedicated tablet to clock in and out. This is the main reason i got homebase for my team - so that they would have a schedule and be able to clock in and out. Also nice is the fact that custom national holidays can be setup and automatically be shown in the schedule. The Homebase team has over the years implemented a few nifty features to save me time as an admin.
Next is checking timesheets and correcting them when it comes to payroll - however this is where we stop with using homebase. We don't use any other features.
Inconvénients
We don't utilize the payroll feature at all - everything can only be set in dollars. Overall, the software feels like it is made for the US market - not internationally. I have feature requested over a year ago that custom currencies should be implemented and even the way time is displayed (24h instead of am-pm). To no avail. Even from their content marketing strategy it is clear that Homebase is only focusing on the US market, with no interesting content for me as a hotelier on the other side of the world.
It is also sad to see that they have recently started adding a lot of fluff to their product like hiring, instead of making the core experience easier and faster to use. The new timesheets section looks nice, but i am 5 times faster with the old one (which could be faster still). I would love to see much more emphasis on a fast and easy to use product, with lots of features to get my work done quicker. Homebase is a classic example of software which gets better the less i have to use it. I would like to see the product move in this direction.