En savoir plus sur Paycom
Paycom propose une technologie conviviale de gestion RH et de la paie axée sur l'employé afin d'améliorer l'ensemble du cycle de la carrière des employés, le tout dans un seul et même logiciel. Ce logiciel complet est unique, car il contient tout ce dont vous avez réellement besoin, de l'embauche à la retraite, dans un seul système pour responsabiliser l'ensemble de votre entreprise. Grâce à cette application en libre-service, les employés peuvent facilement demander des congés, pointer, gérer leur propre paie et plus encore, ce qui leur permet de rendre compte de l'exactitude de leurs données personnelles. Une première dans le secteur, Beti établit et gère automatiquement la paie grâce à une expérience axée sur les employés. Découvrez l'entreprise à l'avant-garde de la transformation numérique du lieu de travail américain.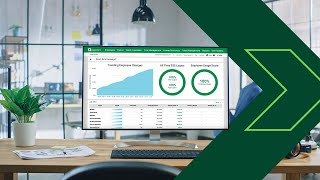 Paycom n'est pas disponible en version gratuite.
Version d'essai gratuite :
Non
Produits similaires à Paycom
Évaluation des fonctionnalités
Secteur d'activité : Services d'information
Taille de l'entreprise : 51–200 employés
Logiciel utilisé

tous les jours

pendant

plus de deux ans

Provenance de l'avis
---
Human resource management simplified
Paycom is a wonderful tool for small to medium organizations looking for a single system to manage Human Resources related tasks and processes. Employees spend less time managing their time, information, and benefits which results in more productivity. Performance management has become more visible organization-wide
Avantages
Performance management is a key feature that allows me to efficiently track and manage my team's performance. Instead of a one-time, resource consuming performance review cycle, Paycom allows me to add notes throughout the year so end-of-year performance reviews become a snap.
We recently implemented Paycom expense which has streamlined submitting and approving team and department expenses. A key feature is the ability to create expense templates for monthly recurring expenses, saving valuable time and energy.
Benefits management simplifies what could be a complex process to research, understand, and enroll in company sponsored benefits. In particular, a single dashboard displays all of your employee benefits making it easy to find what you're looking for and make changes along the way.
Inconvénients
We've recently tapped into Paycom's My Learning module. I'd like to see an investment in content development areas like security and compliance to further leverage Paycom as the main source for employee training.
Paycom's UI design and navigation feels outdated compared to similar software.
Réponse de

Paycom

Ricky, thank you so much for your positive and detailed review of the partnership between your organization and Paycom. We will share your feedback regarding our training content and product development teams. We also recommend the resources on the Paycom blog and the HR Break Room podcast regarding the topics you mentioned. Please reach out to your Paycom specialist if you have any additional questions or feedback.

Répondu le 18/09/2018
Secteur d'activité : Automobile
Taille de l'entreprise : 501–1 000 employés
Logiciel utilisé

toutes les semaines

pendant

6 à 12 mois

Provenance de l'avis
---
A complete emplyer-employe tool
As general user i find it usefull to keep tabs on everythin time related it just needs to fix a bit of the way the app is strucutred even more for older people besides that it is a complet tool
Avantages
It provides access to clock in-out.
Timesheet management
PTO request
Even courses to improve your team capabilities.
Inconvénients
It can get a bit complicated to travel the application, I assist with it and finding the righ options gets a bit confusing since a lot of menus sound like the provide the same functionalities.
the courses even if you complete them sometims it does not provide with the checkmark and you have to take it again.
Réponse de

Paycom

We appreciate your feedback, Eddy. It's great to hear about the specific features that have benefited your work life! Thank you for the positive review!

Répondu le 02/11/2023
Secteur d'activité : Transport routier/ferroviaire
Taille de l'entreprise : 2–10 employés
Logiciel utilisé

tous les jours

pendant

1 à 5 mois

Provenance de l'avis
---
Go Through a Staffing Agency Instead!!
Avantages
It can be more affordable compared to other software programs.
Inconvénients
Once you get sold on the product and pay your fees the "consultant" disappears, then you're left to figure out this dense accounting system on your own. For extra fees you can get assitance. The software is not user friendly. I would not recommend Paycom. During the paperwork processing after payment I heard from the consultant often and was told he would my direct contact for assistance. Once my paperwork was complete I was switched to another consultant without notice. This consultant was only worried about rushing me to add more services (very abrupt and callous). After declining to add more fees to my monthly payments I was stuck to figure everything out on my own; if I wanted to do that I could have purchased a software WITHOUT a monthly subscription! The reason why I paid Paycom is to have the processing and management of payroll! I didn't receive that.
Réponse de

Paycom

Shamika, client service is our top priority. We're disappointed to read your review as the experience you're describing does not align with Paycom's standard. Please reach out to our team at feedb[email protected] so we can learn more about your experience.

Répondu le 16/10/2023
Secteur d'activité : Hôpitaux et soins de santé
Taille de l'entreprise : 10 000+ employés
Logiciel utilisé

tous les jours

pendant

plus d'un an

Provenance de l'avis
---
Paycom simplifies payroll processes for our company
Employees will be responsible for their own actions going forward. Our company's cultural flaws have been exposed through Paycom software. It's making us evolve, but in a positive direction.
Avantages
Your sales representative and the service staff are committed to answering your inquiries and resolving any problems that may arise. I've worked in similar roles with other services before, and they're just not the same.
Inconvénients
Since our previous leader left the organization, communication with our new leader has been difficult. No one else was as helpful in guiding me through the steps as he was. Considered myself safe because I had previously used Paycom. I was completely unfamiliar with the Betti component.
Réponse de

Paycom

We are happy to hear that Paycom's software has been instrumental in your organization's growth. Our team is committed to providing solutions that meet your specific needs and we appreciate your trust in us.

Répondu le 21/08/2023
Secteur d'activité : Hôpitaux et soins de santé
Taille de l'entreprise : 51–200 employés
Logiciel utilisé

tous les jours

pendant

plus d'un an

Provenance de l'avis
---
The Crescent
I loved it it's a great app to use I hope more companies use it
Avantages
I loved the app to clock in and out with and using it for sick Time too
Inconvénients
There wasn't anything that I did not like about it
Réponse de

Paycom

Keiarra, we're thrilled to hear how our product has streamlined your HR and payroll processes! Thank you for the 5-star review!

Répondu le 24/11/2023