En savoir plus sur GloriaFood
GloriaFood est une plateforme de commande et de livraison de repas en ligne qui aide les restaurateurs à gérer les commandes et simplifier les opérations du point de vente. La solution comprend un panneau d'administration, qui permet aux professionnels de sélectionner plusieurs emplacements pour les livraisons, de définir le montant minimum de commande et de définir des frais de livraison en fonction des zones. GloriaFood permet aux entreprises de créer et personnaliser des menus numériques en ajoutant des catégories d'aliments, des images et des informations sur les prix. Les responsables peuvent intégrer des widgets dans des sites web professionnels et des pages Facebook officielles, améliorant ainsi la visibilité de la marque sur plusieurs canaux. De plus, les utilisateurs peuvent recevoir des notifications automatisées indiquant la réception de nouvelles commandes et accepter ou rejeter des commandes en fonction de la disponibilité des aliments. GloriaFood facilite l'intégration à diverses applications tierces telles que QuestTag, Tookan, GetSwift, ItsaCheckmate, Ordermark, etc. Le produit est disponible gratuitement et l'assistance est assurée via un chat à réponse rapide.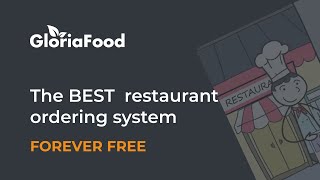 GloriaFood est disponible en version gratuite et propose un essai gratuit. La version payante de GloriaFood est disponible à partir de 7,50 €.
Version d'essai gratuite :
Oui
Produits similaires à GloriaFood
Évaluation des fonctionnalités
Secteur d'activité : Services aux consommateurs
Taille de l'entreprise : 2-10 employés
Logiciel utilisé

tous les jours

pendant

plus de deux ans

Provenance de l'avis
---
Comprehensive review of GloriaFood from long-time partner
Despite the missing features and some quirks, I would rate my experience with GloriaFood as hands-down a very good experience. The addition of multiple tablet support, an accurate calculation of delivery fees, and a more flexible promotions template would make this the very best system in the world, in my opinion.
Avantages
Menu builder, integration with third-party delivery dispatch systems, multi-lingual interface, easy to use by customers, easy to use by restaurant staff, mature product with large installed user base, ability to add ordering capability to existing website, Google Profile and business Facebook page, availability of free WordPress plugin if integrating the product into a WordPress website. Among the optional PAID features, the automatic payment system and the ability to create multiple promotional offers is very helpful.
Inconvénients
Restaurant is limited to only one tablet (no ability to have one tablet at front of house and another tablet in the kitchen), unable to calculate accurate delivery fees based on actual driving distance (this is the #1 complaint from a majority of my clients). Certain promotions cannot be adequately defined with the available formula templates. For example, it is not possible to define a FIXED DOLLAR AMOUNT discount on delivery fees (only a percentage discount is allowed). While the support staff is sympathetic to those reporting "missing features", the reality is that the product roadmap is inflexible and I have had no success obtaining features that have been requested for almost five years.
Pourquoi passer à GloriaFood
CloudWaitress actually offers more features than GloriaFood and at a very competitive price point. There were only two factors that made it a less-desirable solution for my purposes: 1) Their payment processing integrations were far more limited (CloudWaitress, being based in New Zealand, seems to be more concerned with providing support for payment processors common to their geography and do not support the primary payment processors in Canada) and 2) while their menu builder is actually far more feature-rich than that of GloriaFood, that extra capability comes with more complexity, so for the typical restaurant that does need all that extra functionality, it becomes more difficult to build and maintain menus with CloudWaitress.
Secteur d'activité : Produits alimentaires
Taille de l'entreprise : 2-10 employés
Logiciel utilisé

tous les jours

pendant

plus de deux ans

Provenance de l'avis
---
Look no further... this one is a keeper.
Weighting all the pros & cons, I would still continue to use Gloria Foods and recommend new users to give it a go. As mentioned above, low fee if not free depending if you have any add-on, stable and effective support is key to success. Of course, if in the future, if they can adresse in what are mentioned in the cons, that would be the cherry of top of sundae. But in life, you cant have everything... especially when its free to use. The only add-on I used is the online payment... which increase efficiency exponentially.
Avantages
Almost the same features as the paid services... less the fees.
Very stable, next to none downtime.
Super effective support team; they provide swift and prompt response regarding your inquiries.
To be honest... sometimes you only need something sweet and simple... not something that will make a hole in your wallet with 20-30% fees... its all about your bottom line.
No hidden fee whatsoever... give it a try. You have nothing to lose. Set-up is a breeze.
Inconvénients
Sometimes customers request some personnalisation in the comment section which you can do with an extra charge. But you dont have the option to do so, only accept/ decline. So I can either accept and do it for free, or call them back to say i can do it with extra $ or reject order ... and call them. Which defies the whole point of ... online ordering.
No inventory management; you cant input a certain amount of items to be sold.
Cant mark items as sold out from ordering app. Has to log on to the website to do so.
Not sales oriented; Upsell is the holy grail. Gotta work on this one up boys if you want to attract more potential users.
Secteur d'activité : Restaurants
Taille de l'entreprise : 2-10 employés
Logiciel utilisé

tous les jours

pendant

plus de deux ans

Provenance de l'avis
---
Excellent & Affordable Online Ordering with Great Customer Service
The superior online ordering platform that they offer has given me an edge over my competition and has helped my delivery business to grow. It solves the issue of phone order-taking errors, it increases customers purchase totals and reduces labor costs. It also reduces the staff required for order taking which is very critical, especially during this past year with the covid-19 pandemic because we were running on very short staff (and many restaurants are struggling with this same issue).
Avantages
When seeking an online ordering platform I scrutinized many options available. Gloria Food is top notch for so many reasons. First of all, you do not have to be nervous about any big comittment in the beginning before you have evaluated the software (even though once you join you will love it!) You can even begin for free. All of the services they offer are very affordable and less expensive than others options that are inferior to them.
Setting up your menu is so easy and creats a very user friendly experience for customers. You only have to pay for what you need or want so you can build on to the services as you desire. They make setting up a website with the domain name of your choice seamless and they help you with everything. You can use the credit card processor you choose if you set up online payments and they DO NOT charge ANY PER ORDER FEES! This is amazing! You get to keep your hard earned profits.
I especially love that when customers place orders you can give them customized fulfillment times for pickup or delivery or say YES to the time they have chosen. Almost NO online ordering platforms offer this and it has made all the difference for our business! *DO NOT UNDERESTIMATE THIS FEATURE!*
They have so many great features including many options for offering promotions and marketing. Anytime you have a question you can just message them on the chat and they will help you in any possible way. They are promt, kind, helpful, sincere, and so smart!
Inconvénients
I been using the software and services for three years and I cannot think of any issues I have had. The only times I have had issues it has been related to my own outdated hardware.
The only thing I am hoping they will add to their offerings is an app for restaurant employees to input orders (for phone or in person orders) that would print just like the orders placed through the website so all the restaurant orders would be integrated into one system.
Secteur d'activité : Produits alimentaires
Taille de l'entreprise : 2-10 employés
Logiciel utilisé

tous les jours

pendant

plus d'un an

Provenance de l'avis
---
Lifesaver during the first and second Covid-19 Social Distancing in Vietnam
As I mentioned GloriaFood helped our restaurant a lot. It was a surprise feature during the first social distancing campaign here. A competitors system went offline the first week and this GloriaFood system really helped. Right now we are using both this system and GrabFood. GrabFood may get more orders but per order, GloriaFood brings in higher revenue. Our loyal customers will use GloriaFood even though they know they can always get a good discount with GrabFood.
Avantages
The software is easy to setup and implement with Facebook or website (WordPress in our case). We got it up and running just in time for the first social distancing which closed the restaurants except for deliveries. Customers were easily able to adapt to this app. Training the staff to use it was a breeze.
What is good about this software was the ability to add photos to each food item if needed. Our customers needed it.
The reports and heatmaps are another valuable asset to the this app as well. We can see exactly where we need to focus on our deliveries more.
Inconvénients
Not related to the app but if a customer ordered via Facebook, then they tended to message us on whether we got their order or not. Other issues, if there was bad bandwidth, the restaurant would tend to blame me, rather than the bandwidth, if there were issues with the app.
One thing I would like to see are tabbed menus. Restaurants like the one I manage the IT for have many food items. A tabbed menu will be helpful.
Pourquoi passer à GloriaFood
The software boutique took forever to get a basic menu to delivery system ready. In the end, I chose GloriaFood because it was the easiest, and fastest, to set up.
Secteur d'activité : Restaurants
Taille de l'entreprise : 2-10 employés
Logiciel utilisé

tous les jours

pendant

6 à 12 mois

Provenance de l'avis
---
Life Saver
Great customer service, easy set up and maintenance, great functionality!
Avantages
In this year of scrambling to adjust our business model in response to the Covid19 Pandemic the GloriaFood online ordering platform was a life saver. This platform allowed us to keep our business open and keep the hungry people fed while abiding by our local Covid19 mandates and best practices for due diligence in keeping our staff and customers safe. I'm excited to see how much it helps our efficiency in service this upcoming summer as we get back to a more normal business model!
Inconvénients
I'm excited for updates to reporting offered as this company grows and expands. I would love to see reporting that showed a breakdown of menu items ordered so we can see what is selling and what is not week by week and at the end of the year. I would also love reporting that showed a breakdown of sales and tips on sales that was quicker to access (not requiring the exporting of a file to excel and manual formula entering to get totals for both daily).
Pourquoi passer à GloriaFood
Gloria Food had what I needed and not a bunch of stuff I did not. Menu set up was easy and is easy to modify daily. Can't beat their pricing too!