En savoir plus sur GloriaFood
GloriaFood est une plateforme de commande et de livraison de repas en ligne qui aide les restaurateurs à gérer les commandes et simplifier les opérations du point de vente. La solution comprend un panneau d'administration, qui permet aux professionnels de sélectionner plusieurs emplacements pour les livraisons, de définir le montant minimum de commande et de définir des frais de livraison en fonction des zones. GloriaFood permet aux entreprises de créer et personnaliser des menus numériques en ajoutant des catégories d'aliments, des images et des informations sur les prix. Les responsables peuvent intégrer des widgets dans des sites web professionnels et des pages Facebook officielles, améliorant ainsi la visibilité de la marque sur plusieurs canaux. De plus, les utilisateurs peuvent recevoir des notifications automatisées indiquant la réception de nouvelles commandes et accepter ou rejeter des commandes en fonction de la disponibilité des aliments. GloriaFood facilite l'intégration à diverses applications tierces telles que QuestTag, Tookan, GetSwift, ItsaCheckmate, Ordermark, etc. Le produit est disponible gratuitement et l'assistance est assurée via un chat à réponse rapide.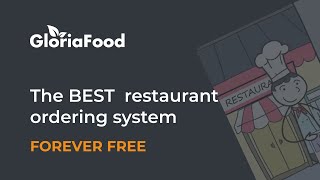 GloriaFood est disponible en version gratuite et propose un essai gratuit. La version payante de GloriaFood est disponible à partir de 7,50 €.
Version d'essai gratuite :
Oui
Produits similaires à GloriaFood
Évaluation des fonctionnalités
Secteur d'activité : Marketing et publicité
Taille de l'entreprise : 11–50 employés
Logiciel utilisé

tous les jours

pendant

plus de deux ans

Provenance de l'avis
---
What a GREAT delivery system
Avantages
It capabilities to multi location and draw delivery areas are great. They offer lots a possibilities when setting up promotions and discounts. It is a no brainer if you are looking to set up a delivery system for your business
Inconvénients
Would be great if they could offer more 3rd party integrations such as online payment systems.
Secteur d'activité : Produits alimentaires
Taille de l'entreprise : 2–10 employés
Logiciel utilisé

tous les jours

pendant

plus d'un an

Provenance de l'avis
---
Lifesaver during the first and second Covid-19 Social Distancing in Vietnam
As I mentioned GloriaFood helped our restaurant a lot. It was a surprise feature during the first social distancing campaign here. A competitors system went offline the first week and this GloriaFood system really helped. Right now we are using both this system and GrabFood. GrabFood may get more orders but per order, GloriaFood brings in higher revenue. Our loyal customers will use GloriaFood even though they know they can always get a good discount with GrabFood.
Avantages
The software is easy to setup and implement with Facebook or website (WordPress in our case). We got it up and running just in time for the first social distancing which closed the restaurants except for deliveries. Customers were easily able to adapt to this app. Training the staff to use it was a breeze.
What is good about this software was the ability to add photos to each food item if needed. Our customers needed it.
The reports and heatmaps are another valuable asset to the this app as well. We can see exactly where we need to focus on our deliveries more.
Inconvénients
Not related to the app but if a customer ordered via Facebook, then they tended to message us on whether we got their order or not. Other issues, if there was bad bandwidth, the restaurant would tend to blame me, rather than the bandwidth, if there were issues with the app.
One thing I would like to see are tabbed menus. Restaurants like the one I manage the IT for have many food items. A tabbed menu will be helpful.
Secteur d'activité : Restaurants
Taille de l'entreprise : 2–10 employés
Logiciel utilisé

tous les jours

pendant

1 à 5 mois

Provenance de l'avis
---
It's a good app but just one vital problem is plagueing it
Setting up was easy. Using it is intuitive. Only issue is order management and that awful forced max volume alert. Every other food ordering app (Ubereats, Skip, Fantuan, Doordash, and their direct competitors) have volume control and notification settings! I don't understand why GloriaFood think they need to force this on owners. Their only recommendation is to add an external bluetooth speaker but you know what? You aren't the only food ordering app, we can't add a bluetooth speaker JUST for you when restaurants typically use multiple food ordering apps at a time... seriously arrogant developers. Otherwise the app is good. If it weren't for this single problem that makes the app simply unusable in our quiet restaurant, we would've highly recommended this app.
Avantages
The base features are free allowing you to test the application before committing to a subscription. The set up was easy and the website builder creates a nice looking website. The ordering process works fine. It's also available in multiple languages which is nice.
Inconvénients
As per the title, there is one outrageous issue with the software and it's fully intended by the developer. The notification/alert is an very obnoxious sound and it is on FULL volume. Even if you lower your devices volume or mute it, it doesn't matter. The app will force your device back to full volume and blast the hideous alert repeatedly until you accept/deny the order.
This is a fully intended "feature" by the developers. If you look at the reviews on the application store, there are loads of reviews requesting this to be turned off or add a setting to control the volume. However the developers say it's intended so restaurants do not miss the order. But that's an extremely ignorant take on the issue. First of all, every restaurant has a different level of ambience. Some are crowded and bustling which could use the higher volume while some have a quiet and relaxing ambience which would be destroyed by the shrilling alert. Some devices can have an extremely high volume at max settings. It's utterly ridiculous that this widely complained problem is the hill that the developers choose to die on. I understand they don't want restaurants to miss an order, but it should be up to the restaurant how they choose to do so not the developer.
Again, I can't stress how loud the hideous alert is. It makes customers at the front desk JUMP, every head in the restaurant turns to see what this god awful sound is coming from, and my employees are begging me delete this app.
Secteur d'activité : Restaurants
Taille de l'entreprise : 2–10 employés
Logiciel utilisé

tous les jours

pendant

6 à 12 mois

Provenance de l'avis
---
Life Saver
Great customer service, easy set up and maintenance, great functionality!
Avantages
In this year of scrambling to adjust our business model in response to the Covid19 Pandemic the GloriaFood online ordering platform was a life saver. This platform allowed us to keep our business open and keep the hungry people fed while abiding by our local Covid19 mandates and best practices for due diligence in keeping our staff and customers safe. I'm excited to see how much it helps our efficiency in service this upcoming summer as we get back to a more normal business model!
Inconvénients
I'm excited for updates to reporting offered as this company grows and expands. I would love to see reporting that showed a breakdown of menu items ordered so we can see what is selling and what is not week by week and at the end of the year. I would also love reporting that showed a breakdown of sales and tips on sales that was quicker to access (not requiring the exporting of a file to excel and manual formula entering to get totals for both daily).
Pourquoi passer à GloriaFood
Gloria Food had what I needed and not a bunch of stuff I did not. Menu set up was easy and is easy to modify daily. Can't beat their pricing too!
Secteur d'activité : Logistique et chaîne d'approvisionnement
Taille de l'entreprise : 11–50 employés
Logiciel utilisé

tous les jours

pendant

plus de deux ans

Provenance de l'avis
---
The best software for e-commerce in restaurants
In general, the software is made so that the technical support sleeps more than they really need to work.
Avantages
What most represents this software is its simplicity. The user experience is incredible, it is made in an intentionally simple way to use but its simplicity does not affect the functionalities at all.
Inconvénients
What would turn this software around, based on my two-year experience working with it, is more third-party integration. On the other hand, an api that allows you to receive data would not hurt.