En savoir plus sur ConexED
ConexED is a cloud-based solution designed to assist students and faculties at higher education institutions and small to midsize businesses with appointment scheduling, video meeting and team communication. Features include remote access, engagement metrics, screen sharing, whiteboarding, instant messaging and registration management. The platform allows users to schedule video conferences, record sessions, share documents and generate custom reports to track task progress. Trainees can utilize its interactive kiosk to check-in/cancel appointments, view wait time and receive text alerts. With its virtual classroom feature, students can attend lectures remotely, collaborate with peers and interact with mentors in real-time. ConexED offers both API-based and in-built integrations with third-party applications such as Peoplesoft, Google Docs, Microsoft Office 365, Box.com, YouTube and more. It comes with a mobile application for iOS. Pricing for the solution is available on request and support is provided via phone, email and documentation.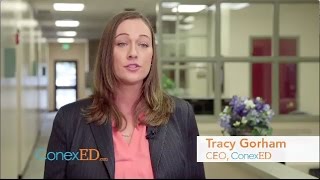 ConexED n'est pas disponible en version gratuite. La version payante de ConexED est disponible à partir de 0,01 $US/année.
À partir de :
0,01 $US/année
Version d'essai gratuite :
Non
Produits similaires à ConexED
Évaluation des fonctionnalités
Secteur d'activité : Gestion de l'enseignement
Taille de l'entreprise : 1 001-5 000 employés
Logiciel utilisé

tous les jours

pendant

plus d'un an

Provenance de l'avis
---
Highly Recommended
There customer service is amazing. They are quickly available, willing to listen to ideas, and fix issues quickly.
Avantages
ConexEd is extremely customizable in order to meet the needs of individual campuses. It provides open access to students to reach college services remotely, and decreases manual work required to track students and provide services. We have been able to use this for advising appointments, online chat to answer questions, advise students in other states, and to register students for New Student Orientation. It is a one stop shop that meets the majority of our needs. On the administrative side I can easily capture data to report out to leadership the work we are doing as a department. On the student side it is self explanatory and requires little explanation and we have gotten extremely positive feedback on its use. The system has a lot of automated features such as email, text reminders, google synch, and customized office hours to allow for advisors to focus their time on advising students.
Inconvénients
ConexEd is great about working on any recommendations or building in features we may need. The only issue I have is that sometimes we have so much data that the system will not quickly provide it and on occassion I will need to reach out to the organization to pull the data for me.
Secteur d'activité : E-learning
Taille de l'entreprise : 51-200 employés
Logiciel utilisé

tous les jours

pendant

plus de deux ans

Provenance de l'avis
---
Customizable but sometimes bulky virtual classroom software
When Covid first hit and everyone was forced to switch to virtual platforms, the software was very unstable which was understandable due to the drastic increase in users. This led us to go with another temporary option to ensure we could provide a service to our clients. We knew that we would eventually go back to ConexED as it had more functionality for what we needed. We are glad to have came back and our sessions are better than ever.
Avantages
A lot of communication and interaction features that fit a wide variety of needs.
Inconvénients
Bulky interface compared to other common virtual classroom software.
Secteur d'activité : Enseignement supérieur
Taille de l'entreprise : 1 001-5 000 employés
Logiciel utilisé

tous les jours

pendant

plus de deux ans

Provenance de l'avis
---
ConexEd aka Cranium Cafe
My experience has been positive, it took some time as it was a bit of a learning curve but after looking around in the software and clicking all the tabs & possibilities I feel I am quite savvy now!
Avantages
Real time possibility to communicate with our students to better serve them especially during the pandemic
Inconvénients
Some glitches like multiple chat boxes occur despite setting your card to appear Busy!
Secteur d'activité : Gestion de l'enseignement
Taille de l'entreprise : 201-500 employés
Logiciel utilisé

tous les jours

pendant

plus d'un an

Provenance de l'avis
---
Off to an amazing start!
Excellent. Service stands out way above the rest. In my job I have to work with several application vendors, and the experience with ConexEd has been the best thus far. Super responsive with a "try to get to yes" attitude with any issue that comes up. I wish more products would have such a strong and responsive support structure like ConexEd!
Avantages
Very easy to use with a modern interface that end users desire. Customer service team is incredible, with fast response times. The pricing for the product was transparent and showed how it paid for itself on the quote. Great team.
Inconvénients
Only wish it could do more! It is a GREAT product, but not there yet to completely replace our other product that also does case management as well as early alert flags and kudos. Would love to be able to walk away from the other product completely... right now it feels redundant to have both - but I get a lot of complaints about the other product. End users wish we could completely switch to ConexEd for case management and early alert functions (with LMS integration).
Secteur d'activité : Enseignement supérieur
Taille de l'entreprise : 1 001-5 000 employés
Logiciel utilisé

tous les jours

pendant

1 à 5 mois

Provenance de l'avis
---
Campus Calibrate for a large counseling office
Using Campus Calibrate is taking some getting used to. The staff at ConexEd have been incredibly helpful and accommodating to our staff and faculty to help us get Campus Calibrate up and running. We are a large department with 50-60 counselors/advisors, and I sometimes think that this software isn't built to show more than 5-8 schedule in a comfortable view. They have made many updates and fixes to help our appointment processes run smoothly. We appreciate all their efforts and assistance!
Avantages
What I like most about this software is that it's web based, so it can be easily logged into from home and in the workplace. I feel this makes staff more accountable when they are out of the office, so they can check their schedule and make changes if last-minute meetings come up, conferences, etc.
Inconvénients
If a counselor has appointments in more than one subgroup, it would be nice to see their entire schedule across the subgroups that they're associated with. It's a feature that does not work all the time.
A report that can easily be accessed when a counselor is out ill, that shows their appointments for the day. Right now we have to click on each individual appointment to see the student's contact information.
When students select appointment times after selecting a reason code and date of appointment, they are still confused as to whom the appointment is with. The time of the appointment is more visible than the counselor's name.
The time to load/refresh each subgroup is between 15-20 seconds, which can be inconvenient when trying to help a student over the phone.