En savoir plus sur LearnWorlds
LearnWorlds est une plateforme cloud conçue pour aider les entreprises à créer des cours et des expériences d'apprentissage en ligne. Elle convient aux entrepreneurs, aux entreprises d'e-learning, aux formateurs d'entreprise, aux organismes éducatifs, etc. Cette solution offre des outils de marketing et de vente intégrés pour aider les entreprises à développer leur audience et à augmenter leurs opportunités de chiffre d'affaires. Ces outils incluent des pages de renvoi, des aimants de lead, des pixels de conversion, le référencement intégré, des passerelles de paiement, la création d'applications natives personnalisées, etc. LearnWorlds est conçu pour aider les entreprises à créer du contenu de cours et des sites web qui augmentent l'engagement des apprenants. Les concepteurs de cours peuvent choisir d'ajouter des titres, des images, des pointeurs, des points d'accès, des liens et des questions aux vidéos. De plus, une transcription synchronisée peut être automatiquement extraite des vidéos pour augmenter l'accessibilité. Les autres fonctionnalités comprennent un lecteur de cours personnalisable, des flux de goutte-à-goutte, divers formats d'affectation et de test, des certificats numériques de marque, etc. Cette solution peut s'intégrer à d'autres plateformes telles que Zapier, Zoom, MailChimp, HubSpot, FreshDesk, etc. Tarification sur une base d'abonnement mensuel. L'assistance est disponible via un centre d'assistance en ligne, des tutoriels vidéo et d'autres ressources.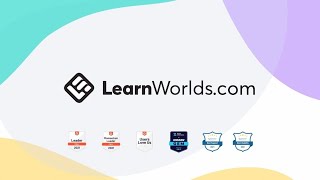 LearnWorlds n'est pas disponible en version gratuite mais propose un essai gratuit. La version payante de LearnWorlds est disponible à partir de 24,00 $US/mois.
Version d'essai gratuite :
Produits similaires à LearnWorlds
Évaluation des fonctionnalités
Logiciel utilisé

tous les jours

pendant

1 à 5 mois

Provenance de l'avis
---
Their initial proposal to switch hosts was the ultimate in a professional academic offer.
This software makes it possible to me to have an international school, to interact with a widely diverse platform of students without the "brick and mortar"overhead that continues to make education too expensive for many students. It also allows me the one-on-one contact with students who have very specific questions that I want to throughly answer, instead of sitting in a typical lecture hall with hundreds of others holding onto their unanswered questions.
Avantages
There's nothing wrong with making a fortune selling courses on using a hula hoop, but I've been professional field researcher outside the USA for nearly 13 years.
I have five professional degrees in subjects that I am passionate about to my core. I want to attract self-directed students. All the other online hosts that I thoroughly researched or used focused on what I call "recreational learning." My courses are serious investigations to make a sizable income.
LearnWorlds has so many professionals on staff that they understood that concept and are helping me to attract those who need CPD credits as an ESL teacher or a respectable career as an English Tutor in as little as a week."
Secteur d'activité : Gestion d'organisme à but non lucratif
Taille de l'entreprise : 201–500 employés
Logiciel utilisé

tous les jours

pendant

plus d'un an

Provenance de l'avis
---
A great product for a remote workforce.
I think the overall experience we have had with LearnWorlds has been very positive, and there are many features we have yet to explore and use to its full potential.
Avantages
As a company that has a large remote workforce, we needed the flexibility to move to an online learning platform. We have a lot of resources that, prior to 2020, would be delivered in a face to face classroom or on site. Now, we can offer resources, more widely, not only to equip our workforce, but to be used by others. Support is great, and when we have questioned a particular feature that hasn't been available, they have often sent our query to product development and it soon pops up.
Inconvénients
We do use this platform as our main website. As it is primarily designed to be an online learning platform, it can sometimes be a little clunky in places. Having said this, benefits far outweigh the inconveniences and most 'drag and drop' style of website building platforms don't have the complete flexibility of bespoke sites either. I would, as the overall administrator, love to be able to 'lock' the theme so other users can't pick other colours and styles for various things such as backgrounds and buttons.
Secteur d'activité : E-learning
Taille de l'entreprise : 2–10 employés
Logiciel utilisé

tous les jours

pendant

plus d'un an

Provenance de l'avis
---
No Student Authentication
I have spend 2 years developing the drivers ed program that still needs to be approved by the state of Nevada. But lack of student authentication leaves me no choice but to find another platform elsewhere. Stubborn developers dont think its important !
Avantages
Pretty easy to use. The customer service answers questions within 24 hours generally.
Inconvénients
No student authentication. No challenge questions for students taking quizzes and exams. No way to authenticate who is actually doing the coursework.
Its more for a hobby or crafts school. Not serious accredited curriculum you may be offering.
Secteur d'activité : Gestion de l'enseignement
Taille de l'entreprise : 1 001–5 000 employés
Logiciel utilisé

tous les jours

pendant

plus d'un an

Provenance de l'avis
---
LearnWorlds: Best Resource to Start Learning Online
LearnWorlds has been an amazing partner for us as we build our online school. They have been responsive to our needs, flexible in their approach, and have built out a robust platform that meets the needs of our students. We are extremely happy with our partnership with LearnWorlds and would recommend them to anyone looking for an online school solution.
Avantages
The most impactful features of LearnWorlds are its scalability, its ease of use, and its ability to integrate with existing business processes. LearnWorlds is very easy to use, and its integration with existing business processes was seamless. I was able to quickly create and launch my first course without any issues.
Inconvénients
I found the course creation process to be a bit confusing and time consuming. I also found the text editor to be a bit basic and lacking in features.
Secteur d'activité : E-learning
Taille de l'entreprise : 11–50 employés
Logiciel utilisé

tous les jours

pendant

plus d'un an

Provenance de l'avis
---
Perfect Solution for our Online School
The data we can pull from our courses is above and beyond. Learnworlds has given us everything we need to create innovative, engaging online courses that people LOVE taking. The interface is user-friendly and integrates with several other programs like Zapier and Mailchimp. They have constantly improved the platform and have gone the extra mile to help make our school successful with professional development offerings. We couldn't be more happy with our LMS selection!
Avantages
I love so many things about this software. I think first and foremost the best part is the team behind it. From every aspect of using this software they have been helpful and forward thinking. Everything they have promised, they have delivered. They are extremely helpful and responsive throughout the entire process. I researched over 100 LMS options when I began our school and I have never once regretted choosing Learnworlds.
Inconvénients
I wish there were more prebuilt templates in the ebooks. I also wish the built in assessment tool offered more question formats. They have recently added multiple selection answers which is great! I am also looking forward to more updates in the extra sections for users involving social interaction and communication in addition to what they already offer. For example, I'd like to be able to easily email users in a course directly from the LMS.
Pourquoi passer à LearnWorlds
The ability to import SCORM files, price and user support.
Réponse de

LearnWorlds

Thank you so much for taking the time to leave us this insightful review, Alicia! We work hard to meet expectations like yours, continuously adding new features, and we are happy to hear we hit the mark for you! We are constantly working on new features or advancing the existing ones, so stay tuned.

Répondu le 03/03/2021