En savoir plus sur SpotOn
SpotOn Restaurant is a cloud-based point-of-sale solution that enables businesses to streamline processes related to food ordering, tableside payments, customer retention and more. The online ordering functionality enables businesses to create custom menus, accept online requests and redirect the order to the kitchen on a centralized platform. SpotOn Restaurant provides a mobile order and payment functionality, which lets customers access menu, send table orders to the kitchen and pay using an EMV, Apple Pay and Android Pay-enabled card reader. It comes with a labor-management module, which allows businesses to administer human resources operations related to shifts, employee hours and gratuities. Additionally, managers and leaders can gain insights into processes across transactions, POS, hourly sales, special events and loyalty campaigns. SpotOn Restaurant facilitates integration with several third-party solutions such as HotSchedules, Ctuit, Intuit Quickbooks and more. It is available on monthly subscriptions and support is extended via phone and email.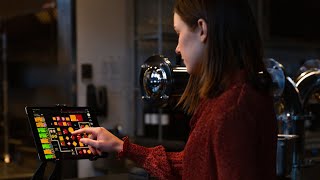 SpotOn n'est pas disponible en version gratuite. La version payante de SpotOn est disponible à partir de 65,00 $US/mois.
À partir de :
65,00 $US/mois
Version d'essai gratuite :
Non
Produits similaires à SpotOn
Évaluation des fonctionnalités
Secteur d'activité : Restaurants
Taille de l'entreprise : 2-10 employés
Logiciel utilisé

tous les jours

pendant

6 à 12 mois

Provenance de l'avis
---
SpotOn saves the day during the pandemic
We first used it for counter service and then switched over to assigned tables.
Avantages
We switched to SpotOn in Februrary 2020 just before COVID hit. When the pandemic happened we took full advantage of the ability to take online orders, and used their newest contact free ordering system. When this pandemic is over we will keep these things going.
Inconvénients
Basically anyone already familiar with a POS can jump right in and start using SpotOn.
Secteur d'activité : Restaurants
Taille de l'entreprise : 11-50 employés
Logiciel utilisé

tous les jours

pendant

plus d'un an

Provenance de l'avis
---
SpotOn Delivers Peace of Mind and Profitability
Avantages
Top on our list of what we like most about the SpotOn software is the ability to customize the screens and the reports to fit our needs. The ability to log in from anywhere and make changes on the go is also one of the most helpful and impactful features. The reports are easy to interpret and share. Staff timekeeping and payroll is a breeze. Our staff love the ease of the screens and how easy it is to modify items add new items or create events.
Inconvénients
We are very pleased with this software. We have recently began using the handheld tablets and our only complaint with those was not having the ability to start a tab. However, SpotOn contacted us and said this feature was going to be implemented and asked if we would like to be part of the Beta testing for that feature. So far it is going great and we appreciate that they listen to the users and are always looking to add helpful features and updates.
Pourquoi choisir SpotOn 
We looked to make a switch due to lack of customer support, Difficulty with technical issues and credit card processing fees.
Pourquoi passer à SpotOn
We chose SpotOn based on our salesman, [SENSITIVE CONTENT]. We felt he was honest, he provided answers to all of our questions and went above and beyond to get questions answered that he did not know. His follow up was impeccable and we were very impressed with the features he put in front of us, how it would benefit us and how we could save money and time with the SpotOn software.
Réponse de

SpotOn

Thanks for this feedback, Lianna! We are so happy to hear you are enjoying the handheld as well.

Répondu le 10/08/2022
Secteur d'activité : Vente au détail
Taille de l'entreprise : 2-10 employés
Logiciel utilisé

tous les jours

pendant

1 à 5 mois

Provenance de l'avis
---
Misleading and poor funtionality
Misleading product functionality information and usefulness to our industry. Referral platform is not as presented by the rep. Equipment fee for canceling not properly disclosed, the rep even told us to keep our current processor in case we did not find Spot On useful so we could easily cancel without missing a beat. Glad we did but the extra $400 in fees for equipment/ canceling was not mentioned.
Avantages
More advanced appearance and equipment could be moved around our showroom..
Inconvénients
Programs were faulty. Constantly having issues and error warnings. We had to try different downloads and programs and still had issues.
Réponse de

SpotOn

We're sorry to hear about the challenges you've experienced with our financing and cancelation terms. In looking at your account, your financed hardware must be returned or otherwise paid for. We hear your frustration about this and are actively working to find a resolution. Thank you for your patience and understanding.

Répondu le 13/12/2022
Secteur d'activité : Restaurants
Taille de l'entreprise : 11-50 employés
Logiciel utilisé

tous les jours

pendant

6 à 12 mois

Provenance de l'avis
---
Okay
Good setup and install
Avantages
Lots of features to work with and easy setup
Inconvénients
Don't use half the features and makes a bit more difficult.
Alternatives envisagées 
Clover
Pourquoi choisir SpotOn 
Online options
Pourquoi passer à SpotOn
Price
Réponse de

SpotOn

Hi Jeremy, thanks for the feedback. We'd love to walk you through any of the features you'd like more information on. I'm reaching out with my contact information and would be happy to set you up some time with your success manager when you'd like to connect. Thank you for your business and for leaving us a review!

Répondu le 09/11/2022
Secteur d'activité : Hôtellerie
Taille de l'entreprise : 51-200 employés
Logiciel utilisé

tous les jours

pendant

1 à 5 mois

Provenance de l'avis
---
Winner Winner Chicken Dinner, Eischen's Bar and SpotOn
From the very beginning when we started using SpotOn only for credit cards we have felt valued as a customer. This value has only increased as we moved into the POS system. Our sales rep [SENSITIVE CONTENT] made sure if he did not know the answer he investigates and found it for us during our decision making process. He was very diligent in his response and overall communications and continues to be available for our needs. The support staff with SpotOn especially Don Bisbee has made sure our conversion to SpotOn's POS system was a very positive experience. He continues to check in and be available for all of our needs. Don spend many hours with us during the conversion and made sure we were extremely comfortable with the product before his next install. His attention to detail in regards to the KDS portion of the POS was invaluable. He is a great representative of SpotOn
Avantages
This was our second POS system and the anxiety of change was high. SpotOn did a great job in working with us from the menu design through install date. We are a unique restaurant that is very set in our ways. SpotOn did a great job grasping our needs and adjusting / showing which portion of their software would work for us. The software is very user friendly and was easier to adjust to than expected. SpotOn has been very prompt with any questions/requests/problems we have come across thus eliminating them.
Inconvénients
We include taxes with our food items and the existing Daily Sale Reports breakdown as net. We have been able to adjust our reporting to accommodate and SpotOn is always working on new reports. It would also be nice to have a product mix report you can run for a specific timeframe.
Pourquoi choisir SpotOn 
Our system was purchased from a local company in 2013. We were very spoiled by working with a small company that valued our business. That company was bought out from NCR and our system was antiquated. NCR support was difficult to communicate with and the response time was slower than we were used to.
Pourquoi passer à SpotOn
SpotOn made us feel valued as a family business and worked hand in hand with us to create the POS system layout we needed for our restaurant.
Réponse de

SpotOn

This is music to our ears! We appreciate your input and value your business. Thank you for the feedback on reporting; I've reached out to your account rep to try to help find a solution to the reporting limitation you're experiencing. We look forward to finding a solution for you!

Répondu le 06/04/2022