En savoir plus sur Frepple
FrePPLe is a supply chain planning and scheduling solution, which integrates with ERP systems such as Odoo, SAP, Sage, JobBoss and more. Users can schedule production by dragging-and-dropping jobs on Gantt charts, optimize inventory stock levels, adjust sales forecasts, evaluate the impact of rush orders, review the impact of machine breakdowns in the factory and more. The system is suitable for businesses in sectors including injection molding, metal machining, retail, spare parts and aerospace.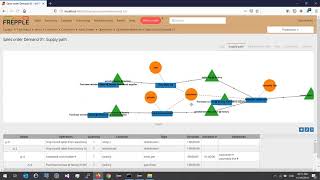 Frepple est disponible en version gratuite et propose un essai gratuit. La version payante de Frepple est disponible à partir de 5 000,00 $US/année.
À partir de :
5 000,00 $US/année
Version d'essai gratuite :
Oui
Produits similaires à Frepple
Évaluation des fonctionnalités
Secteur d'activité : Services et technologies de l'information
Taille de l'entreprise : 11-50 employés
Logiciel utilisé

tous les jours

pendant

plus d'un an

Provenance de l'avis
---
Excellent Supply Chain Plannning Solution
As an organisation, frePPLe has been consistently responsive. The software is continuing to evolve, and support and development have been excellent.
Avantages
frePPLe has addressed two key areas in planning and forecasting for us:
- Out of stocks (= lost sales)
- Overstocks (= inefficient use of working capital)
The business benefits are particularly significant where the item / location combinations being planned are in the 10's or 100's of thousands.
Feedback from customers we have worked with is that in the overwhelming majority of cases frePPLe consistently outplans humans, and is capable of taking 95% of the grunt work away from the planning function. This frees up planners to work with the products, product categories and stores which are exceptional.
Inconvénients
We haven't had any issues with the core functionality, and where there have been gaps, these have been addressed through custom development.
Secteur d'activité : Services et technologies de l'information
Taille de l'entreprise : 11-50 employés
Logiciel utilisé

Autre

pendant

6 à 12 mois

Provenance de l'avis
---
User Friendly Capacity Planning
Our U.S.-based manufacturing client that implemented FrePPLe in early 2019 has seen significant improvements in production forecast accuracy and more streamlined inventory reordering. It is the backbone of their capacity planning going forward.
Avantages
FrePPLE's interface is intuitive. For manufacturers who are doing scheduling, production & inventory planning and supply chain forecasting manually it's much quicker and easier to adjust schedules, run what if scenarios, move jobs around by click on drag on the Gantt chart and solve constraints in FrePPLE.
Inconvénients
Like all IT solutions that solve complex problems, FrePPLe requires precise, phased implementation.