En savoir plus sur Streak
Streak est une solution cloud de CRM (Customer Relationship Management) qui aide les petites et grandes entreprises à gérer des projets et des campagnes de collecte de fonds via Gmail. Les utilisateurs peuvent recevoir automatiquement les détails des tâches dans leur boîte de réception et trier les messages pour récupérer des résultats spécifiques à l'aide de la fonctionnalité de recherche. Streak permet aux entreprises d'envoyer des liens d'invitation à divers services organisationnels et d'accorder des autorisations à des employés spécifiques. Les utilisateurs peuvent utiliser des rapports de performance pour obtenir des informations sur les processus de développement de produits et les opérations commerciales. De plus, la solution propose des applications mobiles pour appareils iOS et Android, ce qui permet aux utilisateurs de mettre à jour les informations client et de partager des informations critiques avec les membres de l'équipe, même à distance. Streak est dotée d'une API (Application Programming Interface) qui permet aux grandes entreprises de modifier le système et de l'intégrer à d'autres systèmes tiers. La solution est disponible gratuitement ainsi qu'avec des abonnements mensuels ou annuels. L'assistance est assurée par un chat en direct et d'autres outils en ligne.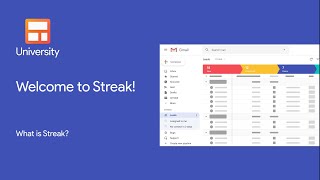 Streak est disponible en version gratuite et propose un essai gratuit. La version payante de Streak est disponible à partir de 19,00 $US/mois.
À partir de :
19,00 $US/mois
Version d'essai gratuite :
Oui
Produits similaires à Streak
Évaluation des fonctionnalités
Secteur d'activité : Divertissement
Taille de l'entreprise : 11–50 employés
Logiciel utilisé

tous les mois

pendant

6 à 12 mois

Provenance de l'avis
---
Un outil très précieux pour comprendre l'intérêt de votre interlocuteur
Avantages
La simplicité d'installation et la partie data sur des échange 1to1
Inconvénients
Sur les boucles mails ça devient vite compliqué de suivre et de remonter de la data pertinent
Secteur d'activité : Recrutement
Taille de l'entreprise : 1 001–5 000 employés
Logiciel utilisé

tous les jours

pendant

plus de deux ans

Provenance de l'avis
---
Personalized Email Blast? Streak is the man!
This is the best platform so far out there that I've used in terms of sending emails, managing emails, and tracking the open rate and the acceptance rate of my emails.
You can also schedule an email sending time using Streak which is pretty awesome!
Avantages
I've been in the recruiting field for more than two years now, and it has been a bottleneck for me sending emails outside of our candidate database. I usually do this whenever I need to update the candidates regarding next steps, and also if they have been turned down by the client after our presentation call with them.
What I usually do before is to send each candidate an email even if the context is just the same. This dilemma has been resolved by Streak! I was able to maintain the personal connection atmosphere with my candidates with the use of just a few seconds. All you need to do is to put the details of the candidate plus any personalized matter you want to add in the email context on a csv comma delimited excel sheet.
One more good thing about Streak is that you can schedule when an email should be sent. You can also monitor the acceptance and the open rate of your emails via Streak. Truly, Streak is the best platform for sending and email management.
Inconvénients
I really don't have negative experience with Streak! I really love how the platform helped me do my job responsibilities without compromising human touch. Maybe this message is a sort of recommendation. I hope they can upgrade their system so that they too will upgrade to an applicant tracking system. If that time come, I will propose this to our company since I know Streak will help us in driving great ROI, and client engagements.
Secteur d'activité : Études de marché
Taille de l'entreprise : 2–10 employés
Logiciel utilisé

toutes les semaines

pendant

plus de deux ans

Provenance de l'avis
---
Live in gmail all day? This is the tool for you
Used it for over 2 years and absolutely loved it. The fact that I needed a more powerfull solution beyond tracking mails towards deal flow follow-up, chat embeds, forms etc made us look for a total solution. As a starter however, the solution was just fine.
Avantages
1) Gmail first...
Activate the plugin and it just works, right where you need it: inside Gmail. Not having to move between windows or different tools makes it a big benefit to use Streak over others. It works with labels, provides direct & clear insights in your mailbox.
2) Collaboration... in gmail
We used Streak as a team. Sharing is easy as all mails are shared over 'boxes'.
Inconvénients
1) lack of an evenly good mobile solution
They have an app that 'works', but it is not at the same level as their desktop gmail experience.
2) lack of featuers
No sequences were the major reason to stop using Streak.
Pourquoi passer à Streak
We now use Hubspot, but back then it was too feature-packed. Salesflare was back then less integrated with gmail, so we opted for Streak.
Secteur d'activité : Médias en ligne
Taille de l'entreprise : 11–50 employés
Logiciel utilisé

tous les jours

pendant

plus de deux ans

Provenance de l'avis
---
Complete disrespect for loyal users (disgusting price increase/cash grab)
It's been fine. The tool works, support is sluggish and sometimes completely unresponsive, requiring follow-ups to get things actioned. Would not trust them.
Avantages
It was a great lightweight tool for the beginning of our start-up, and managed to grow a little with our team. Works really well with Gmail.
Inconvénients
Streak charges as though it's a fully-fledged CRM, but it is JUST a Gmail plugin; with huge platform risk should Google decide to stop supporting it. On top of this, they jacked up their pricing – not just for new seats, which would be fair – but for existing seats for very loyal customers; a cynical cash grab. We're talking a 34% increase. Just disgusting. Going back and forth with the FOUNDER, he still couldn't understand our point of view. We have now reduced our spend as much as possible ahead of moving away from them to an alternative platform without the Gmail plugin risks. If I were Streak, I'd be selling ASAP before the whole company tanks. Please think about the above before going with Streak, they have no loyalty, nor should their customers.
Pourquoi passer à Streak
It was all we needed at the time, and worked with our existing workflow. It was also cheap to begin with.
Secteur d'activité : Loisirs, voyage et tourisme
Taille de l'entreprise : 2–10 employés
Logiciel utilisé

toutes les semaines

pendant

plus d'un an

Provenance de l'avis
---
Rough around the edges
I used Streak to follow acquisition of customers from cold contact to successful contract, and then, in another pipeline, how far along we are in our business relationship. If things would not move for a while, that identified a red flag I would investigate. If it wasn't for the inherent bugginess and general sluggishness of Streak, we would still be using it to this day as its integration with Gmail is just a fantastic idea.
Avantages
It integrates directly to Gmail, and that alone makes it good. You open your Gmail, like you open it every morning and your CRM is good to go!
Inconvénients
This thing is riddled with bugs and glitches. Often it would just not load and I would sit staring at a blank screen. Other times, it would load, but would completely choke my processor. A few times, it crashed my browser.
Pourquoi passer à Streak
We felt it was incredible how well it integrated in our processes and how easy it was to open it every morning without even thinking about having to do it.