En savoir plus sur Freshsales
Freshsales est une solution cloud de CRM (Customer Relationship Management) qui aide les entreprises de différents secteurs industriels à gérer leurs interactions avec les clients existants et potentiels. Ses principales fonctionnalités sont le téléphone en un clic, le suivi des leads, la gestion des ventes, le suivi des événements, etc. Les utilisateurs peuvent également envoyer des e-mails personnalisés en masse à partir de la solution, puis surveiller les activités liées à ces e-mails. La boîte de réception donne automatiquement la priorité aux e-mails des contacts et des leads en attente d'une réponse. Freshsales suit les pages web avec lesquelles les prospects interagissent, puis segmente les contacts en fonction de leur comportement. Une fonctionnalité de lead scoring classe les leads en fonction de ces données et donnera la priorité à ceux qui ont un score plus élevé par rapport à ceux qui nécessitent davantage d'accompagnement. La vue client à 360 degrés donne des informations complètes sur les clients et les prospects, notamment les conversations, les points de contact, les rendez-vous et les tâches. Freshsales s'intègre à Freshdesk, au suivi des événements Segment et au Google Agenda. Les services sont proposés sous forme d'abonnement mensuel comprenant une assistance par téléphone et via d'autres ressources en ligne.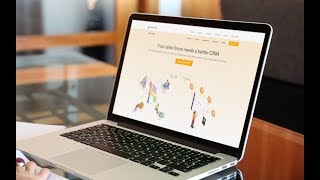 Freshsales est disponible en version gratuite et propose un essai gratuit. La version payante de Freshsales est disponible à partir de 15,00 $US/mois.
Version d'essai gratuite :
Produits similaires à Freshsales
Évaluation des fonctionnalités
Secteur d'activité: Logiciels
Taille de l'entreprise: 11-50 employés
Logiciel utilisé

tous les jours

pendant

1 à 5 mois

Provenance de l'avis
---
Easy On-boarding and setup, fast support.
We are too big for no CRM, but not big enough to implement the HubSpot and Salesforce CRMs of the world. We tried those systems thinking we needed the features and analytics, but the spend and maintenance for those systems are too high. Freshsales, Freshchat, Freshmarketer, and Freshdesk make a seriously well priced and powerful system full of the features we need to produce the right results: a good relationship with customers.
Freshworks' customer support is spot on. It seems no matter when I need help, they are less than a few minutes away from a solution. Freshchat is king! We've even deployed the same support structure on our website (Freshchat) and lead conversion has gone way up. It's nice to see a company have a product good enough to use themselves. I also like being able to achieve the same results for my customers as Freshworks has produced for me without major customizations.
Avantages
I was able to easily onboard to this system from HubSpot and Salesforce. The features in this system just work. You expect something to operate in a certain way, and it just does. Mail and calendar integration is super easy and really responsive (I used both Office 365 and Google Integrations). I love email templates and sales campaigns, they make working with leads and customers so easy and are not tucked away in a corner.
The UX is much better than other systems, which means my salespeople are more likely to use the CRM, which is a common problem among salespeople and CRM systems.
Inconvénients
Freshsales is right-sized for us. It lacks some of the major enterprise features of bigger CRMs; but you also don't have too many features right in the way.
I'm not a huge fan of the field paging UI on leads, deals, accounts, and contacts. I get that it makes it so you can add as many fields as you want, but it's hard to navigate and organize my screen just the way I like it. I resorted to using the Edit screen though, even when I'm not necessarily editing and that works well enough. Definitely not a big deal compare to all the other awesome features.
Secteur d'activité: Cosmétiques
Taille de l'entreprise: 11-50 employés
Logiciel utilisé

tous les jours

pendant

plus d'un an

Provenance de l'avis
---
If you need support, look elsewhere
In short, great app, downright awful support
Avantages
Very easy to implement. Currently using FreshDesk, FreshCaller and FreshSales. Great integration, everything works quite well.
Inconvénients
As long as you do not need help from support, you will be fine. Every time that I have contacted support it has unfortunately been very disappointing. Even the most basic question takes an inordinate amount of time to get a response. Specific issue on FreshSales that really was upsetting is the fact that under the blossom program you get absolutely no reports, zero. In order to get reports, you have to upgrade to the next plan, garden. The cost per user goes from 12 to 25 if you are on the annual plan or 19 to 35 on the monthly. It is really hard to understand why some basic reports were not provided under blossom. Yes, the app is very useable without reports, however, if you are managing a team and want to see data across users, forget about it. You need reports and will have to migrate to the next plan up. I cannot stress the fact that the support is just simply not a priority for them, for many folks this could be the one thing that will force them to look somewhere else.
Pourquoi passer à Freshsales
The decision to choose freshworks was for most part driving by cost.
Secteur d'activité: Construction
Taille de l'entreprise: 11-50 employés
Logiciel utilisé

tous les jours

pendant

plus d'un an

Provenance de l'avis
---
Great CRM for your company.
In overall we are really happy with this CRM, we have been using it for years now, we honestly think that there is room for improvement but so far we like it, and is what you need to keep your business going.
Avantages
I really like the fact that this CRM allows me and my company to keep track of the prospects we are working with, we can keep track of the last contacts, if we made a phone call or an email and save tasks to continue working in the future. Is also a great tool to keep track of the pipeline process with financial information and pending tasks.
Inconvénients
Keep all the prospects updated is one of the topics they can improve, is not easy to always have all the team to work on a lead and add the information, and is better to work on a computer than on a phone app, in the construction field you are always traveling and is really hard to have a laptop with you so I think a mobile version with better options and more user friendly is better.
Secteur d'activité: Énergies renouvelables et environnement
Taille de l'entreprise: 2-10 employés
Logiciel utilisé

tous les jours

pendant

1 à 5 mois

Provenance de l'avis
---
Lots of issues w/ CRM migration + bugs
Overall very disappointed - we have had expensive downtime for our sales team, actual downtime from our customers not being able to use our software due to their tracking snippet and hours spent going back and forth with their support team not getting to a resolution. Amazing they have raised so much money and have not been able to address these issues. Doesn't feel like a production ready software product.
Avantages
Liked the featureset and price and the fact that they promised full migration support from our previous CRM. Unfortunately it did not turn out as advertised.
Inconvénients
During the sales process I was told that they would provide full service assistance with migrating us from a previous CRM and this was a big reason why we picked Freshsales after a through search across the options in the market. They told us it would be completed by a certain date and then missed the deadline - my sales team had no CRM for over a week and was logging all their notes in spreadsheets! Then when the incomplete data showed up, we were missing the dates of actions along with whole categories of actions. I'm writing this 5mo later and after working with multiple support personnel from Freshsales this is still not resolved. We've also had issues with bugs in the software including their snippet which tracks website actions blocking folks from being able to login to our software 2x. Twice we've had slow performance on our web app reported (we run a software company) and our engineering team has troubleshot and pinpointed the Freshsales snippet as the source of the problem. The call feature with call recording is not usable with customers reporting choppy connection / poor connection on over 50% of calls. Numerous small bugs found in the software that affect usabiilty. We build software and it's very clear that they need improvements to their software testing process and less overpromising from their support team.
Secteur d'activité: Exploitation minière et métaux
Taille de l'entreprise: 11-50 employés
Logiciel utilisé

tous les jours

pendant

plus d'un an

Provenance de l'avis
---
Freshworks CRM review
Pretty Good, Has some issues and bugs that creep up
Avantages
The integration with Freshdesk as well as how you can view your Pipeline
Inconvénients
Limiting functionality, We as company have products in SAAS as well as once of, In the pipeline I cant split the two and causes issues when filtering
Pourquoi passer à Freshsales
Pricing and it was our first software to manage CRM