En savoir plus sur BigChange
BigChange est une solution cloud de planification qui aide les entreprises de toutes tailles à gérer leurs effectifs et à suivre leurs travaux. Ses principales fonctionnalités sont le suivi des véhicules, la réservation des clients, le CRM (Customer Relationship Management), la gestion des ressources et les notifications en temps réel. Le système comprend une application mobile qui permet aux clients d'effectuer des réservations en ligne pour les services. De plus, les responsables peuvent utiliser ce système pour gérer les appels des clients, envoyer des messages, gérer un parc de véhicules et préparer des rapports. Le suivi des véhicules permet aux utilisateurs de surveiller les journaux des conducteurs et de suivre les dépenses. BigChange permet aux équipes de synchroniser les données entre le back-office et le personnel en intervention et d'enregistrer les heures facturables. Sa fonctionnalité de gestion de la relation client aide les membres de l'équipe à stocker les données des clients et à les aider lors de la détermination du prix des contrats, des travaux, de la main-d'œuvre et des pièces. BigChange est disponible sous forme d'un abonnement mensuel et l'assistance est assurée par téléphone et par e-mail.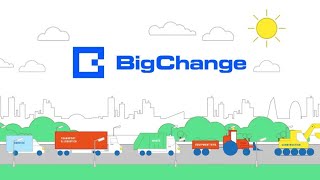 BigChange n'est pas disponible en version gratuite et ne propose pas d'essai gratuit. La version payante de BigChange est disponible à partir de 64,95 €/mois.
Version d'essai gratuite :
Non
Produits similaires à BigChange
Évaluation des fonctionnalités
Secteur d'activité: Vente au détail
Taille de l'entreprise: 1 001-5 000 employés
Logiciel utilisé

tous les jours

pendant

plus de deux ans

Provenance de l'avis
---
Working with Big Change
See less, it's like the solution has integrated well and forms part of our day to day operating model.
Avantages
I think the best element of this product is that's it very versatile as it allows you to design it around your current operation. Also the team are constantly releasing useful updates, some of which make life a little easier and some offer productivity gains.
Inconvénients
There nothing really that's bad here, any elements that were hare to navigate are constantly being updated to make them as user friendly as possible.
Réponse de

BigChange

What a great review - we are thrilled to hear how pleased you are with your system and benefit from our regular new system updates. BigChange is indeed a very versatile system and we are happy to be part of your operating model.
Thank you for choosing BigChange.

Répondu le 05/11/2020
Secteur d'activité: Construction
Taille de l'entreprise: 11-50 employés
Logiciel utilisé

tous les jours

pendant

plus de deux ans

Provenance de l'avis
---
Big Change Revolutionised My Business
I have dealt with all levels withing the business and found 99% of the people amazing to deal with! They have guided, trained and been far more accommodating then any other mobile resource software provider out there.
Avantages
The facility to invoice live and make cash flow through the business improve.
Inconvénients
The schedule does not have dynamic scheduling
Pourquoi choisir BigChange 
How they promised they would adapt to suit my requirements, they did deliver!
Pourquoi passer à BigChange
Same as above!
Réponse de

BigChange

Delighted to hear about your amazing experience with the BigChange system. We designed it to be 'Revolutionary' for everyone, for you the business owner, for your team for your customers and your cashflow. Nothing gives us more satisfaction than hearing great success stories like this.
Thank you once again for taking the time to leave a review.

All the best,
Team BigChange

Répondu le 28/10/2019
Secteur d'activité: Énergies renouvelables et environnement
Taille de l'entreprise: 51-200 employés
Logiciel utilisé

tous les jours

pendant

1 à 5 mois

Provenance de l'avis
---
Big fraud
Dreadful
Avantages
Nothing - I would not like to recommend any positives.
Inconvénients
Big Change bullied me into the contract when I refused to sign following a meeting on the day after I buried my daughter.
I then informed them I was no longer interested after establishing the product had been misleadingly sold.
Their response was to go legal and demanded over £15,000 with zero empathy.
I would not recommend this service due to a variety of issues.
Secteur d'activité: Automatisation industrielle
Taille de l'entreprise: 11-50 employés
Logiciel utilisé

tous les jours

pendant

1 à 5 mois

Provenance de l'avis
---
Whole business can now function as one
Implementation with the on boarding team has been fantastic, they have been extremely helpful. Any issue that occur are quickly resolved with roadcrew who are extremely helpful
Avantages
Previously we had to use several systems to run our sales team, service department and accounts. This can now all be done as one and each department has access to the whole system. Being able to see what customers have on hire without asking other departments has been key for our sales team.
The quick access to service quotes allows the team to function more efficiently and effectively. Glad we made the decision to change
Inconvénients
Some of the reporting could be improved with the likes of power bi. This would enable management teams to create their own purpose built reports
Pourquoi choisir BigChange 
Cloud based Full team access Reliability Ease of use
Pourquoi passer à BigChange
Better fit for business needs
Secteur d'activité: Jeux d'argent et casinos
Taille de l'entreprise: 11-50 employés
Logiciel utilisé

tous les jours

pendant

plus d'un an

Provenance de l'avis
---
A complete solution
Big Change are a very customer focussed business, implementing Job Watch was extremely straight forward with ample amounts of training provided. The Job Watch product has brought together many of the elements of my company's field service activity ensuring a seamless and streamlined experience for clients , office staff and field engineers.
Avantages
Job Watch is a very modular product and very straight forward to tailor to an individual business. Implementing this software had an immediate impact on the speed at which field service jobs were detailed and billed to the client. Cash flow was positively effected due to itemised billing, client sign off of work completed and job reports tied to invoices. Job watch manages all of the processes concerning my company's field service activity, from the tracking of engineers to the delivery of an accurate invoice with the added bonus of reducing time and costs associated with service administration.
Inconvénients
The contracts section of the software is difficult to tailor to our business and engineers on site do not have visibility of the contract levels that are set so they cannot see what works are covered by any agreement.
Pourquoi passer à BigChange
Big Change offered a more polished solution that was better suited to integrate in to my business.