En savoir plus sur Dashpivot
Dashpivot is a cloud-based project management solution that helps construction businesses of all sizes manage workflow, teams, and projects. It allows users to capture, organize and track work via real-time updates, automation, and analytics. Prime features of the platform include offline data collection, media upload, location tagging, draft and autosave, PDF markup, e-signatures, version control, built-in reporting, template grouping and more. Additionally, the platform offers an integrated management system to update, format and publish multiple documents such as Word, Excel and PDF. The solution also allows storage and printing of documents via cloud storage. Dashpivot integrates with various third-party applications such as Zapier, SharePoint, aconex, Salesforce and SAP. The product is available on a per month subscription pricing and support is extended via phone, email and online help desk.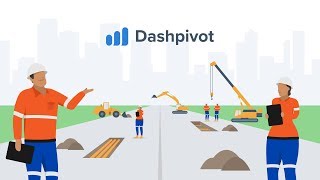 Dashpivot est disponible en version gratuite et propose un essai gratuit.
À partir de:
Non fourni par l'éditeur
Version d'essai gratuite :
Oui
Produits similaires à Dashpivot
Évaluation des fonctionnalités
Secteur d'activité: Hôpitaux et soins de santé
Taille de l'entreprise: 1 001-5 000 employés
Utilisé

tous les jours

pendant

1 à 5 mois

Provenance de l'avis
---
Dashpivot does exactly what I want
The support feature is excellent. The instructional videos made finding my way around Dashpivot very easy, and queries to staff are answered quickly. The register function contains filters that make searching for records easy; this is important because my register will eventually have multiple thousands of entries. Overall, the software's enabled me to create an asbestos register that works for me and my knowledge level, and I don't have to pay for in-built features that I'm not going to use, as I would for other asbestos register products.
Avantages
I use Dashpivot as an asbestos register. The software has all the tools I need to custom-design my register and supporting records. Other products on the market don't offer this flexibility, and still cost over twice as much as this product does. It even lets users enter data and check the asbestos register from their phones in the field, and I can generate reports for staff and contractors that contains the essential information they need to know to keep themselves and others safe.
Inconvénients
I often find myself re-customising my templates, as I learn from trial, error and experience. It would be really handy if my existing record entries could be re-populated with the current template's designs, so I could go back and fill in the blanks. What I have to do now is manually re-type the old data into the new template, which is okay now, but won't be feasible in the long-term.
Secteur d'activité: Construction
Taille de l'entreprise: 2-10 employés
Utilisé

tous les jours

pendant

1 à 5 mois

Provenance de l'avis
---
Great Construction Software
Avantages
Ease of use (especially the app), Ease of uploading multiple photos, Ease of workflows and alerts.
The Site Diary functionality is excellent and it enables searching which is very helpful when searching historically
Inconvénients
Nil experienced so far whilst using this software
Secteur d'activité: Construction
Taille de l'entreprise: 51-200 employés
Utilisé

tous les jours

pendant

6 à 12 mois

Provenance de l'avis
---
Dash pivot review
Dashpivot provides our core business the ability to go paperless and add stream lined service that is based onsite. All documents and procedures in one place that every level of management can have visibilty across each discipline. User friendly and the team is very helpful
Avantages
The ability to Taylor bespoke documentation to our organisation and for the onsite staff to be able to access that documentation in real time
Inconvénients
Nothing really is or was an issue for the dash pivot team. Slow to load in certain situations would be my only concern
Secteur d'activité: Construction
Taille de l'entreprise: 51-200 employés
Utilisé

tous les jours

pendant

plus d'un an

Provenance de l'avis
---
Dashpivot Review
My experience to date with dashpivot has been a really positive one, as somebody who is not a real lover of technology I was impressed by how easy and user friendly the software was. This has resulted in us managing to continue to come up with new uses for the software that we would not have thought of when we originally brought dashpivot on board. It has allowed us to have faster and better access to records onsite, which would have once been created hard copy and manually scanned and saved to a server, and has allowed us to better collaborate with our clients on projects.
Avantages
The best feature of the Dashpivot software is how user friendly it is. You don't need to spend time or money on IT consultants or tech support to establish and later modify/set up the software to meet your needs. Creating your own forms/templates is very simple meaning that it is relatively easy to transfer a paper system across to a digital format/database. Because it is so easy to generate new forms it also means that it is easy to continue to grow your systems as you find new ways to utilise the dashpivot functions or new functions become available.
Inconvénients
Dashpivot is still relatively early in its development which means that there is still a lot of potential in the software that is yet to be realised. However, the team team at dashpivot is always open to hearing your ideas on possible functionality improvements and trying to implement those where possible.
Secteur d'activité: Génie civil
Taille de l'entreprise: 10 000+ employés
Utilisé

toutes les semaines

pendant

plus d'un an

Provenance de l'avis
---
Dashpivot review
Generally I only use Dashpivot for storing photos of on site activities and for daily diaries. From an engineering perspective the ability to digitally document this information is very useful. As you are already aware Engineers are quite time poor, so the usefulness of Dashpivot is directly related to the time spent entering data into it.
Avantages
It is easy to use and very helpful for tracking site activities and storing photos. The iPhone app makes it a perfect tool for an Engineer working on site to upload photos of day-to-day tasks.
Inconvénients
When viewing a photo, it would be good to add a swiping functionality in order to more easily move between photos - especially when in full screen mode. Ability to rotate 90 degrees when in full screen mode would also be a good addition.
For the daily diaries i find myself generally typing everything into the comments box as opposed to manually selecting the drop down lists for things like labour, deliveries and plant/equipment on site as it is much quicker and easier to modify. Although if there was a timesheet functionality that was directly linked to the input fields in the daily diaries then we would be encouraged to manually enter it. I.e. The name of each labourer and the hours they do each day could be entered by the foreman into the daily diary. At the end of the month you could generate a timesheet template, select the labourers name, and it would display every day that labourer worked and the hours he did.