En savoir plus sur FOUNDATION
Since 1985, FOUNDATION has been a trusted name in construction accounting, project management and payroll processing. With powerful job cost accounting and features built specifically for the construction industry, FOUNDATION has the tools contractors need. FOUNDATION also offers additional modules so contractors can customize their system with exactly what they need: Project Management, Scheduling, Service Dispatch, Document Imaging & Routing, Equipment, Inventory, Fixed Assets, Time & Material, Unit Price Billing, Consolidated General Ledger, Executive Dashboard and CPA Audit/Review. FOUNDATION comes preloaded with hundreds of automated reports — including print and certified payroll formats — but it also features an easy-to-use report builder, allowing contractors to get their data how they want it. Labor burden, jobs costs, rates, trades, unions, states and localities all calculate at the touch of a button. Through integrations with Foundation's additional products and services — like ProjectHQ and Payroll4Construction — as well as other popular third-party offerings, FOUNDATION lets contractors sync and store all their project and financial data in one convenient system, eliminating the need for double-entry across multiple platforms. And with FOUNDATION's integrated mobile apps, including dedicated timecard and service dispatch applications, supervisors in the field can enter timecard data and job notes and sync it all directly back to the office. Used by over 25,000 construction professionals and CPAs across the country, FOUNDATION is developed, sold and supported in-house by Foundation Software, LLC — creators of the construction-specific payroll service, Payroll4Construction, and ProjectHQ, the web-based project management software for contractors and subcontractors. With professional consulting, training and continuing education available, Foundation takes pride in being not just a vendor but a partner in their clients' success.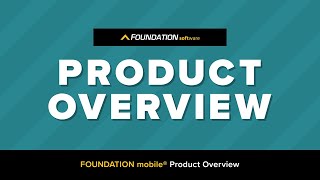 FOUNDATION n'est pas disponible en version gratuite mais propose un essai gratuit.
À partir de:
Non fourni par l'éditeur
Version d'essai gratuite :
Oui
Produits similaires à FOUNDATION
Évaluation des fonctionnalités
Secteur d'activité: Construction
Taille de l'entreprise: 11-50 employés
Utilisé

toutes les semaines

pendant

plus de deux ans

Provenance de l'avis
---
Project Management
It's been wonderful to implement a new software to our project management.
Avantages
This software is great for keeping all documents relating to a project in one spot. It links all the items I use daily to the project so I don't have to store them on my computer.
Inconvénients
Took a little navigation to find where and how to get things in there. As well as the form making, but overall, not much I don't like.
Réponse de

Foundation Software

Thank you for your positive review and taking time to share your feedback with FOUNDATION. We are happy to hear our software is meeting your expectations and making life easier for you and your project management team. Let me know if you'd like to talk with someone about making those custom forms and reports easier for you. We are happy to help. -Robin, [email protected]

Répondu le 23/10/2020
Secteur d'activité: Construction
Taille de l'entreprise: 51-200 employés
Utilisé

tous les jours

pendant

plus de deux ans

Provenance de l'avis
---
Foundation Software makes construction accounting easy to understand.
Foundation has made record keeping easy and ready for outside auditors review procedures.
Avantages
Cost, user friendliness, help screens updated and online, and support is second to none.
Inconvénients
Absolutely nothing! Hope to expand our usage of Foundation software because we believe that we have not experienced the whole package benefit to date with different modules.
Réponse de

Foundation Software

Thank you so much for the wonderful review. We are thrilled to hear you're finding our software and support to be a valuable asset in all areas of your business. We look forward to a continued relationship with you and your team. You mentioned you'd like to expand your usage with our software. Check out the many Sales Demos available to you on the Client Portal. If you have any questions about that, or want to have someone from our team contact you, please let me know. I'm happy to help. Again, thank you!
-Robin, [email protected]

Répondu le 20/04/2021
Secteur d'activité: Construction
Taille de l'entreprise: 11-50 employés
Utilisé

tous les jours

pendant

6 à 12 mois

Provenance de l'avis
---
Be Careful. Implementation is PAINFUL and we never got it to work after 10 months
Overall experience was incredibly poor. I wish I would have stuck with my gut, got an accounting software and used HCSS Heavyjob for daily costs and timecards. I tried to go on the cheap with a company that I thought could do both, and would be better for a smaller contractor. They are not and act like they are a player when in reality none of their systems work like the true players products in the industry.
Avantages
I am having trouble finding anything I liked. We tried to implement and get on line for 10 months, never got across the finish line. Billing is clunky and grid timecards don't work on a tablet without being web based. Customer service is slow to respond to questions. I would look at others. It was a costly lesson to me.
Inconvénients
Implementation was horrible, unplanned and without script. Again, in 10 months we could never get it to fully work. Cost us a lot of money and time we didn't have to spare. Absolutely ZERO SENSE OF URGENCY on the implementation team. None. You get your hour training 1-2 times per week and that is it. Also, cannot take credit card payments nor is the billing convenient if you work on a lot of small jobs. You will spend more time inputting than the work takes.
Réponse de

Foundation Software

Hi Kirk,
Thank you for your review. I'm sorry to hear you had such a frustrating experience, but I really appreciate you bringing this issue to our attention. We're normally known for our exceptional communication, support and attention to detail across all of our clients, but we regret that your experience didn't live up to those expectations.
We would like the opportunity to talk and investigate your feedback further, so one of our Implementation Managers will be in touch to talk with you directly. Until then, please let me know if there's anything I can do to help! -Robin, Client Advocate [email protected]

Répondu le 10/05/2021
Secteur d'activité: Construction
Taille de l'entreprise: 11-50 employés
Utilisé

tous les jours

pendant

plus d'un an

Provenance de l'avis
---
Great Software, Very Good Value, Oustanding Support. Usually get call back within 30 minutes
We save time on payroll since we no longer had to manually enter time cards for all the field employees. Project managers can easily view their project reports, rather than have to wait for a report to be printed and given to them.
Avantages
Ease of use. Once we got past the implementation, which was really pretty simple, we were off and running. Payroll importing of timecards feature is outstanding, no daily data entry except for overhead employees. You create your menu an follow the steps. Accounts Payable features are easy to use and data input in quick and easy, allows you to attached copies of the invoices so others can see what was shipped and invoiced. Check writing is simple and automatically creates additional invoice stub if invoices exceed allowed space on check.
Inconvénients
Would like to see ability to create more reports and lists without all the other data on the report. Must import to excel for some things, which to me is an extra step that could be avoided. Ability to insert blank lines on lists to separate employees on custom employee lists.
Doesn't have subaccounts for accounts that you want in more detail, such as repairs to your building or keeping auto expenses separately if you don't purchase the equipment module.
Secteur d'activité: Construction
Taille de l'entreprise: 51-200 employés
Utilisé

tous les jours

pendant

plus de deux ans

Provenance de l'avis
---
Great product with AMAZING customer service
We have had a great experience with Foundation, for our size business, it's perfect!
Avantages
The software is easy to use, and customizable. It's simple, and customer service is Fantastic.
Inconvénients
I wish there were more standard caned accounting reports like TTM income/balance sheets and the ability to customize standard budget reports. More filtering criteria to run reports would be great.
Réponse de

Foundation Software

Hi Jacob,
Thank you for your positive review and taking time to share your feedback with us. We are happy to hear our software is meeting your expectations and helping to make life easier for you and your team. Let me know if you'd like to talk with someone about those reports. Let's see if we can make them easier for you to work with. We're happy to help. -Robin, [email protected]

Répondu le 06/04/2021