En savoir plus sur CyberPlan
CyberPlan est une plateforme basée sur cloud et sur site qui aide les petites et grandes entreprises à gérer l'ensemble du processus de la chaîne d'approvisionnement, de la fabrication à la livraison de produits. Elle permet aux utilisateurs de rationaliser les opérations de planification de la production en générant des prévisions de ventes à l'aide d'algorithmes prédictifs. De plus, les entreprises peuvent préparer des modèles numériques de capacité de production pour avoir une meilleure compréhension sur des besoins en matériaux. CyberPlan permet aux entreprises de créer des séquences d'usinage, d'améliorer l'utilisation des ressources et des niveaux de service. Elle comprend plusieurs tableaux de bord, qui aident les utilisateurs à surveiller et à examiner les KPI (Key Performance Indicators) et à identifier les problèmes potentiels. De plus, la solution permet aux entreprises de réduire les coûts de production en gérant et en ordonnant des séquences de commande pour chaque ressource. CyberPlan facilite l'intégration à des applications tierces telles que SAP, Microsoft, Infor, Sage, Oracle et d'autres. La tarification est disponible pour un droit de licence unique ou sous forme d'abonnement annuel. L'assistance est assurée par téléphone, e-mail, fax et par d'autres services en ligne.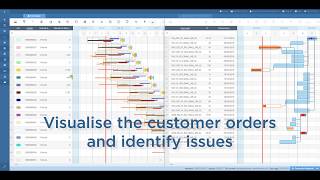 CyberPlan n'est pas disponible en version gratuite mais propose un essai gratuit. La version payante de CyberPlan est disponible à partir de 1 500,00 $US/mois.
À partir de :
1 500,00 $US/mois
Version d'essai gratuite :
Oui
Produits similaires à CyberPlan
Évaluation des fonctionnalités
Secteur d'activité : Génie mécanique ou industriel
Taille de l'entreprise : 201–500 employés
Logiciel utilisé

tous les jours

pendant

plus de deux ans

Provenance de l'avis
---
Useful
Repetitive and low added value activities are carried out by the software while the planner overlook from time to time and tries to change the inputs of the calculations in search for the best planning scenario.
In short: we would be buy it again for sure.
Avantages
CyberPlan is an extremely powerful tool in the hands of a skilled planner. Using this software has been a positive revolution for us, coming from an analogic way of working with a multitude of Excel files, something that caused chaos and led to bad decisions countless times.
The main pros are:
Ease of use, since a new planner can lear how to use it in a short amount of time
Speed of calculations, since we save hours every time we plan (twice a day)
Customisation, that allows us to adapt CyberPlan to our manufacturing process
Depth of analysis
Ability to export the results, that is useful while communicating with other departments
The consultants, who are serious and caring professionals
Integrability with the erp
Reliability
Inconvénients
It could be a bit expensive at first, but it made our planning do a huge step forward in terms of effectiveness and the benefits we got justified every penny.
Secteur d'activité : Médias en ligne
Taille de l'entreprise : 51–200 employés
Logiciel utilisé

tous les jours

pendant

plus d'un an

Provenance de l'avis
---
Use CyberPlan for Your Planning Needs
We are able to plan now that we have access to Cyberplan. The primary advantages that we have gained from this change are a higher overall service level, improved control over stock levels, and reduced expenditures on new supplies.
Avantages
The software contains a number of fascinating and "strong" features, which are positive qualities. To begin, it ensures that all of the fundamental features of an APS, such as demand management and MRP, will be available. It is possible to integrate it with other systems in a simple and straightforward manner. The capacity to archive the different databases and to retrieve them while operating within a simulation setting The capability as well as the proactive participation of consultants in improvements.
Inconvénients
Lack of flexibility on the user's end: while there is a lot that can be accomplished with the assistance of consultants, it would be preferable to have greater control over some aspects of the process. Graphically, it has room for improvement. There is no mechanism to navigate between the levels of the MRP, which means that you cannot easily go up and down through the many elaborations of the MRP that correspond to the different levels of the bill of materials.
Secteur d'activité : Appareils médicaux
Taille de l'entreprise : 501–1 000 employés
Logiciel utilisé

tous les jours

pendant

plus de deux ans

Provenance de l'avis
---
Plan with Cyberplan
Without Cyberplan we simply did not plan and with Cyberlan today instead we plan. The main benefits we have obtained are: an increase in the Service Level, a better management of stock levels and a saving on purchase costs.
Avantages
There are several interesting and "powerful" aspects of the Software.
First of all, it guarantees all the basic functionalities of an APS: Demand Management, MRP, etc.
There is the possibility to easily interface it with other systems.
The possibility of obtaining important Customizations with the support of consultants.
The considerable availability of linked tables and views.
The ability to archive the various databases and retrieve them in a simulation environment.
The competence and the proactivity of consultants in developments.
Inconvénients
User-side flexibility: with the help of consultants, you can do a lot; it would be better to be able to do something more independently.
Graphically it could be better.
There is no possibility of MRP navigation between the levels: that is, going up and down on the different MRP elaborations of the various levels of the bill of materials in an easy way.
Secteur d'activité : Papier et produits forestiers
Taille de l'entreprise : 51–200 employés
Logiciel utilisé

tous les jours

pendant

plus de deux ans

Provenance de l'avis
---
Great dynamic and customized planning tool
SInce working with Cyberplan for more that 10 years I can confirm it is a 5 starts planning tool, not only for production sequences but material availability for this optimized sequences. Helps to keep inventories under control in low levels.
Despite there are a hugh amount and menus of things to use and explore, you will use daily the same 4-6 menus. I would like to get more detailed information about rest of possibilities that Cyberplan can offer me but I don´t really know.
Avantages
Easy integration with all ERP (JDE, and Oracle in my case).
Very fast and dynamic tool.
What if scenarios
Customized software
Help to take faster and more accurated decissions.
Inconvénients
Once you understand difference between scheduled and planned data (finite vs infinite capacities) you will understand how powerfull Cyberplan software is. However, in my experience, it will take time to be an expert user.
Not easy DIY customization (not intuitive).
Multi-users at the same time working on the same software can be a problem.
Secteur d'activité : Machines
Taille de l'entreprise : 51–200 employés
Logiciel utilisé

tous les jours

pendant

plus de deux ans

Provenance de l'avis
---
Advanced Planning Scheduling Software - CyberPlan -
Benefits after Cyberplan adoption are:
- manufacturing/supply chain bottleneck identification;
- production capacity saturation;
- production workload balancing;
- lead time improvement.
Avantages
Cyberplan base algorithm is very strong, thus gives the users the possibility to understand where production plan is going. You can identify Supply Chain Breakdown in a intuitive and genuine environment. This gives the user the ability to react in a fast way.
The possibility to navigate the entire system just using the right mouse button menu is the best feature.
Inconvénients
Despite the intuitive design, general look should be improved.