En savoir plus sur CloudTalk
CloudTalk est une solution de gestion de centre d'appels qui permet aux entreprises de rationaliser les communications avec les équipes et les clients à l'aide de systèmes d'appels virtuels. Elle permet aux cadres de gérer les appels entrants/sortants, d'extraire l'historique des interactions provenant de diverses sources et de fournir une assistance personnalisée aux clients. Les fonctionnalités clés de CloudTalk comprennent la distribution automatique des appels, l'enregistrement des interactions, la messagerie vocale, un SVI (serveur vocal interactif) et le reporting personnalisé. Les entreprises peuvent utiliser des panneaux muraux pour obtenir une visibilité en temps réel sur les activités du personnel et identifier les tendances comportementales en utilisant des analytics de sentiment ou émotionnelles. De plus, les agents peuvent utiliser la fonctionnalité ACW (After-Call-Work) pour effectuer des tâches de suivi, améliorant ainsi la satisfaction des clients. CloudTalk s'intègre à diverses plateformes tierces telles que Salesforce, Zendesk, Pipedrive et autres, rationalisant ainsi les flux de travail de téléphonie sur plusieurs sites. La solution fournit des applications web et mobiles pour les utilisateurs Windows, Linux, Mac, Android et iOS. Elle est disponible sous forme d'abonnements mensuels et l'assistance est assurée par téléphone, par e-mail et par d'autres services en ligne.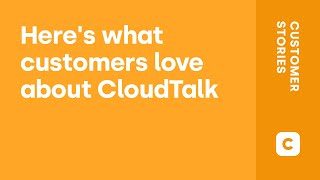 CloudTalk n'est pas disponible en version gratuite mais propose un essai gratuit. La version payante de CloudTalk est disponible à partir de 25,00 $US/mois.
Version d'essai gratuite :
Produits similaires à CloudTalk
Évaluation des fonctionnalités
Secteur d'activité : Loisirs, voyage et tourisme
Taille de l'entreprise : 51-200 employés
Logiciel utilisé

tous les jours

pendant

plus d'un an

Provenance de l'avis
---
Great product and fantastic support!
I can say 10/10.
They have all that we need, and, in addition, they offered me great opportunities. a recent one was an article in their customer experience section.
Avantages
The integration process was enjoyable, as we had a dedicated Sales manager taking care of our implementation. As we are already integrated, my favorite features are the interactive voice replies, missed calls, and the statistics we can use to improve our decisions.
Inconvénients
The cloudtalk team is improving along the way. We have experienced some temporary bugs.
Alternatives envisagées 
Twilio
Pourquoi choisir CloudTalk 
The hardness to communicate with Twillio and to obtain support for our desirable functions.
Pourquoi passer à CloudTalk
Cloudtalk team was more responsive and quickly introduced us to all the features we were looking for.
Secteur d'activité : Logiciels
Taille de l'entreprise : 11-50 employés
Logiciel utilisé

tous les jours

pendant

plus de deux ans

Provenance de l'avis
---
Great product with outstanding support
We are very happy customers and compared to the alternatives we were choosing from, we are sure we did a best decision going for CloudTalk!
Avantages
We are pretty happy how quick we were able to implement CloudTalk into our company. With call center it used to be very common to start using it after several days and you were never used to it. Until now. We felt like CloudTalk is more like a automation tool that call center software, since it saves you a lot of time on repetitive tasks that you most likely hate.
Inconvénients
We would need more software connected to CloudTalk to even more dig into automation.
Pourquoi passer à CloudTalk
It's the mix of plenty of small thing that forms your overall impression. Whether it was interface, customer service, easiness of use or features directly, it was obvious that CloudTalk is a moden software, built on modern technology, very fast, reliable and backed up by very talented team.
Secteur d'activité : Services et technologies de l'information
Taille de l'entreprise : 2-10 employés
Logiciel utilisé

tous les jours

pendant

Essai gratuit

Provenance de l'avis
---
intruitive for Both Admins and Users
There are few companies that earn our respect in both terms of service and after-sales support and Cloudtalk has really impressed us. We see ourselves doing business with them for the foreseeable future.
Avantages
One of the most difficult issues with adapting to new software is not just getting the administrators to like and accept the software but to also get the final users of the solutions (support team) to use it with minimal setup and a short learning cycle. It was so easy for staff to make use of it right out of the box that we were running literally within minutes. Also as a Systems Administrator, nothing is better than having a clean interface to work with, you get a quick summary right on your dashboard and any function or feature you need is within easy reach.
Plus with the support staff helping to iron out any and all issues that pop up, which was very few (was mostly our fault - a bad internet), we were more than happy having it as our default solution moving forward.
Inconvénients
For now, I don't think there is anything negative I have to say about Cloudtalk. Would love to pick a number from a selection but that's not a con.
Secteur d'activité : Assurance
Taille de l'entreprise : 11-50 employés
Logiciel utilisé

tous les jours

pendant

1 à 5 mois

Provenance de l'avis
---
Cloudtalk is the many tools in one
It's a really great app especially because you can do more things than just call a contact. Top point the dashboard they provide is perfect and it gives you the control you need in order to analyze better your calls and get better results.
Avantages
The features me and my team like the most are the possibility to send SMS and get replies, from your contacts, the possibility to use tags in order to categorize your calls, and leave notes at any time even when the call is over or maybe you have forgotten to write something and you can go back to the call history. I like it because it gives you the idea of a real phone so you can do more things with one app. Plus, the statistics dashboard is excellent.
Inconvénients
The thing I liked the least at the beginning was some technical problems we faced with the integration with our CRM.
Pourquoi choisir CloudTalk 
Because we had limited feautres with the old program and we didn't have the maximum control of the inbound or outbound calls.
Pourquoi passer à CloudTalk
Because the moment I talked with the sales manager I understood immediately that they are flexible on adapting to the needs of the customer, present everything they can provide and helo with whatever the customer needs and that is something great because there are tools (similar and not) that you need a lot of time before you have an answer from the support team.
Secteur d'activité : Comptabilité
Taille de l'entreprise : 2-10 employés
Logiciel utilisé

tous les jours

pendant

1 à 5 mois

Provenance de l'avis
---
Well functioning and good integration with HubSpot
We are able to better document our communication with customers in HubSpot. We are able to get more data on our communication
Avantages
Integration with HubSpot allows for all of the information to be documented in HubSpot. This allows for recording calls on tickets and getting call analytics for the reports dashboard in Hubspot
Inconvénients
The customer service was sometimes slow to respond or did not have answers for my questions. We have encountered some bugs with the service but they have not been critical and were fixed very quickly after giving information.
Pourquoi choisir CloudTalk 
Freshcaller did not have a good integration for hubspot
Pourquoi passer à CloudTalk
Ease of use and ease of deployment.