En savoir plus sur HoneyBook
HoneyBook est une solution cloud de CRM (Customer Relationship Management), conçue pour les petites entreprises. La solution aide les utilisateurs à gérer les processus métiers, de la demande à la facturation. HoneyBook permet aux utilisateurs de gérer des projets, de réserver des clients, de signer des contrats en ligne, d'envoyer des factures et de gérer les paiements. HoneyBook propose des fonctionnalités de gestion de tâches qui permettent aux utilisateurs de visualiser et de suivre diverses étapes d'un projet. Les utilisateurs peuvent stocker leurs factures, contrats et autres documents au sein d'une même plateforme. Ils peuvent également répondre aux clients avec des demandes de rendez-vous et des suivis automatisés via des modèles et notifications personnalisés. En outre, des rappels de paiement automatisés peuvent être envoyés et des rappels de tâches peuvent être créés en fonction des projets. HoneyBook s'intègre à des outils tels que QuickBooks, Calendly, Zapier, Gmail et Google Agenda. HoneyBook fournit ses services sur la base d'un abonnement mensuel. La solution propose une application mobile pour les utilisateurs d'Android et d'iOS. L'assistance est assurée par e-mail, via un centre d'aide en ligne, un forum communautaire et par téléphone.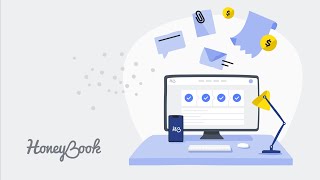 HoneyBook n'est pas disponible en version gratuite mais propose un essai gratuit. La version payante de HoneyBook est disponible à partir de 9,00 $US/mois.
À partir de:
9,00 $US/mois
Version d'essai gratuite :
Oui
Produits similaires à HoneyBook
Évaluation des fonctionnalités
Secteur d'activité: Services juridiques
Taille de l'entreprise: 2-10 employés
Logiciel utilisé

tous les jours

pendant

plus de deux ans

Provenance de l'avis
---
The Best Client Management Resource-- goes beyond normal software
Before I used HoneyBook, I had tried several other client management platforms. All of them were clunky, and often I'd have to hunt around for things in the interest of the app developer's attention to folders and organization. What a mess! I'm so glad I switched to HoneyBook. They've consistently made product improvements and seem to really care about their customers. It gets easier and more fun to use every day, with just enough features to accomplish what I need without overwhelming me. I highly suggest this to anyone who is managing multiple clients, especially if you have client projects that tend to go dormant for awhile then pick back up.
Avantages
I love how easy it is to use, and how amenable the HB team is to updating the software if you have a feature request or complaint. It provides very visual, easy user prompts that allow me to easily accomplish what I need in a fraction of the time of other software apps I've tried.
Inconvénients
It's annoying that I can't delete the default emails that came with my account to replace them with my own workflow, so myself or a team member doesn't get confused with their suggested emails vs. the ones I actually want to use.
Réponse de

HoneyBook

Christina, thank you for you being a HoneyBook member! We are so happy to hear that HB allows you to manage your clients in a fraction of time of other systems! Our Product Team works hard to consistently meet and exceed our members expectations. Thank you for the feedback on the default email templates. I will share with our team. Incase you didn't know, you can edit the default templates text and format to meet your needs.

Répondu le 23/09/2019
Secteur d'activité: Photographie
Taille de l'entreprise: Auto-entrepreneur
Logiciel utilisé

tous les jours

pendant

6 à 12 mois

Provenance de l'avis
---
HoneyBook is a MUST have for Small Biz Owners
Avantages
Honeybook is very user friendly and was easy to set up along with the help of the concierge! My favorite part is the pipeline. I'm able to see all of my active projects and where they are in my workflow. As a photographer it is very important for me to build good relationships and communicate well with my clients so knowing who needs a consultation or who needs their gallery edited and delivered is crucial!
Inconvénients
The only con is that I didn't find honeybook sooner! I don't know how I did business without it. I look back at those times and laugh at how much work I was doing that didn't even amount to half of what honeybook does for me!
Secteur d'activité: Divertissement
Taille de l'entreprise: 2-10 employés
Logiciel utilisé

tous les mois

pendant

1 à 5 mois

Provenance de l'avis
---
Absolutely love the ease of HONEYBOOK
It's was wonderful and easy to use
Avantages
That it was easy to understand and use as a team
Inconvénients
Refinding documents is a bit of a task sometimes
Secteur d'activité: Événementiel
Taille de l'entreprise: 2-10 employés
Logiciel utilisé

tous les jours

pendant

plus d'un an

Provenance de l'avis
---
Absolutely Recommend!
I do all my admin through Honeybook and it has reduced the time I spend astronomically. I've recommended and trained several people in setting up their Honeybook systems and absolutely love it.
Avantages
I love how quick and easy Honeybook is to use and update. I'm constantly fine-tuning my processes and it is so satisfying to have everything saved and organized in a very intuitive way.
Inconvénients
I don't like how many separate emails I need to make to send out my appointment scheduling.
Secteur d'activité: Design
Taille de l'entreprise: Auto-entrepreneur
Logiciel utilisé

tous les jours

pendant

1 à 5 mois

Provenance de l'avis
---
HoneyBook helps me build trust
Pleasant, professional, and easy—exactly what I hope for my clients when they work with me.
Avantages
I absolutely love all of the tools I've tried so far, and can't wait to more fully utilize what HoneyBook offers. I launched my site after embedding forms and links to scheduling and it WORKS. I have onboarded two new clients already, and have others that are excited to work with me in the future because of the steps I've taken with HoneyBook.
Inconvénients
As a professional designer, I'm used to being able to create whatever I need in my design software, but was thrilled to be able to remove that tedious aspect from my workflow after setting up brochures in HoneyBook. I would love some increased functionality and flexibility in those brochure templates, but that's certainly not going to keep me from using this amazing tool.