En savoir plus sur Agile CRM
Agile CRM est une solution CRM (Customer Relationship Management) cloud conçue pour les PME. L'outil propose des outils de gestion de contacts, de téléphonie, de planification de rendez-vous, de marketing automation, de gestion de projet, de création de pages de renvoi et des fonctionnalités de base de connaissances. Le module de gestion des contacts permet aux utilisateurs d'enregistrer et d'accéder aux données client comme les coordonnées, les interactions enregistrées, les comptes de réseaux sociaux et le lead scoring. Le logiciel intègre également une messagerie qui offre aux utilisateurs la possibilité de synchroniser les données avec des services d'e-mail, comme Gmail, Microsoft Exchange ou Office 365 ainsi que des services IMAP (Internet Message Access Protocol). Les utilisateurs peuvent suivre les visiteurs du site web pour analyser le comportement des clients, tandis que les outils de marketing automation aident les utilisateurs à créer des flux de travail marketing avec une interface de type glisser-déposer. Les utilisateurs peuvent également envoyer des rappels automatiques avec configuration de l'heure et des options de contact. Agile CRM inclut également une fonctionnalité de gestion de tâches. Les utilisateurs peuvent glisser-déposer des tâches dans des listes, trier des tâches, ajouter des notes et mettre à jour les statuts de tâches. Les intégrations de réseaux sociaux permettent aux utilisateurs de publier et de répondre aux publications sur des canaux sociaux tels que Facebook, LinkedIn et Twitter. Tarification par utilisateur et par mois. Un service d'assistance par téléphone et par e-mail est disponible.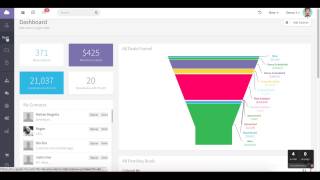 Agile CRM est disponible en version gratuite et propose un essai gratuit. La version payante de Agile CRM est disponible à partir de 8,99 $US/mois.
À partir de :
8,99 $US/mois
Version d'essai gratuite :
Oui
Produits similaires à Agile CRM
Évaluation des fonctionnalités
Secteur d'activité : Logiciels
Taille de l'entreprise : 2-10 employés
Logiciel utilisé

tous les jours

pendant

6 à 12 mois

Provenance de l'avis
---
A éviter à tout prix
Très peu de problème résolus en fait, beaucoup créés en revanche.
Avantages
Logiciel basique facile pour importer des données
Inconvénients
Impossible de télécharger votre bases de données - impossible d'en sortir sans tout y abandonner. Le business model est pernicieux voire malveillant à ce sujet. Interface utilisateur plutôt mal pensée. Support inexistant : joignable mais ne résoud aucun problème.
Pourquoi passer à Agile CRM
Prix & facilité d'import : c'est un saas basique avec un support en ligne ou par mail qui n'est pas là pour régler les problèmes mais les faire durer.
Logiciel utilisé

tous les jours

pendant

plus d'un an

Provenance de l'avis
---
Agile CRM is a Great First Step into the CRM World
Avantages
I used this platform for a solid year and put in hundreds if not thousands of contacts into this CRM. I liked how many categories there were to define a lead or a contact, the system that you set up to see how much potential revenue you had to win based on your leads was helpful, and the price is unbeatable. I mean truly, you can use this platform for free for up to 50,000 contacts. That's pretty amazing.
Inconvénients
There's a reason why I call this particular platform a good "first step." Agile CRM says it offers marketing automation, gamification, and project management - but this is a far from complete product. In the free version you can only create so many marketing automation blocks before it makes you pay, but even if I did upgrade I'm not sure the platform could handle the sales process I wanted to have set up. Something else to mention about this platform is there customer service. I'm fairly certain the CEO is their only customer service rep. Every time I had a problem with the platform (roughly 1-2 times a month) it was the same man who picked up the phone - and when my problem was solved he made me delete the Tweet I sent out when I asked for help, and then made me publicly thank him. I found that very strange. Overall you should try this platform out if you're just starting out, but upgrade to something like Infusionsoft if you're really looking to up your game.
Secteur d'activité : Gestion de l'enseignement
Taille de l'entreprise : 2-10 employés
Logiciel utilisé

tous les jours

pendant

6 à 12 mois

Provenance de l'avis
---
All I need to work in one place
The biggest benefit that this software has given me has been to optimize everything that has to do with the world of sales and marketing, generating the reports I need to demonstrate in the company how useful our strategies are, what aspects to improve, and generate our own leads, all in a very organized way and as its name says "agile".
Avantages
I started working with this platform a little less than a year ago. My job consisted (and still is) in generating leads for the company and developing marketing and sales campaigns from scratch.
Agile CRM has been fundamental, since it integrates perfectly with everything I need. I have my contacts in one place, which I can follow very easily. Its greatest strength is the ease of use and integration with multiple tools. Something as simple as managing notifications and alerts make the most of my time and organize my agenda in a practical way.
I can generate reports where the effectiveness of the different strategies is established. For example, the result of phone calls, mail campaigns, newsletters, and more.
I was able to import all the contacts in a very simple way and clean my list in a short time.
Another great thing: the mobile app and the possibility of integrating with other programs. Today I have it integrated with Bria and Skype, also linkedin and facebook. Everything in one place, is the most practical CRM platform that someone like me (who has just started and was analyzing options) has found, and I´m very satisfied with this software.
Inconvénients
I think it would be convenient that in the future they made some training videos to explain how to correctly configure the automation tools, since I think it has been the most difficult to understand.
Secteur d'activité : Marketing et publicité
Taille de l'entreprise : 2-10 employés
Logiciel utilisé

tous les jours

pendant

6 à 12 mois

Provenance de l'avis
---
Calendar in Military Time
Experience is actually very horrible overall, but you get what you pay for.
My next solution will be Keap or GoHighLevel.
Avantages
The price of the software is nice, the features from a glance look really good but once you start using them is when you are in for a surprise.
Inconvénients
The scheduling calendar is completely worthless. I would never in my life send a prospective customer to schedule an appointment as the time is in military time.
As a programmer myself, this is rather a simple fix. I brought it to their attention and even supplied code examples to apply that could remedy this.
The fact that they fail to provide a solution to the calendar shows that they disregard their customers and are completely lazy to provide a simple fix.
Why even a launch calendar like this? It is very sad actually, if you google it, requests has been made years ago by several customers! This is like installing a door but not putting a door knob on it. This is like taking a shower but failing to use soap or clean water.
The company is lazy and could care less about their customers. I have bad service by other companies but these guys take lazy to another level.
All the other features are half-usable (exit popups, push notification, etc).... if they put a little extra effort into things, this could be a nice piece of software.
If I was to wrap what I think about this software into one word... I would LAZY.
Réponse de

Agile CRM

Hi Alex,
Thank you for sharing your review with us. Our product features are driven by the inputs given by our customers. Agile CRM is just designed to solve all the three purposes on a single platform. This could a small feature and may not be considered on first priority. But, we will take this into consideration. We at Agile CRM are open to the user's feedback and suggestions and have been working on the same which really helped us scale to where we are now. Also, we are coming up with 500apps.com which is an ALL-IN-ONE Suite of apps and Schedule.ly is the one that can be used for calendar and scheduling. If you would like to try this new app, please share your acceptance with our support team at [email protected] so that we can share the same with you.

Répondu le 19/09/2019
Secteur d'activité : Services et technologies de l'information
Taille de l'entreprise : 11-50 employés
Logiciel utilisé

tous les jours

pendant

plus de deux ans

Provenance de l'avis
---
Agile - More than just CRM
With an enormous set of automated tools and processes, using Agile has become absolutely essential to our operation. Potential sales are monitored along with KPIs and success rates. Another aspect I personally appreciate is that dashboards are modular/extendible, allowing me a complete overview of everything that matters to my work at a glance.
Avantages
Having all our tools unified in one system, all our databases automatically completed and maintained, all interactions logged, and all processes tracked - has made Agile CRM the foundation of every department in our establishment. Given the price point over functionality and support, there is simply no alternative to Agile.
Inconvénients
Although it would be difficult to find fault with Agile on the surface, Agile CRM lacks integration with a few niche APIs we happen to use.
Pourquoi passer à Agile CRM
Agile CRM was somewhat cheaper at the lower price point for SMBs, and offered greater functionality.