En savoir plus sur FreshBooks
FreshBooks se charge de vos opérations de facturation et active l'autopilote. Configurez la facturation automatisée, les options de paiement en ligne (ACH [Automated Clearing House] et carte de crédit), ainsi que des rappels de paiement en retard pour être payé deux fois plus vite. Ensuite, stimulez la productivité des équipes grâce à des outils de gestion du temps et de projet collaboratif précis afin d'assurer le suivi et la consignation de l'ensemble des conversations, fichiers et minutes. FreshBooks est une solution web de comptabilité qui s'adresse aux petites entreprises. FreshBooks est utilisé par divers secteurs, tels que le marketing, les services juridiques et le consulting commercial, les services à domicile et les TI (technologies de l'information). Parmi les fonctionnalités clés de FreshBooks figurent : facturation, suivi des dépenses, gestion du temps, reporting et gestion des paiements. Les utilisateurs peuvent personnaliser les factures à l'image de leur marque, accepter les paiements en ligne et configurer des rappels de paiement en retard. Les notes de frais peuvent être suivies en joignant des reçus aux factures, en créant des dépenses récurrentes et en prenant des instantanés des reçus. Les statuts financiers peuvent être consultés par le biais de relevés de pertes et profits, de résumés fiscaux et de rapports de dépenses. FreshBooks catégorise les frais de transaction par carte de crédit et fournit un résumé de tous les acomptes sur son tableau de bord. Le module de gestion du temps du système peut extraire les heures de projet non facturées, enregistrer les heures facturables et fournir une analyse de la répartition du temps concernant les projets. FreshBooks peut également être intégré à PayPal, Mailchimp, Zenpayroll et Basecamp.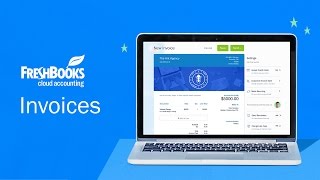 FreshBooks est disponible en version gratuite et propose un essai gratuit. La version payante de FreshBooks est disponible à partir de 6,00 $US/mois.
À partir de:
6,00 $US/mois
Version d'essai gratuite:
Oui
Produits similaires à FreshBooks
Évaluation des fonctionnalités
Secteur d'activité: Automobile
Taille de l'entreprise: 201-500 employés
Utilisé

toutes les semaines

pendant

Essai gratuit

Provenance de l'avis
---
Outil puissant
Il vraiment un outil puissant pour nous aider à lire et apprendre des choix
Avantages
L'avantage est que il facilite les choix et les tâches et claire a manipulé
Inconvénients
Inconvénients c'est que ça demande du temps pour fa
Secteur d'activité: Informatique et sécurité réseau
Taille de l'entreprise: 2-10 employés
Utilisé

tous les jours

pendant

plus de deux ans

Provenance de l'avis
---
Simple, yet powerful cloud based invoicing with project management
We still love Freshbooks for our day to day use. We use the totals and tax reports for our accountant who use another product to do the "real" accounting.
We use this for billing and the clients love it.
Avantages
When we were small, we would use Freshbooks exclusively for invoicing (recurring is a life saver) and project management for invoicing our time.
We love the payment reminders (30, 60, 90 days)
Inconvénients
Ticketing system was poor, so we use another program that will sync with Freshbooks.
Secteur d'activité: Production audiovisuelle
Taille de l'entreprise: 2-10 employés
Utilisé

tous les jours

pendant

6 à 12 mois

Provenance de l'avis
---
Best Project Management for Small Business
If you ask me for a rating, I would give 8 out of 10. With a huge amount of features like invoicing, Client Portal, Contact Management, Expense Tracking, Project Management make your business easy to manage. For people who are trying to start a new business, I would recommend the FreshBooks at first.
Avantages
FreshBooks is very easy to use and has so many features that help you manage your business in a short time. They have excellent customer services. The most fascinating thing about FreshBooks is it has also mobile app and the UI design is so eye-catching. They create attractive invoices for clients. Another coolest feature of FreshBooks is "Proposal". This feature allows you to show the work and writing space and attach your customize pictures.
Inconvénients
Although you can hardly find cons in FreshBooks. But sometimes something grabs notice. I think the least likable thing about FreshBooks is limiting users. Only one user can use FreshBooks. And the other one is the price. I think as a small business management tool, it is a little expensive than others.
Taille de l'entreprise: 51-200 employés
Provenance de l'avis
---
Not for everyone, or even most...
I've been using Freshbooks for the last couple of years, and at first it was a breath of fresh air after getting away from Quickbooks (both online and desktop version prior to that). If you don't have a proficiency for accounting, systems like Freshbooks are great, so I enjoyed the simplicity of it. The problem is - it's just way too simple and there are some major gaps in functionality. Additionally, it's a stagnant system. Very little improvements or features were tweaked or added in the system during the entire time I used it which is pretty unusual for a web based service.
Freshbooks shouldn't even call themselves accounting, because their forte really is in time tracking and invoicing. I now use Freeagent and wish I'd switched sooner.
If you don't care about tracking profit margins on projects or really tracking expenses accurately at all, then Freshbooks might work for you.
Avantages
Freshbooks gets plenty right. Tracking billable time against customers or customer projects is a breeze, and their invoicing and methods for collecting payments is really hard to beat. Plus, they integrate with so many other services, it makes it really easy to get addicted to.
The things I love most - and the main reasons I'm glad that I left Quickbooks for Freshbooks is:
Automated invoice reminders, which are totally flexible. This alone saved me a lot of time chasing down late payers.
Your customers get a really nice interface for viewing all their invoices online - although I will say I think I only have one or two clients who ever even used the client portal for doing that. Most of them just go to their email to retrieve the links for invoices or statements, but it is still a really nice feature.
Inconvénients
No connections to your banking / credit card accounts. You can do this with expenses to some extent, but it's just awful to work with, when compared to Quickbooks, Xero, FreeAgent - pretty much anyone else. In order to use Freshbooks, you have to have some other software or service for managing the accounting aspects of your business. This ended up being a bad thing for me. I like having it all connected, and there are plenty of great alternatives for that, and some even charge less than Freshbooks.
My reasons for leaving Freshbooks? Freshbooks is downright awful at expenses...
You can't record non-billable expenses against a customer or project. If you want to record the expense without billing the customer for it, you cannot assign it to the customer or project. No easy way around that without messing up your accounting records.
And with expenses that you DO want to rebill the customer for, there's no easy, intuitive way to handle marking up those expenses for goods or services to make a profit on. In order to do that, you must first add the expenses to the customer invoice, and then modify each line item expense amount up to the amount you want the customer to pay.
You cannot record bills as you receive them your vendors. Say for example, you get an invoice from a programmer who did work for you on 4 different projects in a given time period. Most vendors will just send you an itemized invoice with all the billable time across the various projects. Well, you can't record it that way in Freshbooks. Each line item on your bill must be entered into freshbooks one line item at a time, and you cannot correlate them easily to know that they are all part of one bill/invoice. Freshbooks also can't help you with managing when your bills are due. That's accounting, which Freshbooks doesn't do.
Freshbooks solutions to their shortcomings with expenses is all handled with hacks and workarounds for how their system is currently built. They are not easy or intuitive and they also throw things off with your accounting reports.
Secteur d'activité: Cabinet d'avocats
Taille de l'entreprise: Auto-entrepreneur
Utilisé

tous les jours

pendant

plus de deux ans

Provenance de l'avis
---
A Game Changer
I found it to be incredible it does what I need it to do, better than anyone else.
Avantages
I use this to bill clients, send invoices, and to track time. This tool is incredible for how I use it. It does everything better than I could dream or need it to perform.
Inconvénients
I pay for everything else, I might find a need to use it one day, but for me: the software is perfect.