En savoir plus sur The Magazine Manager
The Magazine Manager is a suite of sales, production, marketing and billing applications that helps businesses manage proposals, advertising, subscriptions, pagination and more. It allows users to review and share proofs and exchange feedback on a centralized platform. Pricing is available on request and support is extended via live chat, phone, email and other measures. The Magazine Manager's customer relationship management module enables businesses to build, categorize and search the customer database based on names, phone numbers, emails, companies and addresses, among other categories. The ad order entry functionality allows businesses to create contracts, insertion orders and invoice templates for print, digital and display advertisements. Thanks to Magazine Manager's collaborative production and project management module, publishers can rest assured that nothing falls through the cracks. Designed with customizable project stages and Project Timeline, any type of media buy can be accurately tracked and managed, including email newsletters, website ads, events, subscriptions, and bulk media buys. Team members receive live production updates of ad units, submit real-time feedback, and track time estimates of ongoing projects. And, using Magazine Manager's automation engine, the module even sends out automated notifications about upcoming material deadlines. The Magazine Manager's powerful reporting suite gives publishers insight into performance and profitability. Any information logged within the system can be effortlessly tracked and monitored. Additionally, it comes with an invoicing tool, which lets users filter invoices based on statuses such as open, closed, past due date and more. The Magazine Manager facilitates integration with several third-party solutions such as Quickbooks, Zapier, WordPress, MailChimp and more. The Magazine Manager's integration with QuickBooks accounting gives publishing businesses the power to perform transactions, collect payments, store invoices, and prepare custom reports based on aging A/R summaries, sales agent performance, and conversion rate analysis. With Magazine Manager's Gmail integration, users are able to send targeted emails to groups of ten through a Gmail account. These emails are then recorded in their Gmail folder. We also have a template editor that can be used for both small batches and individual emails, so users can save email templates for sales reps to use. We've also created our own Google Chrome extension that connects a user's Gmail account to our CRM allowing them to see Magazine Manager notes within their Gmail, add notes to Contact Records through their Gmail, and even copy emails into the CRM.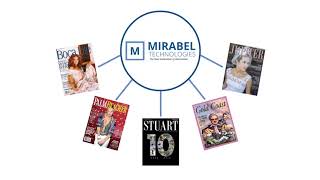 The Magazine Manager - Prix
The Magazine Manager n'est pas disponible en version gratuite mais propose un essai gratuit. La version payante de The Magazine Manager est disponible à partir de 60,00 $US/mois.
À partir de :
60,00 $US/mois
Version d'essai gratuite :
Oui
Produits similaires à The Magazine Manager
The Magazine Manager - Avis
Évaluation des fonctionnalités
Secteur d'activité : Production audiovisuelle
Taille de l'entreprise : 51-200 employés
Logiciel utilisé

tous les jours

pendant

plus de deux ans

Provenance de l'avis
---
I can not do my job without Magazine Manager.
I love Magazine Manager. I used at another publishing group and recommended to my current employee which they are happy we have in place.
Avantages
I used Magazine Manager with a previous employee. My success as a top revenue producer was thanks to Magazine Manager. It keep my organized so I could service my clients needs and allowed me to have the time to prospect for new business.
Inconvénients
I do not have any con's. I have no con's I recommended Magazine Manger to my current employer and we are using it.
Réponse de

Mirabel Technologies

Thanks for the wonderful review, Mary Jane! We appreciate you!

Répondu le 04/11/2022
Secteur d'activité : Marketing et publicité
Taille de l'entreprise : 51-200 employés
Logiciel utilisé

tous les jours

pendant

plus de deux ans

Provenance de l'avis
---
Stop Shopping - you have just found the best CRM for your Sales Team
its been a great experience. The training that your team provides with the support/help desk allows our company to do what we do best, SALES. I don't have to put a training module together for new hires, you've done that for me. And I know that if I need anything your a point/click away with help - love that~
Avantages
The product is SUPER easy to use. Not every person thinks the same and in Magman there are several ways to do the same task, I like that. When I train new users on how to use the software, I can tell them how I like to do a search for a contact (for example) and give them other options as well. Its fun to see the 'ah-ha' looks on their faces when you've found a way to do a task that fits how their brain functions.
Inconvénients
The only con I can think of right now is that Magman calendar doesn't sync with Microsoft Outlook. I understand that is a 'Microsoft' issue but ultimately to have our email calendars/Microsoft teams sync with the Magman calendar would be Phenomenal!
Réponse de

Mirabel Technologies

Thank you for the amazing review, LeAnn. We appreciate you! Regarding an integration with Microsoft Outlook Calendar, that item is currently on our agenda. We hope to have that released within the next month or so.

Répondu le 29/07/2022
Secteur d'activité : Marketing et publicité
Taille de l'entreprise : 2-10 employés
Logiciel utilisé

tous les jours

pendant

plus d'un an

Provenance de l'avis
---
Best CRM tool out there!
My experience has been insightful, engaging, and successful. I sing your praises to other like businesses whenever I get the chance.
Avantages
There are so many features and benefits to this tool I am not sure where to start. Well, let's start with the level of customer service your team provides, in terms of knowledge, timely feedback, and incredible listening skills to the point of making platform changes in real-time. The sales reps are typically knee-deep in their CRM and I appreciate the insight of fellow reps sharing input on how to evolve this tool to ensure their success. I have used at least 10 different CRMs over the course of my career and have used both MM and NM- This is by far the BEST CRM out there!
Inconvénients
The templates are still wonky and not as flexible as I would like in terms of changing layouts and having standard information feed into each proposal, as opposed to having to fill them in each time. Too time-consuming.
Pourquoi choisir The Magazine Manager 
My boss hadn't heard of this platform. And I knew we were looking into other CRM software, so based on my past experience with MM and knowing [SENSITIVE CONTENT]( who BTW- is just fabulous) and how great the customer service was, I recommend this to [SENSITIVE CONTENT] and how it could pull all the work we were doing in multiple platforms under one CRM. Simplify, ease of workflow, efficient processes, and literally an all-in-one. I am hoping more magazines will be open to jumping onboard with MM. They won't regret it.
Pourquoi passer à The Magazine Manager
MM offers everything you will need to manage our type of business (Magazines-Accounting, Advertising, Circulation, Marketing, and Production). Funny enough the only thing you don't provide is printing and distribution.
Réponse de

Mirabel Technologies

Thanks for the awesome review, Deborah! We appreciate you!

Répondu le 02/07/2021
Secteur d'activité : Presse écrite
Taille de l'entreprise : 2-10 employés
Logiciel utilisé

toutes les semaines

pendant

1 à 5 mois

Provenance de l'avis
---
Perfect for a small newspaper preparing to expand
We are picking up a paper whose subscription rate had fallen, but has the potential to increase both locally and, with current media projects, nationally. So we wanted to be ready when this occurred. The training and problem solving with [SENSITIVE CONTENT HIDDEN] and others was great. If [SENSITIVE CONTENT HIDDEN] needed an expert, she immediately sent a message to that person and they were able to jump into our training or fix any oddities.
Our advertising customers seem to be responding to our news system fairly well. We currently use another program to publish our interactive paper, but the idea of having the ability to create a similar product and have automatic tear sheets is encouraging as we expand. Right now the paper is run by two owners, so having this software will really help us keep workflow controlled. [SENSITIVE CONTENT HIDDEN], our customer service advisor and trainer was beyond awesome. She was patient, familiar with the product, knew when to call in the experts for each section and made all the difference in affirming our decision to choose Newspaper Manager
Avantages
We needed software that could track and invoice advertising in two different publications, yet with the same contact list. Once the agents helped us set up our letters and rate cards, it was great. When we became new owners, there were no contracts being used. Now we can create a proposal and with a touch of a button, it can become a contract and then an invoice when it is time to bill. The portal for paying with credit cards is great. It also helps us keep track of agency billing, legal ads, and the dreaded classified ad. We like that it sends transactions to Quickbooks when we are ready in order to help us keep everything moving smoothly.
Inconvénients
We are also using the circulation feature. It is currently being upgraded. I hope the future upgrade allows us to automatically send renewal notices via email with a portal for customers to pay, however, with accurate emails, we can send a csv file of the subscription notices to Mail Chimp. We set up the Newspaper Manager software using Authorize.net, but when were setting up the circulation manager, it was discovered that Authorize.net doesn't work with adding a source code to our website for online subscriptions. That was frustrating as it took about six weeks to get Authorize.net on board. I hope that is fixed and incorporated.
Réponse de

Mirabel Technologies

Thanks for the nice review, Gretchen!

In regards to the circulation feature, we confirmed with our developers that the new subscription module will be able to accept payments from all of our gateways. We're planning to beta test this feature next year.

You can also reach out to your software consultant for more information. They'll be happy to help!

Répondu le 18/12/2020
Secteur d'activité : Services juridiques
Taille de l'entreprise : 51-200 employés
Logiciel utilisé

tous les jours

pendant

plus de deux ans

Provenance de l'avis
---
This software changed our lives at work!
Avantages
Magazine Manager is specifically designed for those of us in the print and digital publishing industry and it is crucial to our sales success. It is extremely easy to learn and apply immediately. With this software, we are able to quickly and easily pull targeted email lists to generate sales, electronically invoice clients in literally minutes, take payments, and with a click of a button know what our clients' ad schedules are, what they have paid and what they owe. It is totally transparent - the reporting for a sales manager - and accounting - is outstanding. I receive as often as I wish emails listing calls by rep, meetings, sales booked, and more. The digital tearsheets are invaluable. Client portals allow customers to upload their own ads and pay electronically any time. It is so easy to create new reports. As a past Salesforce user, this is SO much easier to use and because it is made for ad sales, the company deeply understands the details of exactly what we need from this software. The support team and trainers are outstanding. There is abundant free training with your subscription and online videos available any time. And it is surprisingly affordable! Magazine Manager is a vital tool to managing our operation and achieving our advertising sales success. We switched two years ago. Many times a day, every day, as we work in the software to serve our clients and achieve our goals, we marvel at how easy it is to do what we need and how much we love this software.
Inconvénients
There is coordination with accounting required to set this up, but the accounting team also loves the software. It is important to visualize your publishing organization and the hierarchy of products and business units in order to structure the software best for you, but once you determine that, it is easy to set it up the way you need.
Alternatives envisagées 
MagHub
Pourquoi choisir The Magazine Manager 
We were not able to do many things in P2P - it seemed antiquated and clunky as far as client management. Accounting did not like the software. We needed something more robust and flexible.
Pourquoi passer à The Magazine Manager
The competitor did not seem as sophisticated and robust as Magazine Manager. The competitor did not seem to have the stability and history of working in the publishing industry with hundreds of publishers - we wanted the benefit of that depth and breadth of experience that Magazine Manager brought to the table.
Réponse de

Mirabel Technologies

Thank you for the incredible review, Lisa! We greatly appreciate you.

Répondu le 14/10/2020