En savoir plus sur Clover
Clover POS est un système de PDV (point de vente) intégré doté de matériel personnalisé conçu pour plusieurs types de commerces de détail. Ce système de PDV est disponible en versions de déploiement web et serveur et offre des options de matériel de comptoir, une option de PDV mobile, des paiements sans contact, etc. Clover Dining est l'application de PDV principale conçue spécifiquement pour les restaurants. Avec le système Clover POS, les entreprises peuvent simplifier le traitement des paiements, les ventes et la gestion des stocks, etc. Clover peut remplacer les processus obsolètes impliquant une caisse enregistreuse, une imprimante de tickets papier, une imprimante d'étiquettes, un lecteur de codes-barres, etc. Le traitement des paiements prend en charge les paiements par code PIN et carte à puce, les cartes de crédit, les transactions Apple Pay et les types de paiements sans contact. De plus, le programme Clover POS s'intègre à QuickBooks, comprend un horodateur pour suivre les heures d'arrivée et de départ et gère la maintenance des fournisseurs et les bons de commande. Les composants matériels proposés comprennent le poste de comptoir Clover Station, le lecteur de cartes Clover Go, le poste de PDV Clover Mini POS, l'organisme de paiement mobile Clover Flex, etc. De plus, Clover App Market propose diverses solutions, notamment la personnalisation à votre marque des cartes-cadeaux, les promotions marketing, l'analyse détaillée, l'intégration de boutiques en ligne, etc. Avec le tableau de bord Clover POS, les entreprises peuvent visualiser les indicateurs de données clés en temps réel. Les autres fonctionnalités incluent le suivi des commandes, l'édition des menus et le reporting de données.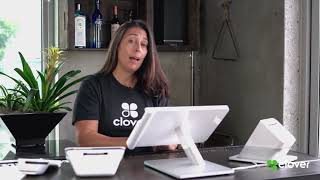 Clover n'est pas disponible en version gratuite mais propose un essai gratuit.
Version d'essai gratuite :
Oui
Produits similaires à Clover
Évaluation des fonctionnalités
Secteur d'activité : Gestion de l'enseignement
Taille de l'entreprise : 51–200 employés
Logiciel utilisé

tous les mois

pendant

plus d'un an

Provenance de l'avis
---
One of the Better Deal Apps
In conclusion, ease of use and navigation not an issue. It isn't the most decorative in aesthetics but simple is good. I can't wait to see what other places near me joins the rank of discounts and to build a relationship with their local customers through it as I have through some of mine.
Avantages
Although there do not seem to be a whole lot of businesses that use this App (compared to others, in a rather urban area), it does have growing promise. It either seems that this among two other apps are namely used by businesses here in and around Atlanta.
For what it is worth though, it is rather easy to navigate as a User and I like how well it keeps up with data and my purchases. Usage has never really been a problem.
I really enjoy the feature where a simple ''like/dislike'' display can be left for the Manager. I've been told that is something that is in fact received, so a great way to have voices of patrons or concerns heard in a discreet way. Nice feature!
Inconvénients
Although very rare, scanning has been an issue, but I haven't had this issue in a long time and it may have even been the network at fault. Other than just looking forward for more business to grow from it, I have nothing really that I don't like about this app.
Secteur d'activité : Cabinets médicaux
Taille de l'entreprise : 2–10 employés
Logiciel utilisé

tous les jours

pendant

plus de deux ans

Provenance de l'avis
---
Great payment processing device
Clover payment system has been really great for our spa. Really easy to run transactions, reports or refunds. The customer service has been knowledgeable and super friendly when we have had any issues.
Avantages
It's is super easy to take and track transactions. Has report capabilities And many functions. It is super easy to use. I have two different clover devices for different providers and they are all great.
Inconvénients
The software itself is wonderful. The only issue I have is with the flex portable device on/off button. It is on the side and client constantly hit the button when they are picking up to sign for a transaction. The button should be on back underneath where it can't be accidentally touched.
Pourquoi passer à Clover
Love the functions on the clover and the receipts it prints.
Secteur d'activité : Vente au détail
Provenance de l'avis
---
Clover not a choice for retail, very misrepresented and pricey
Avantages
There is absolutely nothing that I like about this product except maybe the appearance and not too bad adding in stock that is already in the system.
Inconvénients
This is marketed as a state of the art POS system with added capabilities through apps. However the base system is so limited that i would not even consider it a POS system, but more of an expensive payment processor. I had researched retail systems and most have lots of features and capabilities such as accepting unlimited bar codes, include a wide variety of detailed reports, inventory management including tracking of stock, re-orders, keeping track of back orders, client records, all kinds of very basic needs to a retail store. When the bank presented this system, I asked very specifically about its capabilities and gave very clear information on what I needed in a system. The rep assured me that it not only did all of the basics that I needed, but it also had apps that were available for customizing and expanding , such as going into also having an online sales presence. So, I feel it was either deliberately misrepresented or the rep is not trained at all on what the system offers and did not feel it important enough to get valid answers. The basic system does not even include basic necessary functions for retail. 1) it has a 15,000 bar code limit, plus other limits for categories and modifiers. - Their solution is for you to create new bar codes per item and just use the modifiers and what not to make up for it - however the modifiers and such also have limits. 2) it does not allow more than one wholesale cost per bar code. So if you obtain stock at differing prices due to seasons, volume, clearance, or price increases - the new prices over writes the original price put in. There is no way to have different cost for the same item. So again their suggestion is creating new bar codes for new pricing or to have a separate system for tracking cost of goods. 3) The reports are nominal. They look like ticker tape reports. No report gives information usable for a purchase order. I made the categories my suppliers so I could easily use the category report to reorder sold products, but the product and bar codes are not part of the report, so the only indicator of which item it is is the description and price. There are also few types of reports available compared to other systems I had looked at. 4) There is no purchase order capability in the base system, so also no way to track orders, back orders or way to easily know what to even order from sales or stock quantities. 5) I have had multiple times where items are put into inventory only to have them not show up when scanned at the register. Part of the time, I will go into the inventory app later and find the item with all of the necessary info there, but for some reason it is not getting picked up by the register app. Other times it isn't there and even after going back and re-entering again, I still have same problem, so I have resorted to running these items as a customer item which has further screwed up the accuracy of my inventory. 6) Due to various glitches (items not showing up in or possibly not even being subtracted properly from inventory) my inventory is nowhere close to accurate and at some point will have to be fixed. 7) To order or check inventory has to be done almost exclusively by physically going through my store to see what truly is in the store and what is needed and then typing up an order or report from that. 8) new inventory is all added manually rather than the scanner adding into the inventory app. So if you have two on the shelf, but two more you add it to make now 4. There is nothing that shows you who or what manually added or subtracted from the inventory app or when. You can assign specific access to specific functions, but I have found no oversight at all, there is no way to see what they are actually doing besides their name by the transaction they oversaw at the register. This is only the beginning of what this system lacks. 9) The only way to make up for these shortfalls is through the app store (which they had told me was for customizing, expansive needs - not basic functions). I still have yet to see anything that really covers everything this system lacks and each app costs monthly and I could easily be spending somewhere between $99 and $250/ month on an app - and its a thrid party app, that though approved, is not guaranteed, and then it is more customer service reps to deal with. I have been unable to get any decent or helpful responses from customer service reps just with the system itself - can't imagine what it would be like with glitches between apps and the system.On top of all of what the system does not do, I got mine though a lease which is way more expensive then it was presented to be, and the lease is "iron clad, unbreakable" with no guarantee the system works for my situation. I have taken it to corporate level and the best I have gotten so far is an apology that I have been inconvenienced but still denying me the ability to get out of the lease. This is so non-functional for a dance store with lots of shoes, that I will have to get another system while paying for this one while I fight to get it resolved. The only reason I leased this system was the answers given to me bto very thorough questions and it was 100% misrepresented. I hate dealing with tech anything by phone and it looked like a simple solution - on the ground set up and my bank, merchant services, POS all basically through the same place. What a disaster it has been. Has made everything more time consuming then if I had just had a basic old fashioned register and done books handwritten and not had to spend so much. The purpose of the point of sale system was to simplify book keeping and have all of the inventory, purchase orders, client info, etc. all in one system. This does absolutely nothing well except possibly process the payments - at what is seeming like pretty high fees.
Secteur d'activité : Restaurants
Taille de l'entreprise : 11–50 employés
Logiciel utilisé

tous les jours

pendant

plus de deux ans

Provenance de l'avis
---
My review
It's neutral not too bad not too good
Avantages
I like the analytics part and how easy it is to learn
Inconvénients
The online ordering sucks u can't cancel order placed from printing out / reschedule them
Pourquoi passer à Clover
All we knew
Secteur d'activité : Psychologie
Taille de l'entreprise : 2–10 employés
Logiciel utilisé

tous les jours

pendant

plus d'un an

Provenance de l'avis
---
Easy to Use and Competitive Rates
Overall, the product is simple enough to use that I am not worried about any of our contracted therapists messing up the process and avoiding taking payments.
Avantages
What I like most about Clover is that it can be downloaded on any smart device as app and has an easy to use card chip reader. Our agency wanted a chip reader for extra customer security and Clover offered that option.
Inconvénients
I like least about the software is that is does not capture customer information as simple as their first and last name, but simply has a text box for a description. Our agency uses the device for customer copays for therapy appointments and in the text box I am forced to put the customers last name in order to reconcile payments later.
Pourquoi passer à Clover
The start up costs and credit card processing fees were lower.