En savoir plus sur Katana Manufacturing ERP
Katana est un logiciel de fabrication et d'inventaire moderne pour les entreprises en pleine croissance. Les utilisateurs peuvent automatiser les flux de travail avec le moteur de réservation automatique intelligente et l'interface visuelle de Katana, qui permettent aux entreprises de hiérarchiser les commandes et de consulter les disponibilités de matières premières et produits finis en temps réel. Les utilisateurs peuvent facilement créer des nomenclatures pour les produits et leurs variantes, ainsi que gagner en visibilité sur l'inventaire de plusieurs canaux et en contrôle sur l'atelier. Katana s'intègre de manière transparente à Shopify, WooCommerce, QuickBooks, Xero, etc.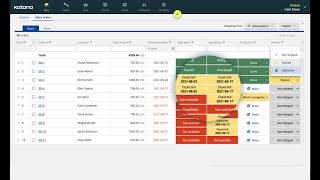 Katana Manufacturing ERP - Prix
Katana Manufacturing ERP n'est pas disponible en version gratuite mais propose un essai gratuit. La version payante de Katana Manufacturing ERP est disponible à partir de 99,00 $US/mois.
À partir de :
99,00 $US/mois
Version d'essai gratuite :
Oui
Produits similaires à Katana Manufacturing ERP
Katana Manufacturing ERP - Avis
Évaluation des fonctionnalités
Secteur d'activité : Produits alimentaires
Taille de l'entreprise : 2-10 employés
Logiciel utilisé

tous les jours

pendant

1 à 5 mois

Provenance de l'avis
---
Intuitive, Fast To Implement, and Beautifully Designed
Avantages
The user interface is clean and very intuitive, requiring essentially no time to learn. Some of the other MRP solutions we tried were difficult to navigate and use, and training on them would have been labor intensive and costly. Katana is beautifully designed, and the batch-tracking and inventory management is easy to adapt to our business (MRPeasy/ERPAG were very clearly not designed with food manufacturing in mind, so making them even remotely functional for that purpose felt like a bit of a fools errand, whereas Katana just works).
Inconvénients
While it is very user-friendly and it has the ability to track batches/lots (which is critical for us), we've had to develop workarounds to make it function the way we need it to -- it doesn't quite handle this the way I would envision it should. There are also some minor time wasters. If there's one simple feature I wish they would change, it's being able to type in the expiration dates rather than having to scroll through the calendar manually to select the correct date. This becomes so onerous when receiving multiple items on a PO and having to manually click through/scroll through the calendar to select the correct date as opposed to simply having a field that allows you to type in the date and move on.
Pourquoi passer à Katana Manufacturing ERP
Katana is a great small business solution that I can easily see growing with us. Fishbowl is cost-prohibitive (and honestly at this point, I'd rather just use Katana). MRPeasy and ERPAG are not as well designed and don't work well as a food industry solution -- they made simple tasks feel like running through a maze. The developers at Katana did a beautiful job of creating something intuitively designed that works well across multiple industries while also making it as clean and aesthetic as it is functional. It's a pleasure to use. I've noticed that they also seem to be regularly implementing improvements and updates, which is awesome. Customer support is friendly and responsive. Highly recommend.
Secteur d'activité : Production alimentaire
Taille de l'entreprise : 2-10 employés
Logiciel utilisé

tous les jours

pendant

6 à 12 mois

Provenance de l'avis
---
The MRP system I wish I'd always had
Katana's awesome, full stop.
I've been working with manufacturing businesses for years, and for years I've lamented Xero's relatively weak inventory management system. Two years ago I tried literally every MRP app I could find to plugin to Xero; they were all pretty bad.
Along comes Katana, which maybe was around earlier but was "new to me" just this year, and ... wow. Mostly, it Just Works. The Xero integration works seamlessly for bills and sales orders, which speeds AP/AR quite a bit. 90% of the tool's value is outside of Xero though, and I now have a permanently-pinned Katana tab in my browser for tracking everything in the production flow from raw materials purchasing, to production, to sale, to reconciliation of remaining materials and product stock. It's great.
Is it perfect? Not quite. They need to do some performance work, as load times are often a little sluggish. Also, it would be nice to see finer-grained automation, and better contact syncing. But overall, I'm delighted.
Avantages
- It's really easy to use
- Makes it easy to track materials on hand, reorder, etc
- Calculates margin including labor cost
- Xero integration works perfectly
- Zapier integration makes it really flexible from an automation standpoint
- Really lots of other stuff ... it's truly an excellent product and an outlier in a pretty clunky space.
Inconvénients
It can be a little slow, and the contact syncing could be more robust.
Pourquoi passer à Katana Manufacturing ERP
It's easier to use, it's priced right, and it gives you what you need without a bunch of stuff you don't. Perfectly tailored for SMB/SME manufacturers.
Secteur d'activité : Machines
Taille de l'entreprise : 2-10 employés
Logiciel utilisé

tous les jours

pendant

1 à 5 mois

Provenance de l'avis
---
First Impression KATANA - perfect fit for smaller companies which do not need a complex...
For our requirements, set-up and company size the best we could find and test!
We will manage inventory/warehouse with 5000+ items, handle products with ingredients & operations, edit quotes, generate sales orders and mark received orders as shipped for automated invoice generation in Quickbooks. The cloud-based concept and the reduced complexity combined with an intuitivbe operatzion makes this SW easy to install and to work with if you have a team in different geographic locatioopns (as we have).
Set-up of KATANA is absolutely simple, mostl yself-explanatory and can be done by any "power-user" without need of (expensive) external ERP-consultants.
Avantages
Handling of inventory, items, products, ingredients, sales orders - all this is handled in a very efficient, clear and easy to use way. Makes the difference compared to many alternative MRP-/ERP-systems.
Connector to QuickBooks with automatic trigger for invoices in QB once the products are marked as shipped in KATANA.
Connector to Shopify for on-line sale of spare parts.
100% helpful and open minded customer service - very helpful in helping to understand all features and finding the best workflow for specific situations.
Inconvénients
There are some functions/features which need improvement, e.g. the customization of documents such as Quotations so every company can generate a set of individual template to serve different areas (machines, spare parts, service,..). 3-5 custom fields for Quotes/Sales Orders/Products would be helpful. Althoug KATANA is intended to be a MRP-system it would be helpful to integrate SERVICE-articles (not only MAKE or BUY articles). This would allow to add a possible service portion to a spare parts quote.
Dedicated Delivery Notes (with partial shipments) would be a great feature.
Pourquoi choisir Katana Manufacturing ERP 
Due to a downsizing in manufacturing we decided to look for a faster, more flexible, less complicated MRP-system which is cloud-based and would have good and propven interfaces to a standard accounting SW and to an on-line shop (spare parts).
Pourquoi passer à Katana Manufacturing ERP
Simplicity with at the same time well covered basic features, ease of use, intuitive, cloud-based.
Réponse de

Katana MRP

Thank you! Glad you are getting value out of Katana.

Répondu le 28/12/2020
Secteur d'activité : Vente au détail
Taille de l'entreprise : 2-10 employés
Logiciel utilisé

tous les jours

pendant

plus d'un an

Provenance de l'avis
---
Met our needs at beginning, as needs grew Katana team listened and added features
We maintain about 1500-2000 SKUS and all assemblers work at home. Some do different steps, returning work weekly and then having it distributed to the next person. Giving every MO an actual number has kept every bag of parts and supplies organized. We can track who has it, where it's at in the manufacturing process, etc. Even though we have used Katana since January, it's the last 3 months that it's really proven it's value to us.
We do not use it for order fulfillment, just in-house manufacturing. But it's allowed us to prep for holiday season from July forward and stay completely organized and efficient. No more "where-did-it-go" or "how-many-have-we-prepped" frantic moments. We began the year knowing we needed a software that "fit" our company's size and our needs. Katana has proven invaluable for our company this year. We are currently doing our first complete inventory and we hope to add these numbers to Katana in 2020 and continue to improve our efficiency.
Avantages
The ability to use Resources as a way to assign a specific person to each task so I can see who is working on what step of the manufacturing process and the allotted time they are provided for the task. This year we went from contract labor/paid-per-piece to employees/hourly-wage and Katana has made this a much smoother transition then it could have been. Having both "cost-per-piece" for assembly of items as well as "cost-per-minute" has given us the ability to compare former payment procedures with what to expect per hour from employees.
Inconvénients
There are a variety of tasks that were unable to be done when we began using Katana in January 2019 but I am thrilled to say that most of them have been developed. The developers listen and are very attentive to requests, bug reports, and ideas and so despite the fact that some of the features were not available (exporting reports, importing recipes, bulk print MOs/pick lists, etc.) they have added these and the software continues to grow. The next feature I'd love to see is the ability to have a product photo attached to each product that prints out an image with the MO.
Also, we have some items "on hold" (not sent to distribution center yet) and we use Resources to specify ONHOLD-BIN221 etc. to know the status of any particular SKU completed. We'd prefer not to use different locations, but rather have the ability to add a couple more "status" options. Either a misc or a custom. For now, everything on hold gets marked BLOCKED status and then the Resource is used to say it's on hold in whatever bin.
Réponse de

Katana MRP

Thank you for very thorough feedback! Love to have you growing with us!

Répondu le 07/02/2020
Secteur d'activité : Biens de consommation
Taille de l'entreprise : Auto-entrepreneur
Logiciel utilisé

tous les jours

pendant

6 à 12 mois

Provenance de l'avis
---
Great choice for small manufacturer
I tried several different MRPs before settling with Katana. Some were too clunky, others too expensive, complicated and elaborate. I felt a bit like Goldilocks. Katana was just right. Reasonably priced. Integrating with Quickbooks and Shopify was simple and efficient. The set up was fast. I no longer have to duplicate data entry onto multiple systems. This saves me times and I don't lose track of orders or inventory. I especially like the instant chat feature with their customer service reps. I can leave a quick message or screenshot of a problem and within a day or so, I have a response back and my problem resolved. No need to hire an expensive consultant, anyone could set up Katana and run it.
Avantages
Very simple user-interface
Was able to set it up quickly and efficiently
Continual feature upgrades
Simple integration with Shopify & QuickBooks
Very responsive customer service
Detailed, but not overwhelming
Inconvénients
The upload from Excel was clunky and not helpful. It was faster to just enter in the data directly.
There are features I look forward to having but that are not currently available. I know their team will be releasing them in the next year.
Alternatives envisagées 
ERPAG
Pourquoi choisir Katana Manufacturing ERP 
Odoo is a beautiful all-in-one platform that seemed to be the perfect solution to tying my entire business together. However, it doesn't "play" well with Shopify and social media platforms which both are essential to my business. Any customization requires an extra fee each month plus the cost of the custom 3rd party app. Set up was complicated and when I needed help, I was pressed to pay $10k for a customer service package. For a small business, that's a lot to shell out. If I were a large company and could pay to have it all set up and administered correctly, I'm sure Odoo would be an excellent choice. But for a one-woman show, it was just too much to juggle.
Pourquoi passer à Katana Manufacturing ERP
Erpag was about the same price at the time and had a few extra features that I liked (barcode integration for example), but the user interface was just really clunky. It reminded me a lot of my days in 90's Windows. Lots of tabs and block colors. When I added a demo set of data in, it didn't seem too difficult to use, but it just wasn't intuitive to me.
Réponse de

Katana MRP

Thank you for the feedback!

Répondu le 10/09/2019