En savoir plus sur MeisterTask
MeisterTask est une solution cloud de gestion de tâches et de projets qui s'adresse aux entreprises de toutes envergures. Parmi les fonctionnalités figurent la gestion du temps, la gestion de fichiers et le reporting. MeisterTask propose un tableau de bord qui aide les utilisateurs à consulter les activités en cours et les projets actifs. La solution fournit une application de création de cartes heuristiques en ligne qui permet aux utilisateurs de créer des plans de projets et de collaborer avec les membres de leur équipe. Les utilisateurs peuvent également discuter des informations de mission avec les membres de l'équipe, définir des échéances, télécharger des fichiers et ajouter des éléments à la liste de contrôle. La fonctionnalité d'actions de section de MeisterTask aide les utilisateurs à affecter des tâches aux membres, à en modifier le statut et à les déplacer vers différents canaux. La solution s'intègre à des applications telles que Dropbox, GitHub, Zendesk et Bitbucket. Des applications mobiles natives sont disponibles sur les appareils Android et iOS. Les services sont proposés sur la base d'un abonnement mensuel. Cet abonnement fournit une base de connaissances et permet aux utilisateurs de soumettre des cas d'assistance en ligne.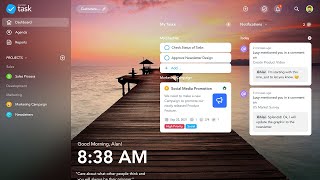 MeisterTask est disponible en version gratuite et propose un essai gratuit. La version payante de MeisterTask est disponible à partir de 8,25 $US/mois.
Version d'essai gratuite :
Oui
Produits similaires à MeisterTask
Évaluation des fonctionnalités
Secteur d'activité : Art/artisanat
Taille de l'entreprise : 2-10 employés
Logiciel utilisé

tous les jours

pendant

plus de deux ans

Provenance de l'avis
---
Très bon outil
Nous gagnons du temps dans la transmission des infos aux salariés, tout est écrit donc pas d'excuse du genre 'je ne me rappelais pas comment faire'...
Avantages
Pratique pour décliner les différents process de l'entreprise, assurer le suivi des tâches, et pour la gestion interne entre salariés et employeurs (échanges de messages...)
Inconvénients
Le défaut remarqué est que les notifications arrivent toujours après la date d'échéance de la date (peut-être s'agit-il d'un mauvais paramétrage de ma part)
Secteur d'activité : Internet
Taille de l'entreprise : 1 001-5 000 employés
Logiciel utilisé

tous les jours

pendant

plus de deux ans

Provenance de l'avis
---
I can sort of all pending and completed tasks
With MeisterTask, we can manage and work on several projects at the same time, even if we are in separate places. Using this software has the added advantage of being simple, affordable, and widely accessible, all thanks to its cross-platform interoperability.
Avantages
With MeisterTask, customers may take use of this project management solution in a matter of minutes thanks to its simple and intuitive design. Managing many projects and sub-tasks at the same time is also a breeze. Good for teams/collaboration and excellent mobile applications. Kanban task management method. Exactly one year ago, I was searching for an alternative to Trello.
Inconvénients
MeisterTask does not include a workflow calendar, which would provide for a more full picture of the productivity of a project.
Réponse de

Meister

Thanks so much for taking the time to write such an extensive review, Shayla! It's always great to hear from users who've benefited from our collaborative Kanban-tool. :D

I've forwarded your suggestion regarding a workflow calendar to our project manager, who is always happy to collect and consider user feedback. In the meantime, you might want to try out direct integrations with Google Calendar and iCal.

We'd also love to hear more about your experience with MeisterTask, including any improvements or suggestions you might have! Please don't hesitate to reach out to us on Twitter at @MeisterTask if you have any feedback.

Thanks again,

Your MeisterTask Team

Répondu le 01/06/2022
Secteur d'activité : Services et technologies de l'information
Taille de l'entreprise : 10 000+ employés
Logiciel utilisé

tous les jours

pendant

plus de deux ans

Provenance de l'avis
---
An ideal collaborator for managing projects
This is the appropriate solution for you if you require a comprehensive overview of your projects, tasks, and the implementation of cooperation among numerous users. It has a strong impact despite its seeming simplicity. The product has served me well for almost three years, and I have no reservations in recommending it. Although I am a web developer and the owner of a marketing business, this is the tool I find most useful.
Avantages
I appreciate how accessible it is regardless of the device being used. Meistertask has made it very easy for me to keep track of the many tasks I'm working on at once. I use Kanban to monitor the status of each job within a project, log hours worked on each task, and compile time-based reports for clients.
Inconvénients
Very few drawbacks may be found. Perhaps the cost of the Timeline (the new Gannt chart similar) function. Please add more functionality to the free tear. It's OK to pay, but you can't always demand your coworkers chip in. As an additional feature, I'd want to see support for integrating with external services. Having it available would be really convenient.
Secteur d'activité : Logiciels
Taille de l'entreprise : 51-200 employés
Logiciel utilisé

toutes les semaines

pendant

plus de deux ans

Provenance de l'avis
---
Love Meister Task for at view glance
I dont' use as often since we were switched to a different product. At the height of my usage I was in the system constantly and was great for giving me the info that I needed to be effective at contract processing.
Avantages
I love how easy it is to figure out how to use the software and get a quick glance at what I still need to do. Also, creating a "template" for future projects was great
Inconvénients
Doesn't lend to integrating with my other systems well. Is great as a stand alone.
Réponse de

Meister

Hi Yvette, thanks a lot for your review! We're happy to hear you enjoyed using MeisterTask and found it to be an intuitive and powerful solution for your business!

By the way - we would love to hear more about which integrations you'd like us to add. Please reach out to us at [email protected] and let us know how we can serve you even better.

Thanks again, and have a great rest of your summer!

Best,

Your MeisterTask Team

Répondu le 01/08/2022
Secteur d'activité : Comptabilité
Taille de l'entreprise : 2-10 employés
Logiciel utilisé

tous les jours

pendant

plus d'un an

Provenance de l'avis
---
Wish they ironed out the bugs
Started with this software a few years ago and really need to spend some time looking for other software. Run accounting firm and use this software to manage the monthly entry for all clients. As all my workers are remote, I need something dependable to assign tasks and manage timekeeping for each client. Unfortunately Meistertask fails hard on dependability. The backgrounds are pretty and the aesthetic is the best thing about this software. The worst is that every other month I have issues pulling time tracking or some kind of glitch happening. For the last 2 weeks i've been unable to bill clients or access accurate reports for the time period I am trying to bill even though the hours show perfectly fine in the software, what is being downloaded is last month's time tracking which is not the search parameter I put in. Every time I contact Meister it takes a while for them to get back to me and has taken upwards of a week to fix issues with no explanation for why they keep happening. Currently I pay $70+ per month for what? I don't really care that the tasking software is pretty if the software in general stops working and I have to keep asking to fix. This is the 2nd time I've had an issue with the software in the last 3 months either not properly displaying time or not properly downloading. Don't use this if you need accurate and timely time keeping!!!!
Avantages
-Can track time by task
-Can assign multiple team members
-Team members can view time
-Can set up multiple projects or clients
-Can get notifications when tasks completed
Inconvénients
-Would be great if all workers couldn't view everyone's time
-Need feature to pull time for a date range
-Time Tracking glitches every other month
-Customer service takes forever to fix issues
Pourquoi passer à MeisterTask
Seemed like it had more functionality for what I needed. Boy was I wrong.