En savoir plus sur Katana Manufacturing ERP
Katana est un logiciel de fabrication et d'inventaire moderne pour les entreprises en pleine croissance. Les utilisateurs peuvent automatiser les flux de travail avec le moteur de réservation automatique intelligente et l'interface visuelle de Katana, qui permettent aux entreprises de hiérarchiser les commandes et de consulter les disponibilités de matières premières et produits finis en temps réel. Les utilisateurs peuvent facilement créer des nomenclatures pour les produits et leurs variantes, ainsi que gagner en visibilité sur l'inventaire de plusieurs canaux et en contrôle sur l'atelier. Katana s'intègre de manière transparente à Shopify, WooCommerce, QuickBooks, Xero, etc.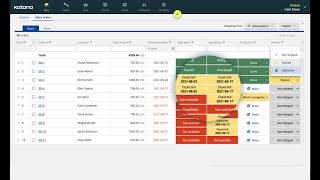 Katana Manufacturing ERP - Prix
Katana Manufacturing ERP n'est pas disponible en version gratuite mais propose un essai gratuit. La version payante de Katana Manufacturing ERP est disponible à partir de 99,00 $US/mois.
À partir de :
99,00 $US/mois
Version d'essai gratuite :
Oui
Produits similaires à Katana Manufacturing ERP
Katana Manufacturing ERP - Avis
Évaluation des fonctionnalités
Logiciel utilisé

tous les jours

pendant

1 à 5 mois

Provenance de l'avis
---
I learned this product by using it; few hints from the online help. I decided on day one to...
I can now run my business without spreadsheet hell. I can actually make more product. This is not an exaggeration. I was stressed before using this software. I actually could not work out what I needed to order to satisfy our production demands.
Avantages
It answers my questions easily, what purchase orders do I need to make to satisfy the orders I have coming in. What should I work on next and when will it be ready for the customer! I can see delays in deliveries and the effect on production. It manages very complex bill of materials for our vast number of products. and it does so with a user experience that is simple and easy.
Inconvénients
Where there has been anything I didn't like about the software, I chat instantly to the development team and they listen, they come back to me with an instant work around; then in the longer term they have provided updates that fix the problem. They are an adorable bunch of people and really want to make this work for our busy little workshop.
Réponse de

Katana MRP

Thank you Gaz for all the support!

Répondu le 09/09/2019
Secteur d'activité : Électronique grand public
Taille de l'entreprise : 2-10 employés
Logiciel utilisé

tous les jours

pendant

6 à 12 mois

Provenance de l'avis
---
Perfect for where we're at right now
We chose Katana after trying out a couple different MRP's which were either overly complex, over-priced, or didn't fit our needs. We've stuck with Katana based on it's ease-of-use, intuitive design, and delivery of everything we need it to do.
Avantages
It's great to be able to log in on any computer without having to install software, and it's done an amazing job of keeping our inventory tidy and up-to-date. The Purchase Order generator has also made us look very professional to our suppliers. The integration with Shopify is also a huge plus to us as it prevents us from having to manually transfer Shopify orders and automatically removes all parts from the BOM from our inventory. Highly recommended!
Inconvénients
There aren't many, if any things we've come up against yet that Katana didn't support.
Réponse de

Katana MRP

Thank you for the feedback!

Répondu le 13/02/2020
Secteur d'activité : Produits chimiques
Taille de l'entreprise : 51-200 employés
Logiciel utilisé

tous les jours

pendant

1 à 5 mois

Provenance de l'avis
---
Overpriced and insecure
Too expensive, cheaper to purchase some of the Tier One options out there. Insecure as your users have wide open access to all features - including the dreaded "delete all" function.
Avantages
The software has the **potential** to be good.
Inconvénients
There are only 2 user levels "Superusers" with access to all levels of creative and destructive features, and warehouse operators, with access to make to BOM instructions. The lack of "sales team" and other intemediate levels of access is a killer.
Réponse de

Katana Technologies

Hi Bill,

We're aware our user permissions could be improved, and just around the corner in Q3 '22 we're launching a new and improved version with much more flexibility. We're currently building this out as we've received similar feedback in the past, thanks for your feedback on the topic too!

I'd also like to clear up how user permissions are working currently too, we have 3 levels of users;
Owner - access to all functions, including billing and delete all button.
User - access to all functions, excl billing and delete all button.
Operator - only shop-floor app access.

Additionally, it takes 4 separate steps to clear all account data in settings, including typing out your email address in full and is restricted to only the owner of the account.

If you need any help with users or have additional feedback to give, please chat with us in app as currently it's a great time to incorporate feedback specifically for this feature!

Répondu le 15/06/2022
Secteur d'activité : Vente au détail
Taille de l'entreprise : Auto-entrepreneur
Logiciel utilisé

tous les jours

pendant

1 à 5 mois

Provenance de l'avis
---
Cannot recommend this app enough
Honestly has changed my life for the better. I'm no longer running out of supplies and having to do emergency orders (hello, extra shipping fees!). This keeps me organized and helps me to better my time management. I can see every open order that I need to fulfill and planning out supply orders is a breeze. I've recommended this app to every other maker I know because I am that in love with it. I'll use this app for the rest of my life because it is the best thing that's happened to my business in a long time.
Avantages
This software legitimately changed the way my business runs. It keeps me accountable for the hundreds of supplies I use on a daily basis and keeps me organized in a way that no lists, or other apps, ever have.
Inconvénients
I can honestly say nothing, this app works so seamlessly and wonderfully. Maybe the load speeds can be a little laggy, but that's mostly because I have a lot of materials I've input. Definitely not an app downfall or issue at all.
Réponse de

Katana MRP

Thank you for the support!

Répondu le 02/06/2020
Secteur d'activité : Biens de consommation
Taille de l'entreprise : 2-10 employés
Logiciel utilisé

tous les jours

pendant

1 à 5 mois

Provenance de l'avis
---
Very Useful
The overall experience has been excellent so far. Katana has helped us transition away from using spreadsheets to track our manufacturing operations and really professionalise our processes. It's an integral part of our everyday operations.
Avantages
Katana has multiple features which have very useful in improving our manufacturing processes. The ability to create recipes for each product has been a huge help for us as we have quite a lot of raw materials in each finished product.
The Shop Floor app has been brilliant for us to track production/assembly time more accurately. This has been a great help in pinpointing an accurate cost per unit.
Inconvénients
The only aspect that hasn't met our expectations so far has been the batch tracking feature. This is an excellent feature and one that would be so helpful for us. However, we need it to work automatically with our Shopify orders and at the moment sales orders can only be attributed to particular batches if you fulfil them on the Katana dashboard. We need this to happen automatically when our Shopify orders are fulfilled.
Pourquoi passer à Katana Manufacturing ERP
Katana was much more suited to our needs in terms of the receipt creation features for each product. The interface was also much simpler than the alternative products we considered.