En savoir plus sur Eurekos
Eurekos est un LMS (Learning Management System) cloud qui permet aux utilisateurs de créer et de diffuser du contenu de formation en ligne. La solution s'adresse à divers secteurs d'activité tels que les technologies de l'information, les commerces de détail et les agences gouvernementales. Les utilisateurs peuvent accéder à un hub de contenu doté d'une base de données de formations consolidée. Le hub aide les utilisateurs à gérer le contenu et à créer des modules d'apprentissage. Les utilisateurs peuvent également accéder à des vidéos téléchargées, ainsi qu'à des outils de gamification. Le module d'analytique de l'apprentissage permet aux utilisateurs de suivre les performances des étudiants. Il permet également aux utilisateurs d'identifier les lacunes dans les compétences des étudiants. Les utilisateurs peuvent affecter des cours spécifiques aux étudiants en fonction des intérêts, des rôles, des objectifs et du niveau d'expertise des élèves. Les utilisateurs peuvent également configurer un portail d'e-commerce pour vendre les formations qu'ils ont créées. Eurekos prend également en charge l'inscription automatique et les inscriptions groupées. Un service d'assistance est disponible par téléphone et par e-mail. Tarification par utilisateur et par mois.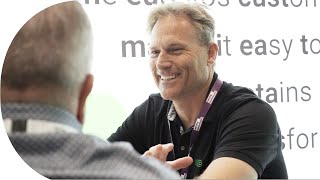 Eurekos n'est pas disponible en version gratuite mais propose un essai gratuit. La version payante de Eurekos est disponible à partir de 350,00 €/mois.
À partir de :
350,00 €/mois
Version d'essai gratuite :
Oui
Produits similaires à Eurekos
Évaluation des fonctionnalités
Secteur d'activité : Hôpitaux et soins de santé
Taille de l'entreprise : 11–50 employés
Logiciel utilisé

tous les jours

pendant

plus de deux ans

Provenance de l'avis
---
It started out great and it keeps getting better :)
We have been using the Eurekos LMS for over 2 years now. Already from the beginning I had a great impression and a great feeling about the platform, because compared to other platforms we had been in contact with prior to implementation, Eurekos really stood out as a platform that was specifically designed with the best interest of the learner in mind and the know-how, of what this implies. This is reflected in all available features, which we are using across a wide ray of business use cases (external trainings that can be purchased individually, in-house trainings, face-to-face courses, eLearnings, webinars, blended courses etc…). As not only an admin, but also an instructional designer I was and am still very happy to be able to work with a tool that comprehends and combines the technical needs with the needs of the instructional design in order to makes online courses innovative and efficient learning environments. The team is amazing and always supportive in regard to any questions that might appear. It is truly a pleasure to have such a great cooperation partner.
Avantages
One of the key strengths of the software is still its usability and flexibility as well as the extensive features and the constant improvement and updates. From the beginning the features were easy to use and adapt according to one's business needs. From course administration to the integrated authoring tool, the LMS encompasses a lot of features that support with each individual use case we have. You don't get lost in all the features 😉 but whatever you need, the platform always offers a solution …and in the rare cases it doesn't, the Eurekos team always does 😊 Constant updates and innovative new features not only improved the existing features but also create possibilities for new use cases.
Inconvénients
Like every LMS or technical product, it will never be able to cover 100% of all needs a business has. However, with the constant improvements and the possibility to customize certain features according to the company needs it comes pretty close.
Secteur d'activité : Vente en gros
Taille de l'entreprise : 11–50 employés
Logiciel utilisé

tous les jours

pendant

plus d'un an

Provenance de l'avis
---
Online Learning never looked this good!
We shortlisted & demo'd 4 x LMS providers as part of our research into improving our online learning capacity. Eurekos shone though in their level of interest and care towards our business and our learning goals. This put them in pole position to demonstrate how the products vast potential could be adopted to make sure our learning experience could improve year on year.
I'm also happy to report that the level of "pre-sale" attention we received continued all the way through the training & onboarding cycle, and continues still today as we try to develop & improve our offering.
Avantages
The capability and flexibility seems almost endless. Our ability to wrap up & present learning options to individuals, teams or groups of our staff or customers is very powerful. There is also a very strong commitment to aesthetics and the way learning is presented via Eurekos...more so I would say than the U.S based systems we considered. The system does not take over your brand look or feel but it does more than any other LMS to ensure what is created always looks good....especially so on mobile devices.
Inconvénients
We were a little disappointed to learn that the full Zoom integration is only fully functional with the large Corporate/Enterprise edition of Zoom (which we don't have). I think this is more a decision of Zoom than it is Eurekos though and we do know that other full integrations are available which would not require such a large video conferencing subscription.
Pourquoi passer à Eurekos
Best understanding of our project objectives, Willingness to show platform pre-sale (many other providers limit demo time to just 30 minutes - which for a 10k per annum + investment is insufficient) Capability of platform, level of personalisation and branding, clean strong aesthetic look.
Secteur d'activité : Musique
Taille de l'entreprise : 2–10 employés
Logiciel utilisé

tous les mois

pendant

Essai gratuit

Provenance de l'avis
---
This is an exceptional LMS that exceeds all my expectations for external training
One of the highlights of this platform has been its customer-centric approach. Not only does it provide us with the necessary tools to create and offer effective training programs, but it also involves us in the entire process, which is reflected in its exceptional support, where they are always willing to listen to our needs and provide personalized solutions.
Avantages
What has impressed me most is their client-centric approach and their ability to adapt to our specific external training needs, which is why they not only provide us with a complete set of tools for learning, but go further by engaging us in the whole process. The quick onboarding functionality of this platform was especially notable for us and we were able to quickly deploy our courses and training materials.
Inconvénients
The initial learning curve to become familiar with all the functionalities and features of the platform. Although this platform provides me with extensive documentation and support, it might be helpful to have more detailed tutorials or even live training sessions to help you get the most out of the platform from the beginning.
Secteur d'activité : Gestion de l'enseignement
Taille de l'entreprise : 51–200 employés
Logiciel utilisé

toutes les semaines

pendant

1 à 5 mois

Provenance de l'avis
---
Easy to use and great support
I would go back to using it any day, very straightforward and easy to use. The support from [SENSITIVE CONTENT] was exceptional.
Avantages
It is a very straightforward product I would recommend it if most of your training is video-based. Although you also have an opportunity to create a personalised learning experience with a clear path. The platform is modular which makes it very easy to create learning modules. Overall great quality for a moderate price.
Inconvénients
In the end we are not going to continue using Eurekos because of the lack of social component. There are forums but we were looking for integrations with instant messaging, topic-based forums with posted content by moderators.
Pourquoi choisir Eurekos 
The previous product didn´t meet most of the expectations in terms of authoring tools, course structure etc.
Pourquoi passer à Eurekos
In the end we have tested Eurekos and it meets our needs but only at 90%. We needed a bigger social component.
Secteur d'activité : Think tanks
Taille de l'entreprise : 11–50 employés
Logiciel utilisé

tous les jours

pendant

plus d'un an

Provenance de l'avis
---
Already great - this platform keeps getting better
Avantages
For over a decade I have been an administrator of several platforms we have used for our 'community of practice' work, so I have tried a lot of different platforms before switching over to Eurekos. I noticed right away that our team could work with the Eurekos platform without much assistance or training from me. This was new! It meant less work for me, and more work done by the team. And the course creators were having fun doing the work. In the past I would have had to layout much of the content myself and use a lot of CSS to make everything look nice. This platform keeps things simple so the layouts pretty much take care of themselves and look decent out of the box. You don't have to be a web designer to create a decent looking page.
The course creation interface is both powerful and easy to use. Every kind of content is modular and can be dragged and dropped to any location in the layout. And there are various layout options to choose from. Creating an organized course structure is a snap, and it is flexible enough to easily alter as needed. Behind the scenes, the platform allows for granular user permissions control so important to our work.
In the span of a year many features have been improved and substantive new features added. Users can now enroll themselves into the platform and choose activities to participate in. That is a great time saver for user administrators like myself. I could go on....
Inconvénients
Eurekos is very focussed on functionality, and they really come through on delivering it. The graphic design of the platform is of professional quality, but it is mostly fixed. Giving the platform a unique branded look is allowed within limits, but options are more limited than I as a web designer would prefer.