En savoir plus sur Creatio CRM
Creatio propose une synergie unique entre un CRM (Customer Relationship Management) unifié et une plateforme BPM (Business Process Management) intelligente pour l'automatisation du marketing, des ventes et des services. La solution permet aux moyennes et grandes entreprises de gérer le cycle de vie du client, de la prospection à la vente et au service client continu. La solution offre aux utilisateurs la possibilité de visualiser les activités de marketing, de vente et de service via une plateforme CRM unique. Creatio propose trois produits intégrés, qui peuvent être utilisés séparément ou dans un module CRM unique : Marketing Creatio, Sales Creatio et Service Creatio. Marketing Creatio est une application de marketing multicanal qui permet aux spécialistes du marketing de générer et de favoriser une communication permanente avec les clients. Sales Creatio est un outil de SFA (Sales Force Automation) permettant de gérer le cycle de vente, de la génération de leads à la gestion des clients réguliers. Service Creatio fournit des outils de service client pour favoriser l'engagement client. Creatio peut être déployé à la demande en tant que solution cloud ou sur site, où les données sont hébergées en interne sur les serveurs de l'entreprise. Dans les deux cas, les utilisateurs peuvent accéder à Creatio à l'aide d'un navigateur web ou de l'application mobile. Le système est compatible avec Windows et iOS.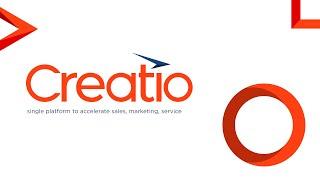 Creatio CRM n'est pas disponible en version gratuite mais propose un essai gratuit. La version payante de Creatio CRM est disponible à partir de 25,00 $US/mois.
À partir de :
25,00 $US/mois
Version d'essai gratuite :
Produits similaires à Creatio CRM
Évaluation des fonctionnalités
Logiciel utilisé

toutes les semaines

pendant

plus de deux ans

Provenance de l'avis
---
All business processes are automated within bpm'online CRM
My company works in service business (education) and we need to do the best we can for our clients. Having marketing, sales and service in a single platform has easily been one of the best benefits to date. Outlook integration works perfectly and really saves time for everyone. And from a support standpoint, they provide top-notch service 24/7. Within bpm'online we automate sales processes and pipeline management, email marketing, event management, billing clients' hours.
Avantages
We have had the full bpm'online CRM for marketing, sales and service for several years now and can't imagine our business without it. Implementation was very fast and we started using the out-of-the-box processes right away. The best part of the implementation was sales module. Integration was seamless with our other systems. No coding experience or extensive training was needed.
Inconvénients
To some extend it can be a bit complicated for non-techy users. At the same time, once our team started using it daily, they absolutely loved it.
Secteur d'activité : Gestion de l'enseignement
Taille de l'entreprise : 2–10 employés
Logiciel utilisé

tous les jours

pendant

plus d'un an

Provenance de l'avis
---
Creatio CRM
Before Creatio, basically all that we did was manual and we attempted to offer our types of assistance at a quick speed. We are currently outfitted with clever answers for handle all client confronting processes: deals, showcasing, client assistance tasks, clinical guaranteeing, and claims the executives. Creatio holds cornerstone information of our individuals. The capacity to assemble work processes made Creatio a flat out fit for our business. We tweaked the lead the board cycle, and computerized deals pipe. We convey fundamentally better client care as our representatives have moment admittance to client profiles and see every one of their exercises. The specialists can follow the situation with client cases and give exact data on the goal.
Avantages
Catching data about clients and their workers
Making leads from the site
The board of gatherings of the outreach group
The board reports for promising circumstances
The vital strength of the stage is its adaptability.
Creatio accompanies out-of-the-case arrangements, yet theyre configurable for your business.
Inconvénients
At the point when clients go on-prem, there are some additional expenses for microservices. The mix with web-based media requires outsider applications
It would be extraordinary to make the framework more easy to use by adding further developed separating and information perception. On a side note, we have as of now seen some critical enhancements in this space this year.
Logiciel utilisé

tous les jours

pendant

Essai gratuit

Provenance de l'avis
---
Potential Buyer
Avantages
The prompt response from the sales team and the willingness to answer my questions. Many vendors just ignore your questions.
Inconvénients
I had a very specific needs related to users having an online calendar to schedule call back support. I was clear with BPM staff prior to the call and accepted the call because they believed they had a solution. On the call they listened to my needs again and then took me through a boilerplate pitch. They were going to investigate their ability to deliver and even offered to build a mock up to show me.
That call as the last time I heard from them. I reached back out and heard nothing. Not even a simple we looked into your need and we are unable to provide the support you desire.
I came away believing they will say anything just to get you on a call for their pitch.
Where are we going? Salesforce with Timetrade as a plugin
Secteur d'activité : Banque
Taille de l'entreprise : 1 001–5 000 employés
Logiciel utilisé

tous les jours

pendant

plus de deux ans

Provenance de l'avis
---
Bpm'online helped us improve performance
Sales and marketing management system. With this application we have got great results with minimal time spent and maximum success. We are happy with results!
Avantages
With bpm'online we managed to integrate and our processes and operations in one application. Our sales reps have access to all the information they need, even if it's lead's website behavior data. We automated a standard sales process for the entire team and it helped us improve performance.
Inconvénients
Would be good to have a bit more modular pricing so that we could adjust it and pick what we really need.
Secteur d'activité : Services et technologies de l'information
Taille de l'entreprise : 51–200 employés
Logiciel utilisé

tous les jours

pendant

plus de deux ans

Provenance de l'avis
---
Creatio's 360
very good with passionate people with technology and like to support you
Avantages
Very good looking software and efficient with a lot of ready to use functionalities. You can adapt the sofware at your own flavor to get the most of the power.
Inconvénients
A better connection with tools like M365 would be a good point. Sometine you don't know where your are in the different modules