En savoir plus sur Snappii
Snappii, a leading Mobile Business Apps and Forms company, offering Business Process Automation and Field Reporting Apps used predominantly in Construction, Inspection and Work Order management, has made the digital transformation affordable especially for small and midsized companies. Snappii helps to design, build, and deliver feature-rich business apps and form apps in days versus months without any coding skills. Any business app and form app can be created quickly, easily, and affordably.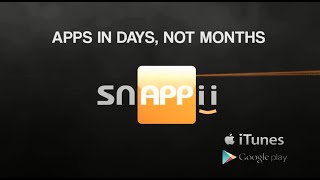 Snappii est disponible en version gratuite et propose un essai gratuit. La version payante de Snappii est disponible à partir de 201,60 $US/année.
À partir de :
201,60 $US/année
Version d'essai gratuite :
Oui
Produits similaires à Snappii
Évaluation des fonctionnalités
Secteur d'activité : Réseaux informatiques
Taille de l'entreprise : 2-10 employés
Logiciel utilisé

tous les jours

pendant

Essai gratuit

Provenance de l'avis
---
Codeless app platform, mobile apps and forms
Avantages
Snappii mobile enterprise app development platform is a real alternative to hiring expensive mobile Apps developers that are hard to find, or outsourcing mobile app development to unknown and unreliable companies.
Snappii offers web service integration and can connect to enterprises' back-end systems for secure data transition.
In addition to do-it-yourself and custom app development, Snappii offers a wide selection of ready-made industry specific apps that are available for download from Apple AppStore and Google Play store. These apps can be 100% customized to meet the needs of a specific business. Over 68, 000 apps have already been built on Snappii codeless platform, with customers range from the largest companies to medium and small organizations and this number keeps growing.
Inconvénients
Hawkwood & Co run an intelligence service for the oil and gas industry. Using the Snappii platform, we have been able to develop an App to support the service. It allows us to deliver reports and geospatial intelligence directly to our clients Smartphones and Tablets, avoiding overstuffed inboxes. We can also ensure time critical information is delivered promptly via a push notification ensuring our
Secteur d'activité : Hôpitaux et soins de santé
Taille de l'entreprise : 201-500 employés
Logiciel utilisé

tous les jours

pendant

plus de deux ans

Provenance de l'avis
---
Efficiency = Expansion
We love Snappii! Our field staff is able to collect documents and have them emailed to our office staff and stored in our cloud instantaneously. This has reduced travel back and forth to our office, mailing of documents, and scanning of documents. This has saved our company both time and money. It has enabled us to scale our business at a rapid rate. We have grown quickly enough to be an Inc. 5000 company four years in a row, that wouldn't be possible without Snappii.
Avantages
-The ability to easily make changes in guru mode.
-How user-friendly it is out in the field.
-The reliability of the App working properly.
-Support from Sales executive and others has been very quick and helpful.
Inconvénients
-The fact that our custom app is not able to be downloaded through the App store.
-Occasionally the app won't submit documents and we have to refresh the app and then lose the documents.
Pourquoi passer à Snappii
Knowing that we would be able to be trained on how to customize and make changes to the app on our own. Sales executive also sold us on the customer support and they haven't let us down yet.
Secteur d'activité : Meubles
Taille de l'entreprise : 51-200 employés
Logiciel utilisé

tous les jours

pendant

plus d'un an

Provenance de l'avis
---
Our Special Application
This is solving a basic problem in the quality department. It allows all users to report a problem to the team and once entered and reported, any team member can activity address the issue live...real time for closure. Its a great tool and I am currently writing a article for ASQ (American Society for Quality) as this is braking new ground in quality tools.
Avantages
Again, [SENSITIVE CONTENT] have been excellent in supporting our company and this application, as it is used for a different use that is not being used anywhere else in the quality field for us to identify, report and closure of our quality issues live and activity.
Inconvénients
Once a user reports an issue, the quality department transfers the information into a excel spread sheet.
This is a bit time consuming.
Secteur d'activité : Génie mécanique ou industriel
Taille de l'entreprise : 2-10 employés
Logiciel utilisé

Autre

pendant

6 à 12 mois

Provenance de l'avis
---
Not for me!
My experience was a waste of money as we have now switched to another provider and the difference is night and day. I wouldn't recommend this provider Sorry.
Avantages
Unable to think of anything good to say.
Inconvénients
Tech help poor unless you want to pay them more money to sort issues. DIY platform was tedious and left you stuck and tech help soon get fed up of you and also will ignore you too using the chat facility.
Réponse de

Snappii

Jeff, thank you for your feedback. We are sorry you had a negative experience with our platform.
Per our records, we had 2 free GoToMeeting sessions with you to address your needs. We do not offer any more free help after we sufficiently helped you in the past. We have free resources all users are welcome to use. If any user struggles after the free session, we do offer a paid training. We are sorry that this didn't meet your expectations. Hope you found a service that works free of charge for you. We do not.

Répondu le 06/11/2019
Secteur d'activité : Exploitation minière et métaux
Taille de l'entreprise : 2-10 employés
Logiciel utilisé

tous les jours

pendant

plus d'un an

Provenance de l'avis
---
End User
Avantages
We are able to just use this app and excel to run the whole project
Inconvénients
I think we should have the ability to make some minor changes , without always being a charge, example wanting to increase the timesheets to track more personal