En savoir plus sur Dialpad
For quickly growing businesses looking to efficiently scale their support teams, Dialpad provides a cloud-based call center with access to real-time customer insights. Dialpad allows users to onboard quickly and focus on delivering a great customer experience. Key features include real-time call transcription, live customer sentiment, and live agent coaching. The solution offers integrations with Zendesk, Salesforce, Slack and many more. Priced per user per month, Dialpad Contact Center offers free calls to the US and Canada, no per-minute fees, unlimited inbound minutes and unlimited texting.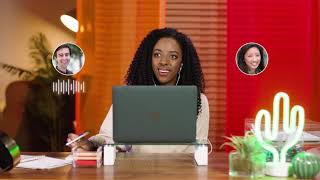 Dialpad n'est pas disponible en version gratuite mais propose un essai gratuit. La version payante de Dialpad est disponible à partir de 15,00 $US.
Version d'essai gratuite :
Oui
Produits similaires à Dialpad
Évaluation des fonctionnalités
Secteur d'activité: Logistique et chaîne d'approvisionnement
Taille de l'entreprise: 51-200 employés
Logiciel utilisé

tous les jours

pendant

plus de deux ans

Provenance de l'avis
---
An app that you would not stop using!
Quality, Dialpad talk not only allow us to answer and make calls, but we can use it to track every possible KPI and with that, keeping the quality of the service by auditing each interaction.
Avantages
Dialpad talk has several features but the most amazing one if Voice AI, it allows us to identify the matter of a call and lead us to analyze every interaction.
Inconvénients
Groups, we would like to have more control about groups of people created within the app, due to the current moment we are living (pandemic) we are more connected than ever, and people love personalizing their groups.
Alternatives envisagées 
Webex
Pourquoi passer à Dialpad
Dialpad is less expensive and has a long list of benefits that WebEx does not.
Secteur d'activité: Comptabilité
Taille de l'entreprise: 2-10 employés
Logiciel utilisé

tous les jours

pendant

1 à 5 mois

Provenance de l'avis
---
Artificial feature limitations soured my experience with Dialpad
Once the port issues were resolved it is generally fine and easy to use, although I am disappointed that several basic features are excluded at the price we are paying, which is not exactly cheap compared to competitors. I may switch to a different to gain access to the features that Dialpad refuses to provide without spending more money.
Avantages
Native app is easy to use, and easy integration with Google Contacts makes dialing a snap. All users can dial out VoiceIntelligence transcripts are useful and automatically generated. The accuracy is about 80%, usually good enough to easily tell what was being discussed even if some of the words are transcribed incorrectly.
Inconvénients
The port experience was a disaster. There was a goof somewhere and this left me without the ability to receive or make phone calls on my business' primary phone number at either Dialpad or at my prior provider (Google Voice) and the support did not make me feel like fixing this was a priority for them, never providing updates. It eventually got fixed.
The product has arbitrary and foolish feature limitations that feel unnecessary and petty. I am paying good money for this product and yet cannot access even a basic IVR because I am not an enterprise customer with more than 100 users. An IVR is absolutely basic functionality for a phone service with more than one user.
We also cannot set holidays on our service because we need to be in a more expensive plan to do that.
Pourquoi choisir Dialpad 
Inability to dial out using the main line or to receive texts to that number. Our customers had no idea who was calling them, and texts to our primary line vanish into the aether never to be seen or even known about.
Pourquoi passer à Dialpad
It seemed to meet my needs. In hindsight I wish I had gone with Openphone due to artificial and arbitrary product feature limitations that Dialpad imposes which Openphone does not.
Secteur d'activité: Conseil en gestion
Taille de l'entreprise: 11-50 employés
Logiciel utilisé

tous les jours

pendant

6 à 12 mois

Provenance de l'avis
---
Cheaper than most, but you get what you pay for..
I feel like the cons outweigh the pros at this point. We have had the system for 9 months and I am ready to go back to regular desk phones and a local phone/internet company.
Avantages
I love the features and they are easy to change and update. Being able to get rid of desk phones and give every employee their own direct line number is great ( for the employees who need one) Transferring calls is easy and I like the feature that it asks you if you would like to "ask" the person if they want to take the call or not. I love that it keeps track of phone calls, times, and send monthly reports regarding all calls ( dropped calls, missed, minutes used etc.) Being able to easily transfer calls to an employees cell phone is useful.
Inconvénients
It starts to get a little pricey the most employees you have. The "Fees" attached to the price are outrageous! These fees are described as : "Federal Universal Service Fund" , "Federal Regulatory Assessment Fee", "State and Local taxes" , and "Compliance and Administrative Cost Recovery" ( the compliance and administrative cost recover is the highest fee and I have no idea what it means or what it is for). I know we have to pay taxes, but when we had our old phone system ( through a local utility company) we didn't pay these fee's? Using Dialpad has tripled our office phone cost, and that's before you buy the needed headsets for use.
You have to add each and every employee that ever needs to use the phone and there is a monthly cost added to your bill ( cost plus fees), I have 3 employees who rarely ever use the phone for work, and I have had to add them as full users. There is no way to have a "main" phone or line that multiple employees can use to make or receive calls. It is not cost effective because I have had to add those three employees to the system, just so they can make a few phone calls per year.
There is a very big delay when you have calls forwarded to your cell phone.
When we chose Dialpad we chose it because of the features and price, the price looks good at first, but as you add employees and all the fee's it's extremely high.
Above and beyond any of these things, the customer service is very lacking. It is the worst customer service I have ever received from anyone. You cannot make a call to customer service, you can only use email. The "help" or response is not automatic, so if you are experiencing issues with the system ( which happens more than I think is acceptable for a business phone system) you have to wait sometimes 1-2 days to get a response or help. They did offer to "upgrade" us to a premier account, which just costs even more money. If you have a premier account you can have a phone number to call and actually speak with someone in customer service. We have had many issues with dropped calls, callers not being able to hear us, fuzziness in calls etc. These things are no big deal if they happen rarely, but they are fairly regular. When customer service does get back to you, they are incredibly rude and not very helpful, and it's usually 3-4 back and forth emails before a resolution is given or the issue is fixed.
Secteur d'activité: Santé, bien-être et fitness
Taille de l'entreprise: 2-10 employés
Logiciel utilisé

tous les jours

pendant

plus de deux ans

Provenance de l'avis
---
Great option for VOIP, sometimes unreliable.
Overall good experience. Sometimes unreliable. Ended up switching to google voice due to the cheaper price and the reliability issues we had.
Avantages
Easy to use with a desk phone and cellphone. Call routing easy to change and update. Many features for call routing during business hours and non business hours. Liked that I could set a different voicemail for different times of the day and for vacation or out of office time.
Inconvénients
Sometimes unreliable where it would ring on the desktop only and not the desk phone, and vice versa. Sometimes calls did not go to my cellphone and it would come in as a voicemail. Happened about 10% of the time so it was often enough to be an issue.
Pourquoi passer à Dialpad
Price and features.
Secteur d'activité: Services financiers
Taille de l'entreprise: 201-500 employés
Logiciel utilisé

tous les jours

pendant

plus de deux ans

Provenance de l'avis
---
This is the next step in IP phones - Perfect for working from home
This has been one of the best decisions our IT team has made. We tested the other cloud phone providers, with none providing the fully featured, simple and reliable system as Dialpad.
Adding users, configuring phone trees, configuring main lines, adding fax, everything is simple, fast, and intuitive in their system.
With integration into Hubspot, which we already used as our CRM, our management has even more insight into their sales team's performance.
Our user feedback has been overwhelmingly positive.
Our ability to have users work from home and have 100% full phone access cannot be overstated. This is probably the biggest takeaway anyone should take from reading this. Absolutely no disruption in our ability to call or make calls when switching our entire office to working from home.
Avantages
Deployment cannot get any more simple. Set up the user in the web interface, put in 4 digit activation code on phone. Done.
Work from home - SIMPLE. With Office 365 integration, users simply use their email and pass to sign into Dialpad from their personal cell phone, personal computer, work computer, anywhere.
Just moved offices, our phone system was the only system that required no extra setup. Just plug in at the new location, and everyone is working like normal.
Simple and intuitive. Reliable, priced perfectly, full of features.
Inconvénients
I used to have cons with the limited abilities admins had over users' settings like call forwarding (for example, if an employee is sick and forgot to set her calls to forward to someone else). This has been fixed recently, and at this point I cannot think of any con.