En savoir plus sur Onfleet
Onfleet est une solution cloud de gestion de flotte de dernière génération qui propose des fonctionnalités d'optimisation d'itinéraires, de distribution automatique, d'analytique de livraison et de communications client. Les applications iOS et Android fournissent des outils de suivi des livreurs en temps réel, de preuve de livraison, de chat, etc. Onfleet prend les livraisons en charge dans de nombreux pays à travers le monde, dans des secteurs variant des repas préparés et des épiceries aux colis, en passant par les meubles, les transporteurs, les pharmacies, etc. Onfleet propose aux utilisateurs divers filtres et fonctionnalités de recherche (texte, heure, requêtes basées sur le statut, etc.) pour trouver les conducteurs, les clients et les tâches d'enlèvement/de livraison. La solution comprend également une plateforme de communication interne qui permet aux utilisateurs de communiquer avec les membres du personnel et d'obtenir des mises à jour en temps réel concernant des tâches spécifiques. Un moteur de reporting et d'analytique personnalisé est également fourni pour que les utilisateurs puissent analyser différentes mesures. Tarification sur la base d'un abonnement mensuel. Un service d'assistance est disponible par e-mail, par FAQ et via une base de connaissances en ligne.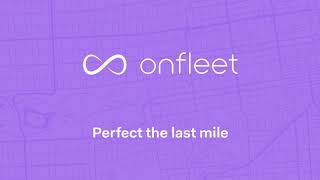 Onfleet n'est pas disponible en version gratuite mais propose un essai gratuit. La version payante de Onfleet est disponible à partir de 149,00 $US/mois.
Version d'essai gratuite :
Produits similaires à Onfleet
Évaluation des fonctionnalités
Secteur d'activité : Logistique et chaîne d'approvisionnement
Taille de l'entreprise : 11-50 employés
Logiciel utilisé

tous les jours

pendant

plus de deux ans

Provenance de l'avis
---
Our Company without Onfleet is Cripple
We have integrated with our company to automate our delivery operations. It helped us to grow our business more and provide customers a well satisfied service with a limited time.
Avantages
Super easy onboarding process and easy user interface. With lots of features like dispatch management, driver management it optimises time, routes, costs as well. After importing tasks it automatically assigns dispatches to the right drivers with availability and location to save time and cost. Adding new drivers is easy and with Android apps it becomes easy to train new drivers in a short time period. With route optimization it avoids traffic, under construction roads to skip delay in deliveries. With driver management system we can communicate with drivers in the field , can give specific instructions provided by customers. Live tracking facility not only provides us live location of drivers but also provides customers real time data of their orders with estimate time of delivery. Ensures accuracy in POD by capturing signatures, otps , barcodes , photos etc and on spot feedback for customers. It is easy to integrate with existing software to manage delivery operations.
Inconvénients
In my experience I haven't found any issues with onfleet. They have fulfilled our all requirements. Some time due to maintainance it goes down. Pricing should be more cheaper according to features.
Réponse de

Onfleet

Thank you for all of these product-specific details - this is great and helpful!!

Répondu le 05/08/2021
Secteur d'activité : Logistique et chaîne d'approvisionnement
Taille de l'entreprise : 11-50 employés
Logiciel utilisé

tous les jours

pendant

6 à 12 mois

Provenance de l'avis
---
Great software for warehouses/ trucks - yet to step up for on demand delivery use cases
Its an amazing software easy to use, best pricing model of pay as per use and scale as you go, wish it could support driver pay integrations, ability for drivers to self pick up task s(especially when they are linked pick up and drop -off)
Avantages
- It comes with driver apps for Android and iOS out of the box
- Setup was quick and easy
- SMS and live notifications very well integrated
- Easy to use dispatch UI and drag and drop options
- Transparent pricing
- Amazing feature of multi brand support (especially when you scale)
Inconvénients
- Not the best for food delivery or on demand delivery services and there is no way to broadcast tasks and drivers to pick up tasks (Currently in beta but featureless)
- Allows communication between drivers , caused us potential trouble of drivers ganging against us
- No driver management of driver pay integrations
- Route optimization is made for truck or warehouse deliveries and not like on-demand deliveries, Eg.If you need 50 drops from one pick up location it takes a lot of workarounds to optimize
- Few downtimes of software when the entire communication went down since they were using twilio, sometimes route optimizations had issues
Pourquoi passer à Onfleet
Mostly for easy of access, clean and easy to use UI, simple plug and play model Also most importantly the pricing was at task level rather than at driver or dispatcher level
Réponse de

Onfleet

Thank you for these details - pros and cons alike! We love that you appreciate the UI and ease of onboarding.

Répondu le 05/08/2021
Secteur d'activité : Matériaux de construction
Taille de l'entreprise : 11-50 employés
Logiciel utilisé

tous les jours

pendant

plus d'un an

Provenance de l'avis
---
Great tool for managing my fleet.
Helps me manage my fleet and monitor where my trucks are at at any given moment.
Avantages
Easy to use. Helps manage where my fleet is at. Gives me up to the minute updates. I also like the way our customer/s can track the progress of our truck to their job site. Easy to add or delete tasks. Or add or remove users.
Inconvénients
It would be great to be able to drill in farther and be able to get a street view (like google maps) of where my truck/s are located. Also, would be great to be able to go back and view history of previous days activity. Also, another idea is to be able to track miles driven per state. For reporting purposes for apportioned plates.
Réponse de

Onfleet

Thanks for the feedback, Kenny! It's been great having you as a customer for so long. We discussed your feedback as a team today, and I'm happy to report that we're already working on task history improvements and have some ideas around the street view idea :) We'll be in touch as soon as we have more to share!

Répondu le 19/01/2018
Secteur d'activité : Médecine douce
Taille de l'entreprise : 11-50 employés
Logiciel utilisé

tous les jours

pendant

1 à 5 mois

Provenance de l'avis
---
Exceeds the simplicity that competitors dont!
As a cannabis distribution company, it is extremely important to track fleet and drivers, route multiple deliveries and scheduling the most efficient routes since we are carrying expensive products that must be left in cold temps.
We are able to track all our employees and more with OnFleet, and provide exact etas to brands that procure us to make their scheduled deliveries.
Best most simplified delivery platform on the market.
Avantages
I absolutely love the simplicity that this platform provides. Optimized routing and the option to see where our fleet/drivers are in real time.
The last feature that is very helpful is the eta text message.
Inconvénients
I liked the price point least, along with the way the scheduling auto-sets. It seems like it's a little redundant but it definitely still gets the job done.
Secteur d'activité : Produits alimentaires
Taille de l'entreprise : 11-50 employés
Logiciel utilisé

tous les jours

pendant

6 à 12 mois

Provenance de l'avis
---
Easy to use software
The software has helped make the driver management and route tracking piece of our business a lot simpler.
Avantages
The software has been reliable and just works. Delivery is a key part of our business and this software definitely helps us co-ordinate well with the drivers along with giving customers the opportunity to track their food.
Inconvénients
The time estimates are too pessimistic and overshoot actual driving times by at least 50%.
Pourquoi passer à Onfleet
Ease of use Driver management Route tracking
Réponse de

Onfleet

Thank you for your review and the insights. We are continuously working to have our ETAs be as accurate as possible!

Répondu le 05/08/2021