En savoir plus sur Dameware
DameWare est un logiciel d'accès à distance basé sur le cloud qui permet aux utilisateurs de fournir une assistance à distance sur les ordinateurs de bureau, les ordinateurs portables et les serveurs. Il s'adresse aux entreprises de toutes tailles. DameWare aide les utilisateurs à gérer de manière centralisée les membres de l'équipe et les clients, à activer et contrôler leurs licences et à partager la liste des hôtes à l'échelle mondiale. Il prend également en charge les utilisateurs finaux par le biais d'une application mobile pour Android et iOS, de sorte que les utilisateurs peuvent se connecter via des smartphones et des tablettes. La fonctionnalité d'administration des fenêtres aide les utilisateurs à résoudre les problèmes sans effectuer de sessions de contrôle à distance complètes. La solution permet également de gérer plusieurs domaines Active Directory à l'aide d'une interface unique. Le produit permet d'administrer les comptes d'utilisateurs, de réinitialiser les mots de passe et de modifier les stratégies de groupe. DameWare fournit une authentification à deux facteurs, de sorte que les utilisateurs peuvent se connecter à des sessions à distance via le protocole de vérification. La solution prend également en charge les sessions d'accès à distance en se connectant à partir de cas d'assistance et en créant une piste d'audit. Le produit s'intègre à SolarWinds Help Desk.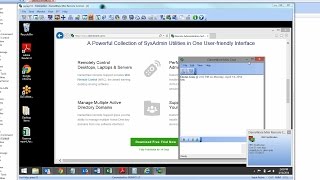 Dameware n'est pas disponible en version gratuite mais propose un essai gratuit. La version payante de Dameware est disponible à partir de 540,00 $US.
Version d'essai gratuite :
Oui
Produits similaires à Dameware
Évaluation des fonctionnalités
Secteur d'activité : Administration publique
Taille de l'entreprise : 1 001–5 000 employés
Logiciel utilisé

tous les jours

pendant

plus de deux ans

Provenance de l'avis
---
Easy to deploy, setup and use.
Great product. Using it for multiple sites for IT support.
Avantages
Connect to PC's on your network and resolve issues remotely fast, with ease and quality.
Safe. Great product for assisting end users.
The unlimited license of the agent to install.
Inconvénients
Needs to open specific port to allow the agent to deploy without problems... (mini remote).
In case, for any reason, we'll need to reinstall product, it's hard to get back the saved passwords of connected pcs.
Single Sign-on capabilities are limited.
Secteur d'activité : Marketing et publicité
Taille de l'entreprise : Auto-entrepreneur
Logiciel utilisé

tous les jours

pendant

1 à 5 mois

Provenance de l'avis
---
Dameware Software Review: A Comprehensive Remote Support and Systems Management Solution
Overall, Dameware software is a comprehensive remote support and systems management solution that provides a range of tools to help IT professionals and MSPs manage and support their IT infrastructure. While it may not be suitable for everyone due to its cost and learning curve, its range of features and customization options make it a valuable asset for businesses and organizations that require robust remote support and systems management capabilities.
Avantages
Offers a suite of tools for remote support and systems management, including remote desktop connection, remote control, system troubleshooting and diagnostics, and file transfer capabilities.Provides integration with Active Directory and other network management tools, making it easier for IT professionals to manage and monitor their IT infrastructure.Available in both on-premise and cloud-based versions, offering flexibility for businesses and organizations of all sizes.Supports multiple operating systems, including Windows, Mac, and Linux.User-friendly and customizable interface, making it easy for users to navigate and personalize the software.
Inconvénients
May not be cost-effective for small businesses or individual users.Steep learning curve for users who are new to remote support and systems management.Some features may require additional setup and configuration, which can be time-consuming.Limited customer support options, with no phone or chat support available.
Secteur d'activité : Services et technologies de l'information
Taille de l'entreprise : 501–1 000 employés
Logiciel utilisé

tous les jours

pendant

plus d'un an

Provenance de l'avis
---
Dameware - A good Remote Desktop Control Software
Since we became distributed, Dameware has provided a generally positive experience and service. It's been really beneficial for remote assistance when we can't physically go, and we're now able to help individuals across countries. It's a must-have tool for any IT professional offering remote control.
Avantages
1. The most significant advantage is that Dameware provides high-level protection that meets all security standards.
2. The desktop app at is extremely light and simple to set up.
3. It enables the supported end-user to authorize the request for remote access. first
4. As long as other team members are logged in, you can invite or transfer the remote control to a session.
5. It supports chat, audio, and video calls within the session, allowing for more seamless assistance.
6. It's reasonably priced since the price drops as you buy additional licenses.
Inconvénients
1. The Dameware program frequently becomes stuck on the connection screen, necessitating a restart.
2. The procedure of seeking administrative rights on the client's PC is inefficient.
3. The most significant disadvantage has to be the User Interface. It's a little busy and could require a lot more work to make it simpler to navigate.
4. Their support team isn't available 24/7 to support their customers
Secteur d'activité : Recrutement
Taille de l'entreprise : 51–200 employés
Logiciel utilisé

tous les jours

pendant

6 à 12 mois

Provenance de l'avis
---
Wonderful and effective bridge connecting systems, but not the finest
It aided in providing users both on and off campus with remote support. Additionally, it enabled remote access to servers and other devices that would have required troubleshooting. Not having to travel to many offices to help with a few clicks saves so much time. Using the tool was like having an extra set of hands because I saved so much time.
Avantages
A simple method of linking systems to examine problems with end-user equipment even when the user is not there. I like how simple it is for me to remote into my users' computers and assist them when they run into problems. This product also comes with excellent support and documentation. By setting a password, you can establish a secure connection. The password might be fixed or random.
Inconvénients
Improved multiscreen remote sessions should use one screen for each slide. There is no option to add notes to entries for improved support, and adding machines is a bit laborious. For us, recording is not currently enabled. needs a strong connection to function correctly. When services on distant workstations break down and the remote connection breaks down, you must uninstall and reinstall the services, which is occasionally challenging.
Secteur d'activité : Hôpitaux et soins de santé
Taille de l'entreprise : 1 001–5 000 employés
Logiciel utilisé

tous les jours

pendant

plus de deux ans

Provenance de l'avis
---
Easy to use remote software
We use this software to offer remote support and it has been a great addition to our software library and has increased productivity since we no longer have to go in person to a majority of our service calls now that we can just remote in and take care of the issue.
Avantages
It has an easy to use gui that lets you find the workstations on your network and connect to them without a lot of issues. you can also do things like remote registry editing or backdoor into a workstations drives. They also offer a mobile app for you to be able to offer remote support while you are not at your desk.
Inconvénients
The initial setup could be daunting for some users. It supposedly will interface with Kace Management appliance but we could never get it to work completely.