En savoir plus sur Rentman
Rentman est un logiciel de gestion des ressources et de planification basée dans le Cloud, qui aide les entreprises de l'industrie audiovisuelle & évènementielle à améliorer leurs processus de travail. Gestion & Réservation du matériel, Gestion & Suivi du matériel, Planning du personnel et Devis & factures comptent parmi les fonctionnalités phares. Avec la Gestion & Réservation du matériel, vous pouvez planifier vos équipements plus efficacement. Suivez les niveaux de stock de votre matériel et son emplacement à tout moment. Sachez à tout moment combien d'articles sont disponibles grâce à l'aperçu chronologique et réservez vos équipements pour des évènements en quelques clics seulement. De plus, vous pouvez planifier et gérer la maintenance et les réparations de votre matériel. Résolvez facilement les pénuries en créant des demandes de sous-location. L'extension supplémentaire Gestion & Suivi du matériel prend en charge les QR codes et les codes-barres, pour vous permettre de suivre vos équipements au niveau de leur numéro de série. Créez des listes de colisage virtuelles ou imprimables pour vous assurer que votre matériel sorte au complet. Avec le planning du personnel, vous pouvez gérer vos équipes plus efficacement. Automatisez les tâches fastidieuses telles que les envois d'invitations aux missions. Partagez des fichiers, documents et instructions de travail pour vous assurer que vos membres du personnel soient bien informés à tout moment. Avec notre aperçu chronologique, vous pouvez facilement voir les disponibilités des employé.e.s et ainsi toujours attribuer la meilleure personne à une mission. Les membres du personnel peuvent indiquer leurs disponibilités pour que vous sachiez à tout moment qui est disponible. Enregistrez les heures travaillées, gérez les vacances et gardez un aperçu des coûts avec notre module d'enregistrement des heures. Rentman est accessible depuis différents appareils : ordinateurs, tablettes et téléphones portables. L'accès à notre application mobile est également inclus. Rentman propose une structure de licence flexible pour vous garantir de payer uniquement pour les produits et extensions dont vous avez réellement besoin. Le logiciel est proposé sur la base d'un abonnement mensuel qui inclut l'assistance par téléphone et e-mail, les questions fréquentes et l'accès au centre d'assistance en ligne.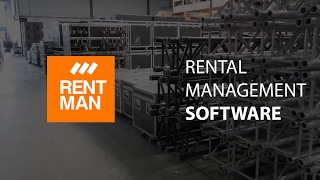 Rentman n'est pas disponible en version gratuite mais propose un essai gratuit. La version payante de Rentman est disponible à partir de 39,00 $US/mois.
Version d'essai gratuite :
Produits similaires à Rentman
Évaluation des fonctionnalités
Secteur d'activité : Événementiel
Taille de l'entreprise : 2-10 employés
Logiciel utilisé

tous les jours

pendant

plus d'un an

Provenance de l'avis
---
Easy to setup with great support.
Avantages
The integration of invoicing and inventory management is the best of the software we have used, and the customization of document templates allows us to provide our clients with professional documents with exactly the right amount of information.
Inconvénients
There are some features that need work on kit and case building but with that said the rentman team are continually listening to the end user and implementing requests.
Secteur d'activité : Événementiel
Taille de l'entreprise : 2-10 employés
Logiciel utilisé

tous les jours

pendant

plus d'un an

Provenance de l'avis
---
A great (nearly) all in one solution for the event industry. Better then the competition!
I used to use Current RMS, however, I moved to Rentman as it has a better system and backbone.
It makes more sense with the layouts and with time can become a powerful tool for the business.
I've had this for about 1-2 years and still learning new things, but as a small company, it's not been a quick setup.
I do however love the support that Rentman offer and they are always listening and improving, which is why I 100% recommend Rentman. They are working on this product for us and the changes are always coming in.
I love using Rentman and seeing the bugs corrected and fixed as it gets better and better.
Avantages
- Great customer support. Very quick and helpful.
-Easy flowing steps for creating projects. Very powerful.
-Can create nice documents....(just need alot of time).
-Always moving forward company and listening to the users for the direction they will take.
Inconvénients
-Hard and slow learning curve.
-The interface looks a little dated, needs a modern refresh.
-Still has many bugs, from language bugs to just things that don't work as smoothly as I would hope.
-CRM is lacking and needs a bit more work.
-Would be great to see short "how to" videos of tips and tricks.
Alternatives envisagées 
Flex
Pourquoi choisir Rentman 
Current RMS was just not very nice to setup projects, you always have to jump from page to page, where as Rentman you can work all within one page easy.
Pourquoi passer à Rentman
The support is amazing. It's features are getting built and released very quickly. It's by far the most powerful out of the products and software I've looked at.
Secteur d'activité : Divertissement
Taille de l'entreprise : 11-50 employés
Logiciel utilisé

tous les jours

pendant

plus de deux ans

Provenance de l'avis
---
Great Software with Active Development Team
It's been great, it helped us improve our efficiency and organization as well as increased the speed of our quoting process.
Avantages
It is fresh, modern and always getting updates. The search capabilities are great and its pretty easy to use.
Inconvénients
The cost increases might price us out of it as it starts to be less competitive with the other options that are out there.
Alternatives envisagées 
Flex
Pourquoi choisir Rentman 
We wanted a modern software that was cloud based, highly searchable, easy to use and maintain.
Pourquoi passer à Rentman
The price was better and it appeared that they were developing their product more rapidly.
Réponse de

Rentman

Hey Tyler! Thanks a lot for your feedback! I'm happy to hear you're satisfied with Rentman!

Please feel free to reach out to us at [email protected] if you have any questions!

Répondu le 26/08/2022
Secteur d'activité : Divertissement
Taille de l'entreprise : 11-50 employés
Logiciel utilisé

tous les jours

pendant

1 à 5 mois

Provenance de l'avis
---
Rentman Review JPS
Its okey. still in a prosses of getting used to. Love the software a little bit more eveytime i use it. but i still miss some fucntions that i was used to. We have a great comunucation with support and they are doing a great job.
Avantages
The layout and Design. Easy to start working with, without a class og introduction.
The feature on how to book crew and give them the infomation and share files needed to complete a production is good.
Inconvénients
I miss la log function. to see what user how was the last to edit a project or an item. i would like the ¨Send Planning Fucntion¨to connect to my work Email so that it dosent go into trashbox and people miss out on the information given. I would like to see more widget´s and maby create my own som that i would have more use of the dashboard fucntion. That feature is a good ide but i would like it to be more personal. And give a bigger function during my working day. if that dosent happen Dashboard is useless.
Réponse de

Rentman

Hello John Patrick! We appreciate you taking the time to write your review. It's great to hear, that you enjoy our options and have an easy time using Rentman!
Regarding your feedback on the log function we can confirm, that this is already something we are diligently working on enabling for our clients and it should soon be available. We have also already received a great deal of feedback in regards to the dashboard functions and options, so we would like to invite you to share your feedback directly with us.

Please contact our support via email at [email protected] with some details on this matter, as well as on the issue with the sending of your planning, so we can explore our options on the dashboard with you and help fill in any potential gaps.

We hope for a great continuous relationship with you and wish you all the best!

Your Rentman Team

Répondu le 07/07/2021
Secteur d'activité : Films et cinéma
Taille de l'entreprise : 2-10 employés
Logiciel utilisé

tous les jours

pendant

plus d'un an

Provenance de l'avis
---
A rental house's most powerful tool
We have really liked using Rentman and it has definitely helped our company to maintain the upper hand on competitors by ensuring that we have the right equipment available when our clients come to pickup.
Avantages
Probably the most powerful part of the software is how it handles projects. Being able to create a single project that spans any amount of time, and then to have sub-projects inside of that and schedule different events/equipment/crew at different times throughout the project is great. That along with scheduling of equipment and how it handles conflicts and sub-rentals makes it a great tool for any rental house.
Inconvénients
The majority of the issues we face are pretty minor. We've been able to find work arounds to features that are not currently in the software like Vendors/Consignment equipment. We would like to see more work put into the API and project request system as well as improvements in adding equipment to a project.
Réponse de

Rentman

Hey Matthew! Thanks for the feedback! I'm glad to hear you're satisfied with Rentman!

I'd suggest you keep an eye on our Public Roadmap, where you can see what features we're currently working on. You might find a few things you'll find interesting!

Répondu le 26/08/2022