En savoir plus sur Nutshell
Nutshell est une plateforme logicielle de croissance tout-en-un qui aide les équipes de vente et de marketing à collaborer pour conclure plus d'affaires. Assez simple pour toute équipe et assez sophistiqué pour n'importe quelle entreprise, Nutshell offre des fonctions de CRM (Customer Relationship Management), d'automatisation des ventes et d'e-mail marketing faciles à utiliser, un stockage illimité des données et des contacts, et une assistance directe d'envergure internationale. Nutshell fonctionne parce qu'il incite votre équipe à l'utiliser, maximise le temps consacré à la vente et vous aide à conclure plus d'affaires et à augmenter vos recettes. Nutshell s'intègre aux outils logiciels que les petites entreprises utilisent déjà, notamment Google G Suite/Gmail, Microsoft Office/Outlook, QuickBooks Online, Constant Contact, Mailchimp, Intercom et Slack. Chaque abonnement à Nutshell comprend un stockage illimité de données et de contacts, un support client convivial assuré par des personnes et des outils de reporting entièrement personnalisables. Le logiciel comprend également des applications natives pour iPhone et Android avec une synchronisation en temps réel sur tous les appareils, permettant aux commerciaux de créer, rechercher et modifier les coordonnées lorsqu'ils sont en intervention. Les utilisateurs de Nutshell peuvent aussi utiliser ces applications pour enregistrer des activités et des réunions à l'aide d'enregistrements audio ou vidéo. En 2021, Nutshell a lancé Nutshell Marketing, qui permet aux clients de Nutshell de concevoir et d'envoyer de magnifiques e-mails marketing et de mesurer instantanément leur impact, directement à partir de Nutshell. Étant donné que Nutshell Marketing se connecte de manière transparente à vos données CRM, vous pouvez créer des publics cibles personnalisés en un clin d'œil et vous n'aurez plus à vous soucier du fait que vos équipes de vente et de marketing opèrent sur la base d'informations contradictoires. Réalisez toutes vos actions de promotion à partir d'un seul outil avec Nutshell.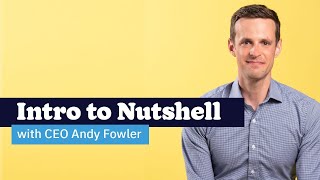 Nutshell n'est pas disponible en version gratuite mais propose un essai gratuit. La version payante de Nutshell est disponible à partir de 27,00 $US/mois.
À partir de :
27,00 $US/mois
Version d'essai gratuite :
Oui
Produits similaires à Nutshell
Évaluation des fonctionnalités
Secteur d'activité : Conseil en gestion
Taille de l'entreprise : 2-10 employés
Logiciel utilisé

tous les jours

pendant

plus de deux ans

Provenance de l'avis
---
Great Feature-set Without Complexity
I run a global consulting practice with hundreds of corporate clients and thousands of individual relationships that I manage. Nutshell lets me manage it all. It's my dashboard for everything in my company. It's entry-level rate is worth every penny.
Avantages
I've used Nutshell for three separate businesses that I've run or owned. Each one considered a small to medium-sized business. Nutshell is perfectly suited to us because it's lightweight and easy to learn. It doesn't require an in-house expert on the app (like SalesForce). It's basic feature-set is all I've ever needed, and the support is terrific. Real people at the end of the phone, with fast responses. And, it's made in Michigan! It has a lot of simple customizations that I use; workflow, custom fields, leads, etc.
Inconvénients
Integrations are somewhat limited, but still, plenty to work with. I'd like an integration to RingCentral's app. Also, it doesn't' handle subsidiary company relationships well. I've had to create a workaround with tags to help connect them.
Secteur d'activité : Collecte de fonds
Taille de l'entreprise : 2-10 employés
Logiciel utilisé

tous les jours

pendant

plus de deux ans

Provenance de l'avis
---
Nutshell's CRM: A Small Business Lifeline
I didn't have a business process until I started working with Nutshell. I had a pile of handwritten notes on my desk calendar and loads of sticky notes on the perimeter of my monitor. Learning my way around a CRM for the first time was intimidating, yet I was able to talk with actual humans when I got stuck, and watch tutorial videos that explained what I wanted to learn. I now put everything I need to know about a client into Nutshell, trusting the process and grateful for the customization and flexibility as my company grows.
Avantages
It's designed for super easy customization for what I do, and I lean hard on this feature! I also love how the Dashboard feature is set up, allowing me to see at a glance which activities should be tackled each day, and when I've scheduled future to-dos. Nutshell's approach feels like 'the little guy' was thoughtfully considered--and that's me!
Inconvénients
I have a tough time with my leads fields frequently reverting back to the default setting that shows all fields, not just the 4 custom ones I've created. This is more of a tech issue, not really a dislike of Nutshell in general.
Secteur d'activité : Comptabilité
Taille de l'entreprise : 2-10 employés
Logiciel utilisé

tous les jours

pendant

plus d'un an

Provenance de l'avis
---
I don't use a lot of the features, I just simply write notes about customers.
It stores information about my clients. (Though it's not easy to get or use that information later on.)
Avantages
I like that's it's web based, and that it can store information about my clients. That's really about it.
Inconvénients
I dislike very much that I cannot search using CTRL + F for stuff on a clients page. I'll have a lot to look though and I'll want to search for a specific word, say "lunch" or "meeting." I cannot search for these words. Instead it just pulls up the search bar for people. Very unuseful for a CRM....
I really hate that when I do search, it rarely finds me what I need, and almost never quickly. It's difficult to find phone numbers, if I search someone's name, it'll pull up everyone's not CLOSE to what I'm search for, but somehow not the specific person....
My daily tasks somehow get clogged by what is in the leads... perhaps there's a way around this, but I haven't found it yet. I can't really rely on tasks or to-dos with Nutshell, so I use Trello for that.
I can mostly use Nutshell for just storing stuff about my clients, and even then finding that information months later is not very easy, frustrating and not very helpful.
Réponse de

Nutshell

Hi Nicole,

Thank you for your feedback and for sharing your frustrations about search. I have added this info to my product list and we will discuss it internally. We appreciate you being a Nutshell customer.

Amanda

Répondu le 09/05/2017
Taille de l'entreprise : 51-200 employés
Logiciel utilisé

tous les jours

pendant

plus de deux ans

Provenance de l'avis
---
Fantastic small/medium-sized-biz CRM
New sales people are able to jump right in with minimal training. Workflows are customizable, and tracking prospect information is a breeze.
Avantages
Nutshell has been great for our software firm as it grew from a startup to a mid-market company. Nutshell is very similar to us in age, culture, feature philosophy, etc. so I always enjoy interacting with the team. The Support (via chat and email) is excellent and they are always willing to hear new feature ideas and requests. The affordability makes it a great first CRM for new and small businesses.
Inconvénients
Importing can sometimes result in a lot of duplicate leads, so data cleanliness becomes a bit of an issue as you grow. Reporting has some room to grow but it's not too bad right now.
Secteur d'activité : Marketing et publicité
Taille de l'entreprise : 2-10 employés
Logiciel utilisé

tous les jours

pendant

6 à 12 mois

Provenance de l'avis
---
Powerful CRM, with a slight learning curve
Nutshell helps all of our project managers and sales staff stay on the same page when either closing or nurturing leads after the point of closing. It also helps our staff manage communications and updates with leads with handy reminders letting you know to touch base with a lead every so often.
Avantages
Nutshell is insanely powerful in that it can be customized to your needs pretty heavily, and has some nice features like Outlook integrations and auto-population of contact info from LinkedIn/address books.
Having all email correspondence with leads auto-entered into Nutshell is a huge time saver, and is easily our most liked feature.
Inconvénients
The UI can be a bit cluttered/clunky at times, and the lack of a well put together mobile app makes it a pain to use on mobile devices. We found ourselves often waiting until we got to a desktop to enter/update leads, which defeats the purpose of keeping the CRM always updated.