En savoir plus sur Xactly Incent
Xactly est une solution cloud qui permet aux entreprises de gérer les processus liés à la comptabilité des commissions. Ses fonctionnalités clés comprennent le suivi des statuts, la configuration du flux de travail, l'automatisation des processus, la gestion de la conformité et le reporting personnalisable. La plateforme Xactly permet aux administrateurs de générer des plans d'amortissement des commissions conformément à l'ASC 606 et d'apporter des modifications en fonction du changement de statut des employés, de l'ajustement des contrats et des pertes de clientèle. La solution est fournie avec un tableau de bord de reporting, permettant aux équipes d'afficher des relevés de rentabilité, des synthèses cumulatives et des comparaisons de modèles comptables. De plus, les responsables peuvent intégrer Xactly aux systèmes CRM (Customer Relationship Management), SIRH (système d'information de gestion des ressources humaines), CLM (Contract Lifecycle Management) et CPQ (Configure, Price, Quote) préexistants. Avec Xactly, les entreprises peuvent conserver des données sur les commissions avec des informations sur le client, le produit ou le contrat, ce qui permet de rationaliser l'évaluation des audits. La solution est proposée avec des abonnements mensuels et inclut un service d'assistance par téléphone et via un centre d'assistance en ligne.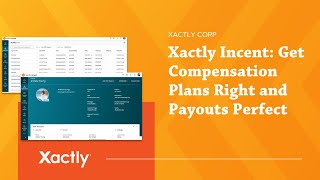 Xactly Incent n'est pas disponible en version gratuite.
Version d'essai gratuite :
Non
Produits similaires à Xactly Incent
Évaluation des fonctionnalités
Secteur d'activité : Produits pharmaceutiques
Taille de l'entreprise : 5 001–10 000 employés
Logiciel utilisé

tous les jours

pendant

plus d'un an

Provenance de l'avis
---
Xactly - The tool which can be handy for day-to-day SPM handling and reporting.
Xactly is among the leading players in the world market for their ease in Incentive Compensation Implementation and reporting. It reduces the time and effort for both the comp administrator and the users with a very minimal but elaborative reporting features. While working with Xactly for the past few years, it has significantly improved its user experience along with the effort required to implement the plans into the system. If you are currently managing your sales incentives via the primitive methods (i.e. excel and other software), you should definitely switch too Xactly to save time and money.
Avantages
1.) Intuitive Software to deal with the complex of situations
2.) Easy to maintain interface
3.) Value for money if you have a large sales force
4.) Clear insights to sales reps for their sales and payouts
5.) Ver handy mobile application saving lots of time
Inconvénients
1.) Use of flash for some of the internal functions which are being updated in 2020
2.) Server response a bit slow
Secteur d'activité : Études de marché
Taille de l'entreprise : 1 001–5 000 employés
Logiciel utilisé

tous les jours

pendant

plus de deux ans

Provenance de l'avis
---
Great Tool!
Our plans have many components, calculations, tiers, etc. and the accuracy is phenomenal. At this point we are pretty self sufficient, but we have always enjoyed working with our Professional Services teams, as well as with our Customer Success Managers.
Avantages
Our plans are complicated but with a few years under our belt, we are very pleased with Incent. The accuracy is of utmost importance to us, and we appreciate the reliability and accuracy.
Inconvénients
Beginning of year setup could be simplified a little.
Secteur d'activité : Internet
Logiciel utilisé

tous les jours

pendant

plus de deux ans

Provenance de l'avis
---
When it works, it works well. Bugs and non-intuitive nature can make it difficult to use.
Avantages
Analytics: Can be very helpful to expand upon Incentive statement short comings. However with the introduction of Balance Carry forward to accommodate prior period processing, reporting is becoming more difficult. Recommended for every customer.
Edocs: is recommended if you wish to route quota via Incent
Incentive Statement: Overall great. Wish drill-down details loaded faster and were more flexible on what is shown on drill down
Versioning Objects: I don't know what we would do without this
System of Record: Great for historical comp. Earns more value year over year for growing changing sales teams.
Inconvénients
Old UI: Sections that have old UI/non-HTML text
Estimator: Atrocious UI, limits, functionality, but I bet its on every Xactly sales demo. Honestly, how many can customers using this?
Illustrator rules- See estimator, but worse.
Sales Rep Landing Dashboard: Most of the pods are useless. My feedback from our sales team we have is they don't even look at it. We direct them towards our analytics dashboards. 99% virtually all pods are turned off or hidden to avoid Incent from confusing the sales rep.
Audit Logs are broken: This is a great troubleshooting tool and it has been broken and not fixed by Xactly. This was huge as we have many business group admins at our company.
Pay curves don't work for us
Rate Tables end with .99999 after every number: Sad this continues as long as it has. Makes beautiful Plan Statements suddenly ugly and confusing.
Admin Experience: Feels like a hassle
Secteur d'activité : Logiciels
Taille de l'entreprise : 1 001–5 000 employés
Logiciel utilisé

toutes les semaines

pendant

plus de deux ans

Provenance de l'avis
---
Xactly has been a great tool for our company to automate our sales commission process.
The automation of the calculation process and the ability for the sales team to review their calculations.
Avantages
The ability to load in our sales data and have the calculations completed in minutes each month has cut down on the manual time it takes to calculate commissions. The reporting feature that each sales rep has to be able to review their sales for that month and provide questions for corrections allow for the final payments to be accurate and on time.
Inconvénients
The setup of a calculation within Xactly does take quite a bit amount of time. There are a number of different plans, rules, tables, etc that you have to setup for the calculation to work and then if you need to make adjustments you have to track back through all of these in order to understand what to change.
Secteur d'activité : Télécommunications
Taille de l'entreprise : 201–500 employés
Logiciel utilisé

toutes les semaines

pendant

plus de deux ans

Provenance de l'avis
---
Xactly Incent
Using Xactly Incent helped us to reduce time processing and results distribution to the sales team. The Incentive Statement page allow users to easily find their goals achievement and the amount of commissions they will receive.
Avantages
Formulas and rules libraries (Credits, Commissions, Bonus, etc.) have been very useful for the organization. Create new year plans are easier with those features.
Inconvénients
Custom data visualization in the "Incentive Statement" is not as expected.