En savoir plus sur Front
Front est un outil cloud de collaboration pour les PME. Front consolide différents canaux de communication tels que les comptes de messagerie, Facebook et Twitter tout en aidant les utilisateurs à automatiser les flux de travail de communication. Lorsqu'un message arrive dans Front, les utilisateurs ont la possibilité d'assigner le message à certains membres de leur équipe, de démarrer des conversations internes concernant le message au sein de l'application et de synchroniser leur travail avec d'autres logiciels comme Salesforce et GitHub. Les utilisateurs peuvent également définir des règles d'actions automatiques lorsque les messages reçus répondent à certaines conditions. Les autres fonctionnalités incluent des rappels, des modèles de réponse, la possibilité d'effectuer un suivi des conversations ainsi que des alertes en temps réel lorsqu'un autre utilisateur répond à un message. Front inclut également des outils analytiques et des outils de reporting qui permettent aux utilisateurs d'afficher des métriques pour diverses catégories comme les boîtes de réception, l'activité des utilisateurs, les balises et les clients. L'assistance est fournie par e-mail et à travers un forum d'aide en ligne. Front est disponible avec un abonnement par utilisateur et par mois, facturé chaque année.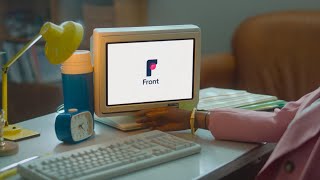 Front n'est pas disponible en version gratuite mais propose un essai gratuit. La version payante de Front est disponible à partir de 19,00 $US/mois.
Version d'essai gratuite :
Produits similaires à Front
Évaluation des fonctionnalités
Secteur d'activité : Logistique et chaîne d'approvisionnement
Taille de l'entreprise : 51–200 employés
Logiciel utilisé

tous les jours

pendant

plus de deux ans

Provenance de l'avis
---
Facilite la communication
Avantages
Front permet aux équipes d'interagir de façon simple, rapide et efficace.
Inconvénients
L'intégration avec Aircall n'est pas la plus optimale
Secteur d'activité : Comptabilité
Taille de l'entreprise : 51–200 employés
Logiciel utilisé

tous les jours

pendant

1 à 5 mois

Provenance de l'avis
---
The Best Team Collaboration Tool!
My team is able to be more efficient and we all can see past comments and such so it makes our team more cohesive. Many times the client doesn't even know which team member they're speaking to because we are so united...because of Front. We are able to create Asana tasks directly from our Front inbox which saves some time. I am able to stay more organized and keep the cleanest inbox that I've ever had in my entire 20+ years of work experience. I can't believe that I could even live without Front before. I don't see how I can ever go back to the old way of just sending e-mails and losing the collaboration function that Front provides. One problem that many people have is tagging an e-mail as backup for a task or the like. With the permalink feature, we're now able to attach an e-mail string to any Asana task so that the we can quickly refer back to the e-mail without screenshots and the like. It's so much easier now to keep all of our information together without an overload of e-mail messages.
Avantages
I love being able to comment to teammates and to create a client-specific e-mail for our clients to respond to in order for collaboration to be smoother and for communication to be shared. I like being able to share drafts with my team so that they can review and even send if needed. If my direct reports want an e-mail to come from me but want to be sure I say exactly what they want to be heard then they just type up the e-mail, share the draft and @mention me, I edit it, my signature automatically attaches and then I send the e-mail as if I had written it. It's actually quite brilliant instead of sending an e-mail to one person to review, you can share it and everyone can see the edits. I like how you can immediately see at the top the tags of whose folder you're in so that you don't have to search through the e-mail to realize where you may be or which client you're working with. I also like the feature that lets you know if one of your colleagues archive the message that you're currently looking at. It helps to know this so that you know whether or not you need to reply to the message or assume that they're still going to respond. I also love how we can snooze an e-mail until later so they don't junk up the inbox. I am usually terrible at just leaving my inbox full with unnecessary messages that I forget to get back to until it's too late. With Snooze, I now say goodbye for now and get it out of my mind completely and then am reminded of it at the appointed time.
Inconvénients
I haven't really found anything that I don't like yet. One thing that may improve but is not a big deal is that tagging folders at the top right does not always work but if I drag the message to that folder then it does work. It would be nice if you could add an Asana task from Front without adding it to a project. For example, if it's a private task that I don't want shared with anyone else then I should either be able to make it private or not add it to a shared project. I was going to say that I would love to make reactions to the comments placed in Front but it appears that that option was added 18 hours ago so someone else beat me to the punch. It might be nice to have the option to add a follower to an e-mail thread but make it so that they cannot see any previous comments to when they were added. This would just make it so that you can share current information going forward but not include any past information that you may not have wanted to get into their hands. I'm sure Hillary would have loved that feature. One thing that I would love to add is an @mention to say something like @all or @everyone that tags everyone that is assigned or a follower to a particular e-mail comment thread.
Secteur d'activité : Assurance
Taille de l'entreprise : 11–50 employés
Logiciel utilisé

tous les jours

pendant

1 à 5 mois

Provenance de l'avis
---
Love Front- Would Recommend
Great experience. Sales Rep was educated, nice, responsive and a pleasure to work with. Then the product was easy to use and solved what we needed.
Avantages
It is incredibly easy to use. We transitioned to this from HubSpot support and we were concerned about a learning curve, it is about as basic and intuitive as it comes. We budgeted 2 weeks to implement and it took us less than 2 days to transfer everything over and learn how to use it for its core functions.
Inconvénients
I may be doing this incorrectly- but the Slack integration doesn't always work correctly. I think it would've been helpful in the integrations section to have a troubleshooting guide if it doesn't work. For us we filled out all fields and appropriate slack channels but the messages were not sent there. (Again could be our error)
Pourquoi choisir Front 
HubSpot was AWFUL! I am so passionate about this. We had several situations with HubSpot where emails were sent to the wrong individuals with support tickets, the site crashed completely, and it was inconvenient that they did not have a mobile app. We got a Customer Success Representative at HubSpot assigned to us and they "follow-ed up" on the bugs and were never fixed. Eventually she ghosted us. Switching to front was the best thing that could've happened to us.
Pourquoi passer à Front
As part of our product offering, we send emails from our client's email domain to appear as it is from them. With these integrations, Zendesk's product was unable to support the configuration but Front was able to.
Secteur d'activité : Marketing et publicité
Taille de l'entreprise : 51–200 employés
Logiciel utilisé

tous les jours

pendant

6 à 12 mois

Provenance de l'avis
---
One of the worst email applications I've ever used
Avantages
The overall look of Front is simple, which is nice.
The snooze function on emails.
The support staff were friendly and quick to answer.
Inconvénients
My company switched my team over to Front after a couple people who shared an inbox had issues with managing it. I didn't have a shared inbox, but struggled with the lack of functionality for just personal inboxes.
There are so many missed functionalities to Front it made my job incredibly inefficient. I found myself spending more time doing my job which consists of heavy emailing because of Front problems.
1. No calendar. Cannot make appointments, set up meetings, etc.
2. Unable to edit messages in a previous thread. Say someone sends you a list of questions. You cannot just answer next to their list in the previous email and say "see below."
3. Archiving messages... when we first switched to Front, the management team used it for a few weeks to test it. When the team was instructed to switch within the next couple weeks, and BOOM thousands of emails that Front could not autoarchive. I had about 10 emails in Outlook during the switch. The front inbox had accumulated thousands over the course of the management test period. Front could only auto archive shared inboxes, not personal. I had to spend 20 minutes selecting 3000 emails to auto archive since it didn't sync correctly with Outlook.
4. Saving emails... you can't. You only have the option to send a link of the email which only works for those that also used front.
5. You cannot edit pasted tables in front, as far as formatting goes. No deletion of columns or making rows smaller.
6. No red flags or categorizing. Often I'd keep emails in Outlook and red flag them to remind myself to check on it before I leave. No flagging in Outlook. This is replaced by snoozing in Front to make it reappear later, but I do miss the flag option.
7. You archive something in someone else's inbox that they share with you... it archives in their inbox, too.
8. No options to make folders. You want to move emails to a folder to refer to later? You cannot.
I could go on and on and ended up emailing a list of 18 problems after using Front for the first 3 months to management who sent to Front support. The responses were basically they hope to rollout that feature one day. Which obviously doesn't help now.
Secteur d'activité : Services juridiques
Taille de l'entreprise : 51–200 employés
Logiciel utilisé

tous les jours

pendant

plus d'un an

Provenance de l'avis
---
Shared Email Tracking without the need for tickets
We had extremely too much email for an Outlook mailbox to handle, no SMS integration nor chat functionality. We solved all of that with Front. Now all of our communications are in one place for ease of use and management.
Avantages
Front allows multiple teams within my company to manage massive amounts of email in shared mailboxes, meet or exceed customer SLAs and seamlessly integrate our communications with our management systems. We also like that we get all of the same functionality of email ticket tracking, but without the need for communicating the standard ticket responses and ids to our customers. It allows for a more personal engagement with our clients.
Inconvénients
Our teams took sometime to get used to the new interface as it was difficult to pry Outlook out of their hands. However, once they got the hang of Front they loved the integration and tracking abilities that Outlook does not have.
Pourquoi choisir Front 
We had extremely too much email for an Outlook mailbox to handle, no SMS integration nor chat functionality.
Pourquoi passer à Front
We liked the email integration of front wherein ticket ids and perfunctory auto responses were not required, but we still got all the same functionality of other email / ticket tracking systems.