En savoir plus sur Zoho Mail
Zoho Mail est une solution sécurisée d'hébergement et de gestion de messagerie pour les entreprises. Zoho Mail fournit des services d'hébergement d'e-mails cryptés sans publicité, permettant aux entreprises de proposer une vitrine professionnelle grâce à des adresses e-mail et des domaines personnalisés :
[email protected]
Zoho Mail fournit un panneau de configuration centralisé qui permet aux administrateurs d'ajouter des utilisateurs, de gérer des groupes, de configurer des stratégies pour modérer le contenu des e-mails, etc. Tous les e-mails des organisations peuvent être conservés et détectés à l'aide de la fonctionnalité d'e-discovery intégrée. Zoho Mail propose la messagerie en déplacement sur les appareils iOS et Android.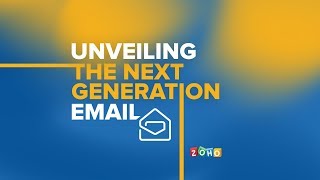 Zoho Mail est disponible en version gratuite et propose un essai gratuit. La version payante de Zoho Mail est disponible à partir de 0,90 €/mois.
À partir de :
0,90 €/mois
Version d'essai gratuite :
Oui
Produits similaires à Zoho Mail
Évaluation des fonctionnalités
Secteur d'activité : Exploitation minière et métaux
Taille de l'entreprise : 2–10 employés
Logiciel utilisé

tous les jours

pendant

plus de deux ans

Provenance de l'avis
---
Great functionality with available set-up resources
I recommend Zoho mail 110%, I have been using it for years now with minimum to no issues.
Avantages
I have used Zoho for about four years now, and I was attracted to it by Zoho mail. Zoho mail allows you to have five email addresses with individual mailboxes under one custom domain for free. This is great especially for entrepreneurs and startups, even though you have to purchase the custom domain.
The level of functionality is great, it ranks well even when compared to paid services. Another important aspect is that it's not "spammy" and it does not have compromised security.
Zoho mail works well, I would recommend it to other business owners and entrepreneurs. It is also continually improving and adding more useful tools such as the MX record checker.
Inconvénients
I like Zoho mail's performance and reliability that is enabled by aspects such as adding SPF and DKIM entries in the domain DNS and adjusting MX records.
But depending on skill level, these settings could be seen as challenging and could deter some. I found the manual webpage that's available for setting up for a range of domain providers to be quite helpful. There are other sites that cover how to set up Zoho mail, which I also found to be helpful.
I realized that it can take long for Zoho mail to pick up added entries to a domain DNS. This is probably split between Zoho mail and a specific domain provider but perhaps some improvements can be done.
Secteur d'activité : Bijoux et produits de luxe
Taille de l'entreprise : 2–10 employés
Logiciel utilisé

tous les jours

pendant

plus de deux ans

Provenance de l'avis
---
A simple email client that is far more superior to any other
I love Zoho mail. It is easy to use and even the free version has so much more functionality and support than GMail for example.Inbox management is convenient, especially the option to use aliases for different email inbox delivery.
Avantages
I started using Zoho Mail as a free mail client that could be configured with a custom domain, and I switched with all 3 of my businesses.It is easy to use and can be integrated with the whole Zoho suite, which makes running your business so much easier.The voice typing is really great, especially if you are on the road and have to respond quickly and can be done via the app.The Workdrive is like Google Drive, where you can store all your documents for easy access, and you can add events and meetings to the calendar or create tasks.The collaboration feature between employees in an organization is excellent and helpful with quick chats or keeping a response history without having to email the responses back and forth between employees. Channel can be created for each department to keep them separated as well.
Inconvénients
This is a straightforward email client like Gmail or Outlook, so for any additional features, such as an autoresponder or CRM, you have to use the rest of the Zoho Suite. This is expected though, and the extra features of Zoho mail make it far superior to the other email clients.
Secteur d'activité : Services et technologies de l'information
Taille de l'entreprise : 2–10 employés
Logiciel utilisé

tous les jours

pendant

plus de deux ans

Provenance de l'avis
---
The best mailing software with a free account
Avantages
Ease of use and the free account that they offer
Inconvénients
I have not encountered any major challenge with this software
Secteur d'activité : Logiciels
Taille de l'entreprise : 11–50 employés
Logiciel utilisé

tous les jours

pendant

plus d'un an

Provenance de l'avis
---
Good for Startups trying to keep the cost low but there are issues
Zoho is definitely okay to use to start with for companies and also if you use emails lightly. But you will feel the difference if you move on to a pro software like Google Workspace. The overall experience needs to be improved in Zoho.
Avantages
The cost was the main thing I liked about Zoho mail. It was just a dollar per user with limited storage. For startups getting started it is always good to keep the cost low. So zoho did work for us in the first two years. Basically does the work.
Inconvénients
The overall user experience is not that great. It looks outdated. Sometimes emails do not sync up well. Also, it is easier to use google login when signing up for services rather than using a custom email. For example, if you are given access to a google doc for your work mail it is really hard to access that document because you do not have an account in google for that mail. Setting up email clients was harder as well with IMAP configurations.
Pourquoi choisir Zoho Mail 
Yandex was unreliable.
Pourquoi passer à Zoho Mail
It was way cheaper than them
Secteur d'activité : Santé, bien-être et fitness
Taille de l'entreprise : 2–10 employés
Logiciel utilisé

tous les jours

pendant

plus de deux ans

Provenance de l'avis
---
Zoho has played a huge part in my business ventures for the past 4 years.
Amazing
Avantages
I have built 5 companies in the past 4 years. For each one, I have used Zoho and have utilised different products including Mail, Inventory Manager, the HR platform and more. It is amazing how seamless the intergration between these products is and how user friendly the platform is, providing what seems like hundreds of different products. Although I have a technical background, many of my employees do not and yet they can manage customising and setting up new domains fine. Zoho will always have my heart!
Inconvénients
Nothing really, at points it might be frustrating when I make mistakes in integration setups, but this is on me haha.