En savoir plus sur Edmodo
Edmodo est une application cloud de gestion de l'apprentissage qui permet aux enseignants de communiquer et de collaborer avec les étudiants et leurs parents. La solution permet aux enseignants de créer des groupes académiques, de distribuer des devoirs, de planifier des tests en ligne et de suivre les résultats des élèves. Edmodo propose également des outils collaboratifs qui permettent aux étudiants de publier des questions, de mener des sondages et d'interagir les uns avec les autres. Les enseignants peuvent attribuer des certificats et des badges aux étudiants en fonction des résultats obtenus aux tests et examens en ligne. La fonctionnalité snapshot permet aux enseignants de surveiller les progrès académiques, de suivre les résultats des étudiants et de visualiser les sessions à venir. Les parents peuvent également s'inscrire sur Edmodo et suivre les progrès scolaires de leurs enfants en temps réel. Avec Edmodo, les éducateurs peuvent catégoriser leur contenu, vendre du contenu éducatif premium et demander des informations aux étudiants ou aux parents. Edmodo propose des applications mobiles dédiées pour les smartphones et tablettes Android, iOS et Windows. Le support client est disponible via un service d'assistance en ligne.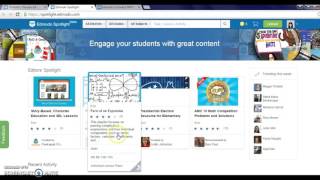 Edmodo est disponible en version gratuite.
Version d'essai gratuite :
Non
Produits similaires à Edmodo
Évaluation des fonctionnalités
Secteur d'activité : Hôpitaux et soins de santé
Taille de l'entreprise : 501-1 000 employés
Logiciel utilisé

toutes les semaines

pendant

plus de deux ans

Provenance de l'avis
---
Very useful even for non 100% educational institutions
We are not an educational institution like a School, College or University, but we at the hospital we offer Continuing Medical Education and Educational Training to the nurse staff and Doctors. Thats how we applied for this amazing platform without being an educational institution per-sé.
It has worked for us very nice, until now, it has been well accepted among the users.
Avantages
The user interface is very friendly (because its based in the UI of Facebook), so people get used to it very easily. I also like all the features that this platform offers.
Inconvénients
Its a little bit tricky to use at the beginning even for the administrator if you don't have to much knowledge about it.
Pourquoi passer à Edmodo
Google asked us to be 100% an educational institution, which we aren't, so we looked for other options, and the other best option was Edmodo. They asked us a lot of things to, but they were very receptive about what we do, and how we do it, and they accepted us that way.
Secteur d'activité : Enseignement primaire et secondaire
Taille de l'entreprise : 10 000+ employés
Logiciel utilisé

toutes les semaines

pendant

6 à 12 mois

Provenance de l'avis
---
Students Loved It!
Edmodo was incredibly helpful for being able to post assignments, give students instant access to resources, and easy grading. I really enjoyed using it, even if it did have a few issues.
Avantages
I was able to use Edmodo when my school district had a 1:1 iPad initiative. Students loved being able to come into the classroom and having one set place to be able to login and find what they needed for the day.
Inconvénients
When I used it (2016-2018), the website felt a little clunky. The students liked using it, but it never seemed like it ran as smoothly as it could have, considering how long it had been around.
Pourquoi passer à Edmodo
At the time, most of the teachers at my school were using Edmodo, so it seemed like the best choice for me, as well.
Secteur d'activité : Vente au détail
Taille de l'entreprise : 10 000+ employés
Logiciel utilisé

tous les mois

pendant

6 à 12 mois

Provenance de l'avis
---
kids likes to do homework
Avantages
is one of the successful actors of online education (lms-learning management systems). The interface is very simple and useful. After completing the necessary procedure, you can become an approved teacher and classes are created. When the code given when the class is created is given to the students, all of them can register for that class, file sharing can be done from both the computer and the existing library. One of the most beautiful applications is the exam application, multiple choice, short answer, matching, correct-answer, open-ended questions can be created and hundreds of students can participate. can be provided. The results of the exams can be taken in detail and exam analyzes with success percentage and response time indicator can be created with a single click. Motivation can be increased by giving badges to students for their achievements.
Thousands of educators who teach in the same fields around the world can be contacted and information and materials can be shared.
Inconvénients
proficient notifications and alert system are understaffed, there should be more options for feedback on assignments and tasks
Secteur d'activité : Gestion de l'enseignement
Taille de l'entreprise : 201-500 employés
Logiciel utilisé

tous les jours

pendant

6 à 12 mois

Provenance de l'avis
---
Good LMS to Help Manage the Classroom
Overall, this is a good product for basic LMS needs, and worked for me in the beginning. After playing with a number of LMS apps and continuing to revamp my needs and redesign what online learning should look like, other LMS might just offer more in flexibility/features.
Avantages
As is the case with most LMS apps out there, Edmodo does a nice job shifting from paper-digital, and giving students and teachers a platform to help manage and stay organized in the digital space. The fact that you can do a lot with the free platform is a big plus and educators Everything updates in real time, and is simple enough to put together your digital needs in one space.
Inconvénients
To me, unlike some other LMS apps out there, Edmodo is limited. It doesn't have the modern or sleek look and design as others. It also doesn't have as interactive capability to embed a number of other apps/tools that teachers use daily into it. This is a must have when it comes to the digital classroom space. The more we can limit sending links and have one program integrate everything else into it, the better classroom management will be. I would also like to see some integrated features like virtual chats/video conferencing, and more enhanced lesson design features.
Secteur d'activité : Services et technologies de l'information
Taille de l'entreprise : 501-1 000 employés
Logiciel utilisé

tous les jours

pendant

plus de deux ans

Provenance de l'avis
---
It was my virtual university
Overall, it's beneficial, especially during COVID-19. These days, online classes are a big part of our lives and Edmodo makes this process easier and more organised. And it's effortless to use.
Avantages
From the first year of university we've had online classes, my university used Edmodo as an LMS. As a student, I also took so much time at Edmodo. It was easy to track all your lessons, exams, quizzes and tasks for students. Also, attendance tracking, task tracking and communication with students were so much easy for lecturers. It helps to organise all online sources
Inconvénients
It was really slow sometimes, but it could be because of the university's servers maybe.