En savoir plus sur Podio
Citrix Podio est un outil de gestion de projet et de collaboration sur les réseaux sociaux. La solution permet aux entreprises de créer des applications personnalisées pour mieux répondre à leurs exigences et à leurs flux de travail favoris, sans requérir de compétences techniques ou ressources de développement. Le marché d'applications Podio offre aux utilisateurs un accès à des centaines d'applications gratuites et préconçues par des utilisateurs Podio en vue de satisfaire à un vaste éventail d'exigences spécifiques au secteur et aux fonctions de gestion de projet, notamment en matière de gestion de tâches, de gestion de portefeuille de projet et de gestion de problèmes. Des applications de suivi des candidatures et de CRM (Customer Relationship Management) sont également disponibles. Quelle que soit l'application, Podio offre une variété de fonctionnalités de collaboration pour les réseaux sociaux, y compris des mentions "j'aime" et partages de fichiers depuis n'importe quel point système comme sur Facebook, ainsi qu'un chat vidéo et une messagerie instantanée interne. Les fonctionnalités de création d'application de Podio en font une solution adaptée aux plus petites entreprises qui demandent un plus haut degré de personnalisation, en particulier celles qui cherchent à gérer plusieurs processus professionnels au sein d'un même système.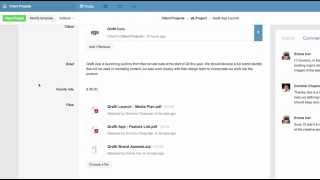 Podio est disponible en version gratuite et propose un essai gratuit. La version payante de Podio est disponible à partir de 9,00 $US/mois.
À partir de :
9,00 $US/mois
Version d'essai gratuite :
Oui
Produits similaires à Podio
Évaluation des fonctionnalités
Secteur d'activité : Exploitation minière et métaux
Taille de l'entreprise : 51-200 employés
Logiciel utilisé

tous les jours

pendant

plus de deux ans

Provenance de l'avis
---
Plate-forme de communication interne
Superbe outil pour communiquer avec tous les employés de notre usine. On s'en sert comme un réseau professionnel. Très utile aussi pour gérer toutes les demandes, de type changement d'horaire, présences aux activités sociales, invitation aux rencontres.
Avantages
Plusieurs fonctions et personnalisations possibles, notamment grâce aux workflows de Globiflow.
Facile à utiliser pour ceux qui aiment les technologies, sans être toutefois des pros.
Simple à comprendre pour susciter des interactions et des réactions (système de mentions J'AIME et de commentaires).
Inconvénients
Les tâches ne sont pas accessibles dans la version mobile pour Android.
Toutes les fonctions ne sont pas disponibles sur version mobile.
Pourrait y avoir un système d'épinglage de publications.
Version supérieure incluant Globiflow coûte cher par licence utilisateur.
Pourraient y avoir plus de tutoriels pour apprendre à configurer des automatisations sur Globiflow.
Secteur d'activité : Logiciels
Taille de l'entreprise : 1 001-5 000 employés
Logiciel utilisé

tous les jours

pendant

plus de deux ans

Provenance de l'avis
---
Podio is the best tracking software for the multiple projects.
Podio is the best to keep track all of our important emails, tasks and projects in a simple manner. Podio is an outstanding software for the project and management. I can share all of my important projects with my friends and team members but one by one. It really allow me to manage all of my important tasks and store the important information in a one place such as assign projects. My project management activities are easily handle by the extreme planner software. Wen I complete all of my tasks assignment and multiple projects, then I always choose the Podio software. Podio is the great for the project and tasks assignments. I would recommended this software to everyone.
Avantages
Podio is the great customizable software. The best thing about the Podio software is that we can track all of our important tasks and multiple projects at a one time and it is the only possible through the Podio software. We can easily collaborate with our team members and colleagues in a more efficient way. I can always use this efficient software for better manage my personal projects.Podio is one of the best project management software. The another great advantage of this software is that we can easily organized all of our important projects and assignment tasks in a group and colleagues. This software has outstanding features such as it has the great ability to create the custom folders in a more efficient way. Through this software, it is so easy for us to create a tasks and store a large amount of information in a project software.
Inconvénients
The disadvantage of this software is that for the new users that they faced a lot of problem about the sharing of the multiple projects with our colleagues and team members at a one time. Hence, sharing of projects is so difficult for the beginners and users. This software lack a lot of features which is very essential for the new users. Podio software is not so easy to use. For the beginners, it is a little challenges for us to create a tasks and better manage our projects . It is so difficult in learning to use many of the features in a properly manner. But otherwise it is very simple for us to create a tasks to the specific projects.
Secteur d'activité : Construction
Taille de l'entreprise : 501-1 000 employés
Logiciel utilisé

tous les jours

pendant

plus d'un an

Provenance de l'avis
---
Serves it's purpose
The big boss also loves this program, because it can generate many different reports for him, from bid activity, pending logs, securement logs, win percentages with different customers or geographic areas. allows him to see many different metrics with just a few clicks.
Avantages
The website is incredibly customizable, which allows you make this program perform many tasks that vary greatly. Our main purpose was to use this as a bid center for our company, allowing all of our branches to see who was bidding which jobs. After setting that up, we were able to have podio send out reminders after certain amounts of time to follow up on the bid results. If we were awarded the job, it will then send out notices to our purchasing department, project managers, and super intendents with the relevant information (start end dates, contract prices, labor hours estimated, location, contact info, etc). It is very helpful to make sure our branches do not double up estimating the same projects.
Inconvénients
Being very customizable also means it can be quite tedious to set up initially. There are, however, many premade modules you can either use as is, or customize to fit you needs.
Pourquoi passer à Podio
At the time, buildingconnected was not set up to do what we needed in regards to generating the reports for the boss. I believe they have made some changes and updates that likely would have made it a good choice, but too late.
Réponse de

Podio

Hi Justin, thanks for the review! Much appreciated. Cheers, Sara from Podio

Répondu le 09/09/2019
Secteur d'activité : Services et technologies de l'information
Taille de l'entreprise : 11-50 employés
Logiciel utilisé

tous les jours

pendant

plus d'un an

Provenance de l'avis
---
Very flexible software, but increasingly unreliable
Overall, pretty good for a budget CRM. But it feels like a platform with its better days behind it.
Avantages
Podio is designed for project managers, but we used it as our CRM - which shows how flexible it is.
It worked well, the UI is nice, the workflows save you a lot of time and you can link up items well for automation (e.g. if you close a deal, mark the associated company item as 'customer').
The reporting worked quite well too. You can pull data into reports and create nice dashboards. And you can export to Excel.
Inconvénients
Citrix aren't investing in Podio - it looks the same as when we started using it years ago. It's also increasingly unreliable - there have been numerous all-day outages in 2018. This is frustrating when you depend on Podio to run your business.
We have since moved onto a different CRM software because of these issues.
Réponse de

Podio

Thanks for sharing your review of Podio! We are dedicated to improve the reliability and performance of Podio in the future. Please read more details here: https://blog.podio.com/2018/01/10/2017-year-in-review/

Répondu le 29/10/2018
Secteur d'activité : Immobilier
Taille de l'entreprise : 2-10 employés
Logiciel utilisé

tous les jours

pendant

plus de deux ans

Provenance de l'avis
---
Simplistic Database and Project Management System
Podio has acted as a database for my company for many years and I have no reason to switch to any other software
Avantages
I like that this software can be accessed from mobile and from computer, while keeping a simple functionality.
Inconvénients
The software is not overly user friendly. It is effective for what it is, but- not much to it.