En savoir plus sur Nimble
Nimble propose un widget de navigateur et une solution mobile d'automatisation de la force de vente et de social CRM (Customer Relationship Management) pour les petites et moyennes entreprises. La solution remplit automatiquement les profils client et les historiques d'interactions à partir des listes de contacts, des conversations par e-mail et de l'activité sur les réseaux sociaux sur une gamme de plateformes populaires, notamment LinkedIn. Outre des fonctionnalités de gestion des contacts et des pipelines telles que le suivi des transactions, la gestion de tâches et les alertes, Nimble inclut également l'écoute sociale intégrée pour maintenir les profils client à jour. Cela permet aux entreprises de suivre les contacts qui mentionnent, suivent ou interagissent avec eux ou qui fêtent des étapes importantes telles que les anniversaires, ce qui crée en retour des opportunités précieuses de sensibilisation et de suivi informés. La page "Today Page" de Nimble offre une vue complète des tâches à effectuer, des transactions clés et des opportunités d'engagement. Celles-ci sont générées par le "moteur de règles" de Nimble, qui apprend du comportement des utilisateurs pour hiérarchiser les signaux sociaux et prévoir quels contacts et opportunités sont les plus pertinents. Nimble propose également une gamme de widgets d'e-mail, permettant aux utilisateurs d'afficher des détails riches et contextuels à partir des profils Nimble de leurs contacts, même en dehors du système.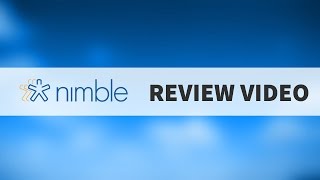 Nimble n'est pas disponible en version gratuite mais propose un essai gratuit. La version payante de Nimble est disponible à partir de 19,00 $US/mois.
À partir de :
19,00 $US/mois
Version d'essai gratuite :
Oui
Produits similaires à Nimble
Évaluation des fonctionnalités
Secteur d'activité : Agriculture
Taille de l'entreprise : 2-10 employés
Logiciel utilisé

tous les jours

pendant

plus de deux ans

Provenance de l'avis
---
Simple & Effecient
Overall I have been happy with this product. It keeps evolving and keeps getting, generally better. The customer service is over the top. Quick response, always there if we have a questions. I like that!
Avantages
Easy to assign tags and group the ones you want to use to target specific groups for marketing purposes.
Inconvénients
New UI for data entry is not as efficient as it used to be. Still simple but simple data priorities such as which phone number is primary is no longer available. You actually need to open the whole contact window to see all the data while before the summary gave the most important info.
Pourquoi choisir Nimble 
Outlook is not designed to handle thousands of contacts and you need too many plug in to make the thing work like a CRM. It's not made for that.
Pourquoi passer à Nimble
Simpler to use and Insightly did not have a tagging system nor a proper email system incorporated in the software.
Secteur d'activité : Internet
Taille de l'entreprise : 2-10 employés
Logiciel utilisé

tous les jours

pendant

1 à 5 mois

Provenance de l'avis
---
Inexpensive and extensive with small quirks
Nimble has many benefits for sole proprietors and small businesses.
As long as you don't mind the little things, Nimble is an affordable alternative to other CRM systems.
However, I see an internationalization as difficult, because just such little things like the date format or the week start on Monday are a prerequisite for an international orientation.
Avantages
Perfect Chrome integration
Social media connection
Multiple email accounts
Multiple email senders
All integrated Google calendars available
Cheap
All basic CRM functions
Inconvénients
English only
Date format not changeable (e.g. dd.mm.yyyy)
Week start not changeable (always Sunday)
Complicated setup
Not always logically structured
Partially outdated views that do not fit into the overall picture (e.g. calendar)
Pourquoi passer à Nimble
Some features that were important to us were not available from other products. These include multiple calendars, multiple mailboxes and associated multiple sending addresses.
Secteur d'activité : Logiciels
Provenance de l'avis
---
Mixed results. Flawed, but still the best match for us.
Avantages
We researched ~10 CRM solutions for our small software contracting company (9 people), to help keep track of leads and communications. We have some frustrations with Nimble, but at least as of the last round of reviews it was the best match for our business.
Things we like:
* Price point is reasonable
* Automatic integration with gmail - communications over email with a contact show up with no extra work from us
* Automatic integration with social media
* Shared information with several people on our team
* Reminders to stay in touch with people can be easily created at the same time the contact is created
Inconvénients
I have a number of frustrations with ranging from small to moderate. They are:
1) Can only integrate one social media account of each type. Fixing this has been "coming soon" for about eight months. Right now it means I need to decide between my business Twitter account (the official face of the company), and my individual Twitter account (which has 20 times as much traffic). I interact with business contacts via both and can only track one.
2) The Deals tracking tool has several deficiences:
2.1) The Deals view is wider than the page, which requires annoying scrolling with an embedded horizontal scrollbar, and you can't see it all at once. (Deals columns: 1570 pixels. Page width: fixed 1200 pixels, even if your browser is 2000 pixels wide.)
2.2) The "stages" of a deal have an arbitrary maximum limit of 99 days in stage. In my industry, initial contacts often turn into paying work 8-12 months later after companies complete fundraising. Nimble can't handle this.
2.3) There's no way to hide or "put on ice" a deal that is suspended temporarily. You can only close the deal as "won" or "lost". See above, I frequently have leads disappear for a year and then come back to hire us. Unless I want to lose the work I've entered, my only option is to keep all possible leads visible in case they come back eventually.
3) Nimble has its own separate contacts database from my Gmail contacts and no tool built in to synchronize them automatically. I have to use a 3rd-party tool to sync them, and it's fiddly to keep working right. Right now, I think it hasn't worked in a couple of months.
4) The Chrome plug-in to help you enter contact info from Gmail or from a web page is inconsistent. Frequently I select or hover contact name or info, but the plug-in doesn't detect it and I end up having to enter the contact manually anyway.
Secteur d'activité : Ressources humaines
Taille de l'entreprise : 501-1 000 employés
Logiciel utilisé

tous les jours

pendant

plus d'un an

Provenance de l'avis
---
Awsome and easy to use
Amazing we cant say enough good about it.
Avantages
Its easy for all of our staff tl use and very accurate
Inconvénients
Nothing we love it and very glad we choose it.
Secteur d'activité : Services et technologies de l'information
Taille de l'entreprise : 2-10 employés
Logiciel utilisé

tous les jours

pendant

plus d'un an

Provenance de l'avis
---
Best CRM
I am having more and more great experience with this software by using it in daily basics.
Avantages
The thing I like the most about this software is it is efficient and functional. I can see every bit of improvement and all data within few touches.
Inconvénients
I feel for the beginners it is very difficult to understand and they get lost in this software. Can improve by making it more easy to understand and by solving this issue more clients can be drawn into this.