En savoir plus sur Kaseya VSA
Kaseya VSA is a cloud-based IT management and remote monitoring solution for businesses of all sizes across various industries. It provides a central console for managing IT operations including handling complaints, ticketing, auditing, monitoring performance and reporting. Users can receive complaints, generate complaint tickets and service complaints around systems, servers, networks and mobile devices remotely. Designed for in-house IT staff, Kaseya VSA provides an integrated IT management platform to manage IT issues and service complaints remotely. The patch management module automatically updates servers, workstations and users' computers with the security patches and software updates. IT staff members can schedule updates at an individual system level, departmental level or throughout the entire organization. The solution provides information on CPU, network bandwidth and server load through an integrated console to monitor the performance of IT infrastructure in real-time. Kaseya VSA is available on a per user per month basis that includes support through an online knowledge base.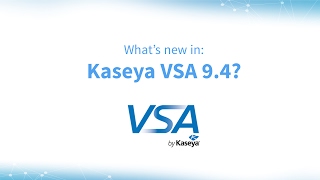 Kaseya VSA n'est pas disponible en version gratuite mais propose un essai gratuit.
Version d'essai gratuite :
Oui
Produits similaires à Kaseya VSA
Évaluation des fonctionnalités
Secteur d'activité : Services et technologies de l'information
Taille de l'entreprise : 1 001-5 000 employés
Logiciel utilisé

tous les jours

pendant

plus d'un an

Provenance de l'avis
---
Great Remote Management Software w/ Many Features & a Couple Limitations
The Kaseya tools for managing client endpoints are fantastic. I enjoy how easy it is to install the software on client computers and how quickly it syncs up so that techs can begin remoting onto the endpoint in very short order. Kaseya offers a plethora of tools that can interface with an endpoint without ever having to remote onto a client system as well, which is great for when I don't want to call the client up to get permission to work on their computer. Some of those tools have some minorly annoying limitations, but I'm still willing to give an overall glowing review to this software. We use two different remote management softwares at the company I work for, and I prefer using Kaseya over the other.
Avantages
Beyond simply remoting onto client endpoints, I really enjoy the ability to carry out various tasks in the background without having to remote on, including:
* Running CMD and PowerShell commands
* Viewing/editing Registry
* Running pre-built and customizable scripts
* See installed software
* Manage the file system
* Etc.
We use two different remote management clients, and I find Kaseya to be the faster of the two when it comes to deployment and availability after deployment. Sending commands through the background interface is also much faster than our other software.
Inconvénients
Navigating the registry and file system using the background tools is very clunky. There's lots of scrolling involved, and it doesn't cache all of the entries, so if you need to navigate back up to a parent folder, you need to scroll down all over again and wait for items to reload, which can be time-consuming.
Also, in comparison to our other remote management software, it is not as convenient to upload or download items from my computer to the client endpoint using Kaseya. There's nowhere to do so from the remote connection interface.
Secteur d'activité : Services et technologies de l'information
Taille de l'entreprise : 51-200 employés
Logiciel utilisé

tous les jours

pendant

plus de deux ans

Provenance de l'avis
---
The Kaseya lego kit
We manage almost 8000 of our customers machines. On almost all servers we run monitoring to alert us to issues, like disk space problems, services not running or certain eventlogs popping up. Here the lego building part of Kaseya is obvious. You get the rough shape to help you set up, but you determine what machine needs what monitoring. You polish the whole in the right shape.
We have good security options with Webroot, Malwarebytes and Patch Management as most important parts. We have remote access when we need it and can investigate problems without having to bother users and take over the machine a few times a day. Then there's the luxury of running commands, or agent procedures as Kaseya calls them, in a heartbeat. You can automate cleanups by tying monitor alerts to commands. In the past this could take you weeks to setup and maintain properly, but that task is mostly done by Policy Management now. You setup the roles per group, do they need monitoring, antivirus, patch managent, etc, etc and Policy Management does it all. Unfortunately there is no complete coverage for all Kaseya options, but in our case it's about 80 to 90% and that saves hours and hours....
All in all it's a pleasure to work with if things don't break, which is not too often compared to other software products. And what would be the fun if it never went kaput. What would I do.... :-)
Avantages
- You can build a whole lot of automation with their building blocks;
- The depth of information should cover your needs;
- New leadership has taken some time to reform the company, but is now running full speed ahead;
- The potential of venture capital is a big benefit to what they can do, if you make them see the need.
Inconvénients
- Old building blocks have lived on too long (this year is supposed to be the big clean-up);
- The mix of old parts (up to 20 years old) and very recent changes in limited places is confusing;
- Support can be great, but usually takes a few days to get up to speed on technical challenges;
- Integrations of Antivirus are limited and the Kaspersky Anti Virus option will cost you a lot of time;
Secteur d'activité : Services et technologies de l'information
Taille de l'entreprise : 11-50 employés
Logiciel utilisé

tous les jours

pendant

plus de deux ans

Provenance de l'avis
---
increasing helpdesk staff productivity
-- Tactical Responsibilities
Use remote monitoring and management tool KASEYA to deliver pro-active remote support
Establish monitoring and maintenance necessary for new and existing clients
Monitors Server Windows Operating System performance and takes action to resolve problems
Monitors the Microsoft Exchange Service and resolved any issues regarding the email systems
Monitors Workstation Windows Operating System performance and escalate actions
Monitors network Devices status and performance and escalate actions
Monitors Storage Devices health and takes action to resolve problems
Monitors VMware Infrastructure performance and takes action to resolve problems
Prepare and present service and monitoring reports to management regularly
Documents problems and resolutions on production servers
Completes scheduled audits and provides reports to customers periodically
Avantages
Kaseya is one of the best RMM (Remote Monitoring and Management) tools in the market
we have moved from REACTIVE to PROACTIVE and now we are moving to SERVICES
related to "Service Management Maturity model"
thanks to Kaseya we achieved
1. Analyze trends
2. Set thresholds
3. Predict problems
4. measure applications availability
5. Automate (highly appreciable when you handle hundreds of devices)
6. Mature Problem Configuration, change, asset and performance management
7. Increase Security in multiple layers
8. Manage the entire Windows updates process
9. Remote Control
10. Compliance and audit Reports
Inconvénients
unfortunately using kaseya core modules, it is not stronger to manage network devices
Pourquoi passer à Kaseya VSA
integration with internal and third party products
Secteur d'activité : Bureau exécutif
Taille de l'entreprise : 201-500 employés
Logiciel utilisé

tous les jours

pendant

plus de deux ans

Provenance de l'avis
---
Kaseya VSA - Not just for MSPs
Kaseya VSA has helped me overcome hurdles with outdated software, missing updates, and deployment of new software. I used Kaseya to locate which devices are using old version of Office and using Windows version XP, 7 and and 8 and 8.1. This has helped me in the process of updating all of our devices to the newest Office and Windows 10.
Avantages
Kaseya VSA is not only for MSPs, but for anyone who needs help managing their assets in the office and in the field. I'm the IT Security Manager with all the hats in the IT world at a large confectionery broker. I manage over 250+ devices on my own, with the help of Kaseya VSA. I could not do my day-to-day job without Kaseya VSA.
Inconvénients
I'm not a fan of the app as the functionality seems to be spotty. Right-clicking the client app sometimes brings up a menu, and sometimes it only offers a simple selection of "Refresh". This is my only gripe in the 3 years I've been using this product.
Secteur d'activité : Services et technologies de l'information
Taille de l'entreprise : 11-50 employés
Logiciel utilisé

tous les jours

pendant

plus de deux ans

Provenance de l'avis
---
Best RMM tool on the market. Period.
As an MSP (Managed Service Provider) in the highly competitive IT services market, our tool set is the backbone that enables the service delivery model that differentiates us from the competition. Because these tools are the skeleton of our business, we test all of them on a 3-year rotation to make sure we're using a best-of-breed solution that will make our services faster, more effective, more efficient and produce higher reliability and better outcomes for our clients.
Last year we evaluated our BDR (Backup and Disaster Recovery) and RMM (Remote Monitoring and Management) platforms with that backdrop. We included all of the major players (for RMM that was Kaseya, Labtech, N-able, Maxx, etc.) and a few free/near-free 2nd and 3rd tier players, and again Kaseya was the hands-down best-of-breed winner.
That's not to say it didn't have some short comings. It's a piece of software so yes, there are some bugs but none of them are heart stopping or business-critical, and we're an IT company! - we can get them resolved very quickly. And the bugs are no more or less than the issues we found in the competition - so on net it was wash against the competition.
But the overall scope and quality of the product, the depth of functionality, the myriad vendors that it integrates with, and the support team that we found responsive (slightly better then the competition) gave them a nod over the competition. Add to that the lightweight agent, integrated, lightening fast remote desktop access and HUGE user community where you can find a script for anything you need put them head and shoulders above the rest.
Everyone can find something they will love in Kaseya.
Avantages
Robust features, lightening fast remote desktop access and huge user community producing thousands of scripts to cure every/any problem or request you may have. Full access to SQL database in included.
Inconvénients
Slightly above average support response times and longer lead times for enhancements. Their SaaS version is slower than some of the competitors (altho the on prem is blazingly fast).