En savoir plus sur Zoho Campaigns
Zoho Campaigns est un logiciel d'e-mail marketing basé sur le cloud de la suite d'applications Zoho. Ce produit permet aux entreprises d'atteindre et d'engager le dialogue avec leurs clients en automatisant le processus de marketing, de la création de campagnes personnalisées par e-mail à l'envoi, l'automatisation et l'analyse des e-mails, en passant par la gestion et la séparation des listes de diffusion. Zoho Campaigns permet aux utilisateurs de créer des campagnes par e-mail à l'aide de modèles prédéfinis ou personnalisés. Le système comprend des fonctions de publipostage en masse pour les listes de diffusion, y compris le suivi et le reporting des e-mails et des campagnes pour améliorer l'engagement du public. Zoho Campaigns offre une intégration à des applications tierces telles que Sugar CRM, SurveyMonkey, GoToWebinar, etc. Il offre également une intégration avec des applications internes telles que Zoho CRM, Zoho Meeting, Zoho Survey, Bigin by Zoho CRM, etc. Les utilisateurs peuvent partager leurs campagnes sur les plateformes de réseaux sociaux. Zoho propose un forfait gratuit à vie dans lequel 12 000 e-mails peuvent être envoyés à 2 000 contacts. Les autres forfaits sont des forfaits avec abonnement, par e-mail et avec paiement à l'utilisation, tandis que l'assistance est proposée par téléphone, e-mail et chat en direct.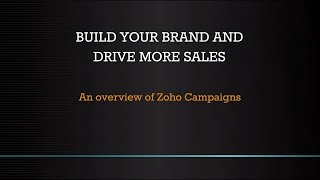 Zoho Campaigns est disponible en version gratuite et propose un essai gratuit. La version payante de Zoho Campaigns est disponible à partir de 4,00 €/mois.
À partir de :
4,00 €/mois
Version d'essai gratuite :
Oui
Produits similaires à Zoho Campaigns
Évaluation des fonctionnalités
Secteur d'activité : Vente au détail
Taille de l'entreprise : Auto-entrepreneur
Logiciel utilisé

tous les mois

pendant

1 à 5 mois

Provenance de l'avis
---
Zoho Campaign pour mes campagnes email marketing
Avantages
Je peux gérer ma liste de destinataires et envoyer en 1 clique ma campagne par email
Inconvénients
je n'ai pas de point négatif à remonter par par rapport à mon utilisation
Secteur d'activité : Services et technologies de l'information
Taille de l'entreprise : 201–500 employés
Logiciel utilisé

toutes les semaines

pendant

plus d'un an

Provenance de l'avis
---
Simplest way to stay connected with all your customers
Zoho Campaigns can easily integrate with other Zoho apps which allows for centralizing all our work. This improves our overall working efficiency
Avantages
It is very easy to design and schedule email campaigns using Zoho campaigns. The reports are very much extensive which enables us to draw very cool and in-depth insights. Also loading contact lists and segmenting them is pretty awesome and easy.
Inconvénients
Honestly, I do not have any dislike for Zoho Campaigns
Secteur d'activité : Biotechnologie
Taille de l'entreprise : 5 001–10 000 employés
Logiciel utilisé

toutes les semaines

pendant

plus d'un an

Provenance de l'avis
---
Best option email marketing for small business
Wide verity of options available in the tool and their constant improvement of the product. I can campare the tool which I was using in 2009 and the difference now. There are more in terms of features introduced and look and feel of the platform has been changed a lot. This is one of the best Indian based platform for small and medium business
Avantages
Continues improvement of the product and more number of features available to manage your email marketing campaigns. the ability to test the dynamic content is one of the good feature they added to the list. Predefined automation flow which sync with CRM toll is one of the great feature.
Inconvénients
Sometime, the platform runs slow. It's really pain to manage when it perform very slow. Some of the templates looks good on the platform where as the same have issues. Specifically the compatibility across multiple email platforms need to be improved.
Pourquoi choisir Zoho Campaigns 
We used to face the campaign get block and reason they state as spam. It get hold for some time and we used to connect with support team multiple time.
Pourquoi passer à Zoho Campaigns
We started used way back in 2007. That time we used to have all the features for free and Zoho is the first option use to chose and also we were using Zoho CRM before we start using the campaigns.
Secteur d'activité : Marketing et publicité
Taille de l'entreprise : 5 001–10 000 employés
Logiciel utilisé

toutes les semaines

pendant

plus d'un an

Provenance de l'avis
---
An Effective Tool for Automated Email Marketing
My overall experience with Zoho Campaigns has been positive. I found the platform to be user-friendly and easy to navigate. I was able to quickly get up and running with the platform, as it offers helpful tutorials and support. I appreciated the automation features, which enabled me to save time and increase efficiency. I also found the reporting and analytics to be useful in tracking the performance of my campaigns. That being said, I did find the design options to be limited and the price to be a bit higher than some of its competitors.
Avantages
1. Automation Capabilities: Zoho Campaigns offers triggers and scheduled emails, allowing users to increase efficiency by automating their campaigns.2. Connectivity: With Zoho Campaigns, users can sync data across their entire organization, as it integrates with a variety of third-party apps, such as Salesforce and Google Analytics.3. Detailed Reports: The platform provides users with in-depth reporting and analytics to track the performance of their campaigns.4. A/B Testing: Zoho Campaigns enables users to compare different versions of their emails to determine which performs the best.5. Mobile Optimization: Zoho Campaigns emails have been optimized for mobile devices, so that recipients can view them clearly on their phones or tablets.
Inconvénients
1. Contact List Limitations: Zoho Campaigns does not support contact list imports from external sources.2. Design Restrictions: The platform does not offer a wide range of design options, which may reduce the creativity of users.3. Automation Limitations: Depending on the size of a user's contact list, the automation capabilities of Zoho Campaigns may be limited.4. Limited Support: Zoho Campaigns does not offer telephone support, making it difficult for users to get assistance quickly.
Secteur d'activité : Production audiovisuelle
Taille de l'entreprise : 2–10 employés
Logiciel utilisé

tous les jours

pendant

6 à 12 mois

Provenance de l'avis
---
I feel like I'm a beta tester.
Clunky, slow and an overall terrible user experience.
From a distance, it looks shiny with a ton of functionality. But when you actually start using it, you'll see a myiad of small aesthetics that don't look right (loading bar doesn't extend full width, loading dots are blurred) and the loading times are among the slowest for any software I've ever used.
Now all of those things are OK, because functionality is what matters the most, right?
This would be true if the functionality of the platform actually worked as intended. We've run into issues like:
-Duplicating a workflow gets stuck and never duplicates. The bug required Zoho team to fix it on their side which took 3-5 business days.
-Changing a font color for an HTML email doesn't work. You'll see the updated font color in the HTML code, and in the email preview you will see the font color you want. But when you send the email, the font color is almost always wrong.
-Their simple condition filter in their workflow component didn't work originally. I had to speak to their engineering team twice to show them the problem, and then they fixed it 5 days later.
The list goes on and on. I wish this program just worked and I didn't have to write this review.
The one good thing about this software is that their customer service team is very responsive, and they normally fix the problems. But again, I feel like I'm a beta tester working with them through all of these bugs.
I don't recommend this software to anyone.
Avantages
Campains has a lot of features out of the box and is a very affordable option for startups looking for an email solution.
Inconvénients
This entire platform is riddled with bugs, quirks, and errors that make your job so much harder. When things don't work, you normally assume you're doing it wrong with most software. Not with Zoho Campaigns.
When things don't work, it's most likely broken on their side. 3 months into using this software every day, and we've already reported 3 different instances where their software was not working as intended.
If I was getting this software for free, that would be OK. But since we're paying hundreds of dollars each month to use it, this is not acceptable.
Pourquoi passer à Zoho Campaigns
Because campaigns was cheaper and had similar functionality. Plus, we are using Zoho CRM so we wanted the two programs to have a seamless sync.