En savoir plus sur Zoho Sprints
Zoho Sprints est une solution cloud de stratégie produit pour les entreprises de toutes tailles. La solution est conçue pour être utilisée par les équipes Agile et offre d'autres fonctionnalités, telles que les tableaux de bord utilisateur, le reporting, les tableaux Scrum, les horodateurs et les feuilles de temps. Zoho Sprints est également accessible via des applications mobiles pour appareils iOS et Android. Zoho Sprints inclut un centre de type glisser-déposer qui permet de créer des plannings en profitant d'outils de hiérarchisation des tâches et de configuration de rappels pour chaque parcours. Le tableau de bord donne aux utilisateurs des présentations des métriques de projet essentielles et des mises à jour des statuts des projets hebdomadaires. Divers rapports peuvent être générés, comme des burn-up charts et des burn-down charts, ainsi que des graphiques de vélocité afin de suivre les progrès et d'identifier les goulots d'étranglement. Les feuilles de temps permettent aux utilisateurs de suivre les heures facturables ou non et de calculer les heures réelles passées sur chaque sous-tâche. Le tableau Scrum permet de visualiser les statuts des travaux pour chaque sprint en fonction de leur niveau d'achèvement. La solution est proposée sur la base d'un abonnement mensuel et offre son service d'assistance à travers des e-mails, une base de connaissances, une communauté d'utilisateurs et un formulaire d'aide en ligne.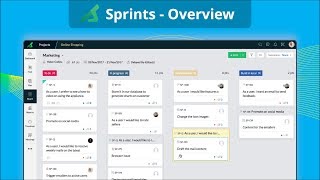 Zoho Sprints est disponible en version gratuite et propose un essai gratuit. La version payante de Zoho Sprints est disponible à partir de 1,00 €/mois.
À partir de :
1,00 €/mois
Version d'essai gratuite :
Oui
Produits similaires à Zoho Sprints
Évaluation des fonctionnalités
Secteur d'activité : Logiciels
Taille de l'entreprise : 2–10 employés
Logiciel utilisé

tous les jours

pendant

Essai gratuit

Provenance de l'avis
---
Zoho Sprints is Manageable and Customizable
We decided to use Scrum methodology. Zoho Sprints was able to handle backlog and bug log the way we have been using it. It was available and it worked without a huge learning curve for a short deadline.
Avantages
I like the customization of features, especially creating card templates and statuses. Custom templates comes in handy when we are importing from another platform like Trello and we want to use the same format. I also like the integration between other platforms including Zoho Projects for Gantt charts. I like that we can add a custom 'Status Type'. I used this feature to add a 'Review' status for code review. I also like the integration with Zoho Projects and Trello. I also liked how I can simply reorder users stories or work items, from sprints or backlog, into different Epics.
Inconvénients
I found Epics to be a little confusing. I am curious as to why this is a premium feature. It appears there are many other features I would consider premium. Some of the dashboard items were hard to setup to be useful.
Pourquoi choisir Zoho Sprints 
Most of the features were free and the rest was included with the trial. We used Zoho for other business processes and decided to give it a try.
Pourquoi passer à Zoho Sprints
Price and availability. Messages and alerts were in Zoho.
Secteur d'activité : Marketing et publicité
Taille de l'entreprise : 2–10 employés
Logiciel utilisé

tous les jours

pendant

Essai gratuit

Provenance de l'avis
---
Make your life Agile with Zoho Sprints
Organization problems mostly. Benefits of simplicity, what I like the most. I solved the problem to have to think about project management software at a very good price.
Avantages
I am like falling in love with this. I think it is amazing that Zoho brings this amazing platform to organize projects. For me, it was a great to find out about it, and then when I start using and understanding, just so easy to apply agile methodology to my work. The best is the simplicity of it. Easy to customize your projects. I love the apps for mobile, get things faster.
Inconvénients
So far nothing. maybe there should be more ways to create templates, it has it, but it is kind of hidden. I do not like that the platform does not have a desktop app for Mac or PC, that would be awesome.
Pourquoi choisir Zoho Sprints 
Costs, benefits, features, stability.
Pourquoi passer à Zoho Sprints
Simplicity and Price, Love the idea to be Agile and use the SCRUM methodology for all my projects. Also, what I need is task management so this is perfect.
Secteur d'activité : Services et technologies de l'information
Taille de l'entreprise : 11–50 employés
Logiciel utilisé

tous les jours

pendant

1 à 5 mois

Provenance de l'avis
---
User Experience is more than slapping together hodge-podge of few screens!! Zoho Sprints...
TWO THUMBS DOWN!! Who is such an idiot that came up with a concept of a "Global View" concept - an Icon that you have to click simply to access your completed sprints/workitems - that too ungrouped dumped in front of you??? Honestly, Zoho - being such a large corporation, I put so much value into your brand when I picked your Sprints. Your CEO should read and try creating and managing one project himself/herself - NOT WATCH A DEMO as a passive audience member - I would be curious to see how many in the senior leadership of this product called Zoho Sprints remain in their job at end of that experience of creating and managing a single project with multiple sprints! How hard can be creation of a user interface that guides user through...
- Creation and management of EPICs, associate work items and sprints, and print meaningful reports for a given EPIC?
- Listing all sprints together - and marking completed/canceled/upcoming/active sprints as such? And allow user to click through and access all of the details of that selected sprint? And allow user to generate a meaningful summary and detailed reports for that sprint?
- Allowing you to generate a project-level report that includes all Epics, Sprints, Work Items reflected in there at summary or detailed level based on who the user is.
Also, I don't think permissions work correctly: I have someone in my team as "Manager" but he can't see any of the completed items in the "Global View", but I can as an Admin??????
Avantages
Positive First impression is the only positive note I can make on this software. During my free trial, I got carried away with pretty look of this application and charts/dashboards etc., and signed up for a year long Professional contract. BIG MISTAKE!
Inconvénients
These developers are like a fresh kids out of some d-School, who have no clue that people need to be able to access their data efficiently at a later point after data was entered into this thing that leads it to ABYSS of no-where land! There are plenty of pretty looking charts that DO NOT ALLOW click-throughs for further details. AND Literally, there are no printable reports in the system - a chart is not a report! And exported Excel spreadsheet with hodge-podge of my data slapped together is not a report either, my friend!
There is literally NO CONSISTENT WAY of creating/accessing your Sprints.
Réponse de

Zoho

We're really sorry to see that our product did not meet your expectations. This is certainly not a situation we want to see our customers in. Thank you for sharing what you went through in great detail. We read your feedback carefully and feel we can address them. Let us take them one by one.

1. Purpose of Global View
All the info we show in the beginning is just a starting point. You can filter, search, and sort within this to drill down to the information you want. The enterprise plan also has a custom-view-tab where you can customise based on one or more criteria. You can then save these custom views you created for quick access later.

2. User interface that guides through Epics module
There is indeed such an interface. Through six different steps, it takes you through all you can do with epics. And it fires up just after you create your first epic. If this is disabled, you can view it any time by clicking the 'help tour' icon at the bottom right bar. The same option is available not just in this module but across the product.

3. List all sprints
We are working on making the sprint counters in the dashboard clickable, which would let you view this. An update we are planning for the custom view should show you the same info here also.

4. Detailed reports
Please check if you've seen all these reports. In the reports module, burn up and burn down are shown by default for sprints. However, this can be changed to show the same info for epics. Additionally, we also have an epic progress report. You can view a sprint level dashboard, by clicking the 'view details' button next to the sprint name on the board module. Custom sprint-wise reports and dashboards are 'work in progress' and we can let you know as soon as they are ready. All our existing reports are, and future reports will be, printable.

5. Project level report of all sub-items
As mentioned in point 1, you can drill down to this by filtering from the global view. And you need not do this everytime - you can save this view to get to it quickly.

6. Manager not able to see all info in global view
The manager is probably looking under the 'My View' tab in the default view. The purpose of this view is to see just his or her own items. The manager can see all items in all the sprints he or she is part of by choosing the appropriate criteria in the custom view.

7. Click through reports
We do provide click throughs wherever applicable. However, some reports aggregate info from several views, so we cannot provide a click through here. In reports that show past activity, again, we cannot provide click throughs as the underlying data may have changed over time. If you feel we have missed a clickthrough where it is possible, do let us know the specific case and we will add it ASAP.

I would like to share that the team that built this product also built Zoho Projects, a project management platform that has been around for over 10 years. They have spent these years developing domain expertise, honing the product and improving everything that adds to the customer experience.

So it follows that the experience you had is something we are determined to change. We would like to speak with you on a call to learn more from you, walk you through these features and do our best to meet your needs. Please get in touch with us by mailing to [email protected]

Répondu le 16/04/2019
Secteur d'activité : Fabrication électrique/électronique
Taille de l'entreprise : 5 001–10 000 employés
Logiciel utilisé

toutes les semaines

pendant

1 à 5 mois

Provenance de l'avis
---
A Great Agile Project Management Tool
I have been using Zoho Sprints for my team's agile project management for the past few months and have been really impressed with the platform. It has all the features we need to plan, track, and review our sprints, including a user-friendly interface, customizable kanban boards, and robust reporting and analysis tools.One of the things I really appreciate about Zoho Sprints is the integration with other Zoho apps, such as Zoho Projects and Zoho CRM. This allows us to easily bring in customer information and project details from other parts of our workflow, saving us a lot of time and effort.Overall, I would highly recommend Zoho Sprints to any team looking for a reliable and feature-rich agile project management tool. The pricing is very reasonable and the customer support has been excellent whenever I had a question or issue.
Avantages
User-friendly interface: The platform is easy to navigate and use, making it accessible to team members of all skill levels.Customizable kanban boards: You can tailor the layout and workflow of your kanban boards to fit the needs of your team and project.Robust reporting and analysis tools: Zoho Sprints offers a range of reporting and analysis tools to help you track the progress and performance of your team and projects.Integration with other Zoho apps: You can easily integrate Zoho Sprints with other Zoho apps, such as Zoho Projects and Zoho CRM, to streamline your workflow.Reasonable pricing: Zoho Sprints offers a range of pricing plans to suit different budgets and needs.
Inconvénients
Limited integrations with third-party apps: While Zoho Sprints integrates with other Zoho apps, it may not have as many integrations with third-party apps as some other project management tools.Limited customization options: While the platform offers some customization options, it may not be as flexible as some other tools in terms of adapting to your team's specific needs.Complexity: For teams new to agile project management, Zoho Sprints may have a steep learning curve and require some time and effort to fully master.
Secteur d'activité : Services financiers
Taille de l'entreprise : 2–10 employés
Logiciel utilisé

tous les jours

pendant

Essai gratuit

Provenance de l'avis
---
One of the best online agile management software
Avantages
Creating work items and the ease of reviewing the status on the scrum board has been really useful. The dashboard gives me a summary of the progress of the work items for the sprint along with the productivity status of the team, which is great. the report of the item process time and the sprint process time has been useful.
Inconvénients
I've tried changing the estimation type in my project configuration settings to custom settings instead of the default Fibonacci series. It allows me to enter only numeric values. In our team, we measure the size of the work item as T shirt sizes – XS, S, M, L, XL etc.
Pourquoi choisir Zoho Sprints 
It was not suitable for our business since it was not for tracking project/work item status.
Pourquoi passer à Zoho Sprints
I didn't realise Zoho projects was only for projects that use the waterfall methodology. I learnt this from the customer care executive, hence the switch.