En savoir plus sur Zoho Creator
Zoho Creator est une solution cloud de base de données qui aide les entreprises à créer des applications personnalisées, à automatiser des processus et à stocker des données d'application. La solution permet aux professionnels d'accéder à des données à partir d'emplacements distants en s'aidant de n'importe quel appareil mobile. Parmi les fonctionnalités clés de Zoho Creator figurent le nettoyage, la normalisation et l'analyse des données en vue de créer des tableaux de bord. La fonctionnalité d'automatisation des flux de travail de Zoho Creator permet aux responsables de créer des scripts d'automatisation des processus grâce à une fonctionnalité de type glisser-déposer. De plus, l'automatisation des processus aide les chefs d'équipe à éliminer les tâches d'administration manuelles et superflues. Zoho Creator offre des applications mobiles compatibles avec les appareils Android, iOS et Windows. La solution peut être intégrée à des logiciels tiers, comme Zoho Apps, Google Workspace, QuickBooks, PayPal et Salesforce. La tarification est basée sur un abonnement mensuel et annuel qui convient aussi bien aux petites qu'aux grandes entreprises.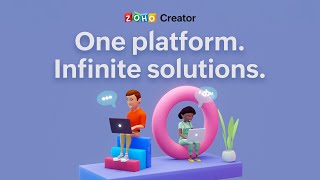 Zoho Creator n'est pas disponible en version gratuite mais propose un essai gratuit. La version payante de Zoho Creator est disponible à partir de 8,00 €/mois.
Version d'essai gratuite :
Produits similaires à Zoho Creator
Évaluation des fonctionnalités
Secteur d'activité : Équipements publics
Taille de l'entreprise : 2–10 employés
Logiciel utilisé

tous les jours

pendant

plus de deux ans

Provenance de l'avis
---
We created a custom CRM using ZOHO CREATOR
If i could give this app 11 stars, i would. It really is one of the best CRM custom creators I have come accross.
Avantages
We enlisted the help of a zoho developer to help us create a custom CRM for our commercial energy brokerage. The cloud-based app along with an android app along with speed of access makes this application the go-to app for our CRM needs.
Inconvénients
It is written using a coding language called Deluge. It is not simple and as such i would advise enlisting the help of a zoho coding expert. Zoho have a list of developers who can help.
Secteur d'activité : Gestion d'organisme à but non lucratif
Taille de l'entreprise : 2–10 employés
Logiciel utilisé

toutes les semaines

pendant

1 à 5 mois

Provenance de l'avis
---
Just what we needed!!
A cost-effective way of designing your own CRM, great for non-profits who need to store specific information relating to their service users.
Avantages
We had been looking for a CRM to meet out needs for a long time, trial and many errors left us frustrated and with limited funds, we didn't have the money to have one designed for us. We then met Zoho Creator...WOW! we were able to make our own customised CRM that is exactly how we want it, using forms and subforums. Affordable subscription, ability to make any changes to the layout and always the option to upgrade or add moe users.
Inconvénients
It took us a while to get to grips with the layouts and moving around fields but once we checked the tutorials we were well away.
Secteur d'activité : Immobilier
Provenance de l'avis
---
Be careful before choosing.
Building an application takes a tremendous amount of time to perfect and grow. Starting on the right application that will allow long-term development is critical. For a DIY database, Zoho Creator has features that I could not find with another option. Their customer service though, will have you asking for MUCH more. Several times I dealt with significant problems that left our organization crippled and got ZERO response or consideration from customer service. Every time the problem was with their servers or software. I could go WEEKS struggling with an issue and get no help from customer service. When your organization's core application is down, you do not want to be with Zoho Creator. After struggling with issues and no help from Zoho, I realized that my growing company had to leave Zoho Creator.
I found an open-source CRM called Zurmo. You NEED to check Zurmo as an option. Being open source, you can install it, modify the source code and it's free! They also have a paid version where they provide support and premium options. We have spent the last couple months building our new application in Zurmo and we love it. Overall, it's taking much less time than starting in Zoho Creator. Best of all, we aren't at someone else's mercy if the application has an issue. We can fix everything we want and host our own database. Although it takes a little more know-how to start on Zurmo, it was probably just as easy as Zoho, because accomplishing some things in Zoho was overcomplicated.
Avantages
- Easy to use
- Cost effective
- Dynamic customization
Inconvénients
- Customer services sucks
- Might cripple your company operations with no solution
- You will eventually need to leave Zoho if your company continues to grow
- Can't use Javascript or customize themes
(use Zurmo instead)
Secteur d'activité : Construction
Taille de l'entreprise : 2–10 employés
Logiciel utilisé

tous les jours

pendant

plus de deux ans

Provenance de l'avis
---
Poor Upgrade Support
I like the platform and with the help of Zoho developers (freelancers), they can make it really cool and awesome. But the sales department is no good. I have had a Creator account for 5 years. I decided to upgrade to professional afterwards and they have limited me to 5 Apps, when the professional account is unlimited Apps. Every month they take the full professional debit from my account, but won't give me unlimited Apps. When I asked, they told me is is because I was using the old platform. Someone will get in touch with me. It has been over a month and nobody has got back to me. But they made sure they took their money from me last week.....
Avantages
It has flexibility and if you know what you are doing and have experience in writing scripts and understanding the logics, it is good.
Inconvénients
The support for sales is not good. Technical support is. The platform is also not for newbies. You literally need to know about writing certain strings of code and what they entail. It is not as straight forward as out of the box
Secteur d'activité : Services et technologies de l'information
Taille de l'entreprise : 2–10 employés
Logiciel utilisé

toutes les semaines

pendant

plus d'un an

Provenance de l'avis
---
Zoho Creator - Rapid App Development
Mostly this has been used for prototyping and proof of concept for larger projects that end up being developed on other platforms. It's great value for what you get. If you are using other elements of the Zoho suite there are good integrations and Creator would be great for adding functionality for the likes of first-line workers in the organisation.
Avantages
Zoho Creator is an application development tool sold as a stand-alone SaaS product or as part of the Zoho One Suite.
Zoho Creator is a quick way to create applications without writing code. You can create forms, reports, pages and workflows largely through a drag-and-drop interface. There is a custom scripting language available for more complex requirements, but most users will be sticking to the no-code features.
This is a good solution for collecting data on web forms and presenting it in meaningful reports. Completed apps can be embedded on websites or made available to users within or external to the organisation. Apps created are responsive and designed to display well on desktop, tablet or smartphone.
Typical use cases are collecting data for surveys, tests and managing assets. With a bit of practice, you can create functional apps with triggers for email notifications and the like. Zoho Creator can be a good tool for agile teams to use for proof of concept for larger projects that may be developed further on other platforms.
Inconvénients
Could be dangerous in the wrong hands - ease of use is a double-edged sword. You'll still want to retain control of these kinds of tools; it's easy for enthusiastic amateurs to get carried away!