En savoir plus sur TeamSupport
TeamSupport est une entreprise primée de logiciels de support client, conçue spécifiquement pour répondre aux besoins uniques des entreprises B2B axées sur la technologie dans les secteurs des logiciels informatiques, du matériel, des services informatiques et des télécommunications. Créée par des experts du secteur qui se sont heurtés au défi d'être une entreprise B2B dans un monde d'assistance B2C, TeamSupport a consacré les dix dernières années à la création d'une solution d'assistance qui permette à ses clients de se constituer des clientèles passionnées. En mettant l'accent sur la collaboration rationalisée entre les équipes et en s'articulant autour des clients B2B dans leur ensemble, plutôt que de se concentrer sur chaque contact ou dossier individuel, TeamSupport s'impose comme une solution d'assistance qui aide à répondre aux besoins sophistiqués des clients et qui contribue à la réussite de leurs interactions. La suite de solutions TeamSupport, reconnue à l'échelle nationale, comprend TeamInsights, une solution révolutionnaire de reporting et d'analytique personnalisable qui combine des indicateurs clés de performance globaux avec une capacité d'analyse approfondie et TeamSuccess, qui repositionne audacieusement le rôle des logiciels d'assistance à la clientèle B2B dans le secteur en tant que première solution à réaliser pleinement le potentiel de revenu associé à la réussite des clients. Fondée en 2009, TeamSupport a son siège social à Dallas, au Texas.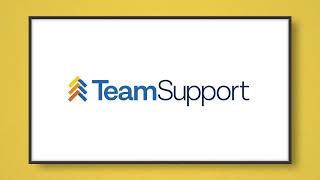 TeamSupport n'est pas disponible en version gratuite et ne propose pas d'essai gratuit. La version payante de TeamSupport est disponible à partir de 49,00 $US/mois.
À partir de :
49,00 $US/mois
Version d'essai gratuite :
Non
Produits similaires à TeamSupport
Évaluation des fonctionnalités
Secteur d'activité : Articles de sport
Taille de l'entreprise : 201–500 employés
Logiciel utilisé

toutes les semaines

pendant

plus d'un an

Provenance de l'avis
---
Génial
Avantages
Switch facile et bien géré très bon logiciel
Inconvénients
Un peu lent mais en prenant le temps on y arrive
Secteur d'activité : Informatique et sécurité réseau
Taille de l'entreprise : 11–50 employés
Logiciel utilisé

tous les jours

pendant

6 à 12 mois

Provenance de l'avis
---
Excellent Customer Support- worth to check
I really loved my experience with the TeamSupport. It is helping me in understanding the needs of my customers better.
Our ability to reply to our customer's queries had been improved and now we can reply back to them in less time.
We found it very easy to use and if we find any problem regarding it's usage, it's amazing Support is available for us.
I would definitely recommend this to new customers.
Avantages
I found it very easy to use and customize. While we were using the TeamSupport, we just got an issue regarding the customization, then we contacted the Support of TeamSupport and got the reply within 1 hour. Their Support which runs 24/7 is just amazing. They provide the ability to create custom field which is really helpful for people dealing with a lot of date regarding sales and purchase etc.
Inconvénients
Although, it's very difficult to tell what I liked least about the TeamSupport. But still, I will suggest some improvements like the ability to open in new tabs, more compatibility with moderate specs PCs, email integration and more details regarding the creation of the tickets like place of the creation of the tickets.
Secteur d'activité : Banque
Taille de l'entreprise : 2–10 employés
Logiciel utilisé

tous les jours

pendant

6 à 12 mois

Provenance de l'avis
---
Inventory Management
I personally like Team Support as it has optimized our business operations considerably. We create support tickets on this platform. We are able to track our inventory, we are able to create support tickets and keep them open till the issue is resolved. We are able to schedule email reports about the overall use of our company time and resources. We are delighted to see that Team Support is bringing new features on a periodic basis.
I truly appreciate the webinars conducted by Team Support where they talk about new features and how to make best use of the software. I have acquired some interesting insights during the webinars and passed it on to my peers.
Overall we like Team Support as it meets our current requirements and expectations .
Avantages
I primarily use Team Support for Inventory Management.
I like that I am able to search a terminal based on the serial number alone.
It is helpful to leave a note for each terminal, I use the notes to indicate the current status of a terminal, whether it is ready to be loaned out or if it already been loaned etc. Team Support has a provision to assign an inventory item to a Customer. I find that very helpful.
I like the feature where I am able to schedule the reports to be emailed to more than one email address. These reports need to be sent at particular time and day without fail. Auto scheduling the email report saves me a lot of time and complications.
I also like the fact that Team Support is compatible for API Integration. We are looking to develop a centralised platform in our firm and want to be able to fetch info from Team Support for Data Analysis. This is in our pipeline and we are looking to implement this sometime in the future.
In the past the upper management used to shoot us emails enquiring about the particular issue. It takes up our time to email the management back with the status of that issue. Now the upper management simply logs into team support to view and oversee the status of a ticket/issue
Inconvénients
However, the frustrating part of Team Support is the reporting section. When I open up the inventory report, it displays a list of all the terminals I have added to the inventory and when I want to get more information on a particular terminal, I notice that I cannot click on the terminal to navigate to that terminals page. Not only that, I cannot copy the serial number of the terminal from the inventory report. This applies to pretty much all the reports. All reports are in read only format. I humbly request Team Support to make the items on the report as clickable and actionable in the future.
Pourquoi passer à TeamSupport
Our admin staff is not technically savvy. Only our admin staff will be using Team Support on a regular basis. Our admin staff mentioned that other products were too technical and difficult to follow in terms of operation and usage. The staff found Team Support very easy to follow and use it. Also we wanted something simple for basic record keeping to start with.
Secteur d'activité : Logiciels
Taille de l'entreprise : 11–50 employés
Logiciel utilisé

toutes les semaines

pendant

6 à 12 mois

Provenance de l'avis
---
The capacity of TeamSupport to consolidate is one of its most notable characteristics.
In conclusion, TeamSupport is an all-inclusive customer support system that provides a variety of strong features to aid companies in managing their support operations effectively. Larger companies with complex support requirements can benefit from the software's high degree of customizability and availability of powerful reporting and analytics tools.
Avantages
efficiently handle client queries and record interactions.Real-time updates from the software enable team members to collaborate on customer support issues, which can be allocated to particular team members or divisions.
Inconvénients
For businesses that only need the most basic client assistance features, the software's extensive feature set may not be required.
Secteur d'activité : Services et technologies de l'information
Taille de l'entreprise : 11–50 employés
Logiciel utilisé

tous les jours

pendant

plus d'un an

Provenance de l'avis
---
RodsReview
Been on the system of a year and half and the same issue still plague me. I have submitted Numerous Feature Request and the sit in Pending or are denied. I have Many Many open Cases that are Bugs and they seem to go no where as well. I have one in particular the happens to me every day, But was told it wasnt a over all a big deal, and the work around is to copy and paste my action to a notepad, Hit Refresh on the Ticket, Start a new Action, Copy and paste my notepad back into the New Action. This seems a little much. I was also told of a Feature that was very important to us, would be coming. After a month or two on the system I inquired about it, and was told, nope cant do it. We constantly have to refresh the interface, Hangs up a lot. System Performance is a big issue. Does seem that all the server issues that were going on are better, but that was painful. We get a ton of SPAM cases, There needs to be a way to filter that by domain name.
Avantages
-Its Cheap per seat,
-Its customization of fields
Inconvénients
-Being able to share a custom field between company and ticket, This is huge to us, Salesforce did it.
-Your Text Formatting and editor is terrible. It constantly changed font sizes
-The fact the you always have to refresh and update. If you have a ticket open on your tabs and something comes in, you have to refresh or close and reopen. Your new Screen capture program as it is easier to use the quality is terrible compared to what was there a year ago or whenever it was switched out.
-The fact that I dont get my submits actions sent to my email, This needs to a field I can chose to receive or not
-The fact that you cant duplicate a ticket
-Cant Create Ticket Views for Individual user
-Need Action the Save button at the top of the action as well as the bottom.
-NeedFloating Formatting bar
-Add option to minimize or +/- actions on ticket page
-A way when a customer has multiple tickets open, and replies to the wrong ticket - To be able to move/merge that action to the proper ticket.