En savoir plus sur EZOfficeInventory
EZOfficeInventory est une solution de gestion des équipements et de la maintenance conçue pour les entreprises de toutes envergures. Ce logiciel cloud s'adapte à votre manière de travailler et est accessible de n'importe où, en toutes circonstances. Suivez vos articles à travers différents emplacements et services, lisez des codes-barres directement depuis votre téléphone, rationalisez la maintenance des articles pour en stimuler l'aspect fonctionnel, assurez des niveaux de stocks optimisés en toutes circonstances et gérez tous vos utilisateurs et fournisseurs avec une solution unique. Le module de gestion des stocks permet aux utilisateurs de suivre les niveaux d'inventaire avec des codes QR et des balises de code-barre. EZOfficeInventory comprend une application mobile dotée d'une fonctionnalité de lecture de codes-barres et de codes QR : vous pouvez donc suivre votre inventaire où que vous soyez. Le suivi GPS offre aux utilisateurs la possibilité de suivre la localisation des articles et de surveiller leurs équipements sur une carte interactive, afin d'identifier les équipements perdus ou égarés. La solution propose une API REST qui s'intègre à d'autres systèmes REST. Le reporting et les tableaux de bord personnalisés aident les utilisateurs à suivre et surveiller les équipements. Les utilisateurs peuvent analyser les données historiques d'inventaire et prendre des décisions relatives à leurs pratiques de gestion des stocks. La solution s'intègre également à des applications tierces telles que Zendesk, Jira, Dropbox, Active Directory et OneLogin. EZOfficeInventory propose des abonnements mensuels et annuels qui incluent une assistance par téléphone, par e-mail et via une base de connaissances en ligne.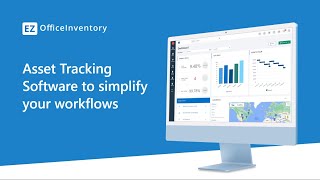 EZOfficeInventory n'est pas disponible en version gratuite mais propose un essai gratuit. La version payante de EZOfficeInventory est disponible à partir de 40,00 $US/mois.
Version d'essai gratuite :
Produits similaires à EZOfficeInventory
Évaluation des fonctionnalités
Taille de l'entreprise : 51-200 employés
Logiciel utilisé

tous les jours

pendant

1 à 5 mois

Provenance de l'avis
---
Very easy to use and understand. Great user interface. Editing is a breeze!
This software is taking me from several huge spreadsheets and no photos to a streamlined, searchable, history tracking, photo attached inventory system. No longer do I have to track multiple files and spreadsheets. It is all in one place.
Avantages
It is FAST and very simple to use. I can change records so easily if I need to correct or edit anything. Adding custom fields is great for unique data. Searching is with the ability to search multiple terms at once. Filtering allows me to further 'drill down'. The three different types of items make it simple to separate company owned, client owned and disposable inventory. Adding photos and other documents is also very easy. Managing photos is fairly simple, but see 'cons' below. User permission has a very deep control mechanism allowing viewability to be finely tuned and managed as needed. The cart feature is awesome for checking out multiple items at once. You can then check in the same cart for fast returns. Searching with the mobile app via text, or scanning QR codes is blazing fast. Zero time is wasted waiting on EZO. Any lag is all on me. I use this software to track items in a photo studio, the things that belong to our clients that we are photographing. As such, we must isolate those items so that there is no client crossover. This works great!
Inconvénients
As of this writing (5/2018) the view is not 'responsive' to your screen size. It is also not possible to manually resize column widths. Some views allow you to hide the right sidebar while others do not. This is promised to be an updated feature coming in 7/2018. When interacting with individual records after a search, it is not possible to return to the search results. The search must be repeated. There is no feature to create shelf barcode or QR code labels. Must use external software, but you can easily link those, one by one.
Secteur d'activité : Divertissement
Taille de l'entreprise : 51-200 employés
Logiciel utilisé

toutes les semaines

pendant

1 à 5 mois

Provenance de l'avis
---
Finally a Great program for Inventory/asset tracking
Avantages
This program has lots of great features. I think the mobile scanning is one of my favorites. Any of my staff can see something that needs a repair scan the bar code and request a repair. My maintenance staff gets a notification and knows what to repair, where the item is located and if its under warranty and who to contact all thru the EZ Office program. Each new item registered you can put in the warranty information and get notifications if they are expiring. The staff can reserve assets so the other staff knows that its not available if they need it at the same time. This will safe us a lot of over booking issues.
Inconvénients
The set up is a little bulky. You can upload excel spreadsheets that during set up which is great but you have to create all the custom fields that you want (see on your demo). They do have lots of blogs or videos that help with this and they are pretty quick within 24 hrs to respond to your questions. But normally their response is to direct you to a blog or video rather than walking you thru it.
Pourquoi passer à EZOfficeInventory
EZ Office offered more things that I needed at a comparable or better price point.
Secteur d'activité : Design
Taille de l'entreprise : 51-200 employés
Logiciel utilisé

toutes les semaines

pendant

plus de deux ans

Provenance de l'avis
---
Helpful once you've fully figured it out
Avantages
The specific features – once you really understand them, they're quite helpful and fast to use.
Inconvénients
That almost everything is not where I'm looking for it. I wish this software was more intuitive.
Secteur d'activité : Biotechnologie
Taille de l'entreprise : 501-1 000 employés
Logiciel utilisé

tous les jours

pendant

6 à 12 mois

Provenance de l'avis
---
EzOfficeInventory is an inexpensive option to track inventory
Due to AIN not being default option when I started with company the assets were a mess.. I had to export the inventory than sort by group and assign AIN numbers and import back in. Asset stocks were even worst as it does not auto search when using description so we had HP Dock, Lenovo Dock, Docking station. Basically whatever the person input at the time of adding so I had to export and fix that. It would of been nice if it had prompted you have dock group do you want to use this group?
Avantages
You can track really as much info as you need. We only need to tract asset tag and who it is checked out to. But as a business you can even track how much you paid for each piece when you add to stock. So it allows as little or as much as you need to track.
Inconvénients
Would of liked another category for assets for available inventory not checked out as we add them. How we are working around this is we modify our AIN number to put it into another group for reporting. The default option using Asset # is not a good choice because you can not change this number so if using it as default when you retire a system your going to have gaps in this number making it more difficult to track how many assets are in use or available at this time. Default option should be AIN.
Secteur d'activité : Construction
Taille de l'entreprise : 11-50 employés
Logiciel utilisé

tous les jours

pendant

Essai gratuit

Provenance de l'avis
---
Simple solution to help track assests
This is a simplified program, great for easy set up. We unfortunately needed a different software program that could be used in the field, have GPS and could provide the tags and trackers. Great customer service, and the price is excellent for what it is.
Avantages
Great customer service, affordable, and fairly easy to use.
Inconvénients
Needs more tracking features, and the ability to integrate other software such as GPS
Alternatives envisagées 
Tenna
Pourquoi passer à EZOfficeInventory
Did not choose EZO