En savoir plus sur Vincere
Vincere est votre nouveau système d'exploitation pour le recrutement. Un système d'exploitation moderne spécialement conçu pour les agences de recrutement du monde entier. Une plateforme technologique unique pour rationaliser les opérations de front, middle et back office des entreprises de recherche de cadres, de contrats à durée déterminée et de contrats d'intérim. La suite de modules de Vincere est élaborée de manière native et préintégrée dès le premier jour : - Vincere Core CRM/ATS - Mobilisez : site web et CMS (Content Management System), portails clients et candidats - Renseignements : IA (intelligence artificielle), analytique et tableaux de bord personnalisés - Payez et facturez : intérimaire, contrat, planificateur d'horaires, feuilles de temps en ligne, application de pointage de porte, facturation - Communications : plateforme de communication et de collaboration par messagerie instantanée omnicanal Pour en savoir plus, rendez-vous sur le site web de l'éditeur.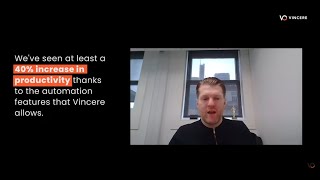 Vincere n'est pas disponible en version gratuite et ne propose pas d'essai gratuit.
Version d'essai gratuite :
Non
Produits similaires à Vincere
Évaluation des fonctionnalités
Secteur d'activité : Vente en gros
Taille de l'entreprise : 501–1 000 employés
Logiciel utilisé

tous les mois

pendant

plus de deux ans

Provenance de l'avis
---
Le meilleur outil de gestion de recrutement
Avantages
C'est pratique et intuitif . On a un système de suivi, de notation et de classement des candidats. Sans oublier le support technique qui est proactif
Inconvénients
Il est assez compliqué de migrer les données d'un autre système
Secteur d'activité : Bijoux et produits de luxe
Taille de l'entreprise : 11–50 employés
Logiciel utilisé

tous les jours

pendant

6 à 12 mois

Provenance de l'avis
---
"Finally a Recruitment Software created by people who understand how modern recruitment...
A lot of automation, from CV parsing to interview scheduling until the offer and invoicing (integrated with our Accounting system).
Teams KPI's are easy to monitor without having to ask long reporting.
Avantages
Vincere has all the features you would expect from a good system, and even a bit more with functionality which are truly useful because they make you earn time (and not a gadget nobody use after few weeks)
Automation of the flows is well though in order to be more efficient and to provide the best candidate and client experience. The client portal is a strong great, clients likes it.
The GDPR compliance tracking is simple and clear.
As they say, they're big enough to deliver but still the right size to really care
Inconvénients
Nothing so far.
As any systems things can be improved, but we can really see that our feed-back is taken into consideration.
Secteur d'activité : Génie mécanique ou industriel
Taille de l'entreprise : 51–200 employés
Logiciel utilisé

tous les jours

pendant

plus de deux ans

Provenance de l'avis
---
Functioning ATS and CRM with a team that strives to build a world-class system
We use this product to track communication with our clients and candidates and keep an overview of opportunities we are working on. This works most of the time, but could be done more efficiently.
Avantages
The product is very competitively priced and fairly easy to use, fulfilling most functions one can expect from an ATS/CRM
Inconvénients
Feature suggestions that would be useful to many users, and that have been recommended by many users, have not yet been implemented.
Pourquoi choisir Vincere 
To have a cloud-based ATS/CRM
Pourquoi passer à Vincere
Best value for money and the prospect that the young product at the time would evolve to cover all our requirements
Secteur d'activité : Recrutement
Taille de l'entreprise : 2–10 employés
Logiciel utilisé

tous les jours

pendant

1 à 5 mois

Provenance de l'avis
---
Not the real deal!
Nice idea, great marketing, a lot of raging reviews but definitely failed the test. It is definitely NOT what most reviews claim it to be.
Avantages
They have a lot of functionality and really, really good marketing
Inconvénients
All the functionality they have only works to a certain extent. There are certain bugs and roadblocks that they aren't able to fix - instead they keep adding useless features like Apple Watch integration. All the best features in the world are worthless if you can't actually use them due to their sloppy integration. The system is NOT fully customizable (even though they keep claiming it is!). I came from Bullhorn (going back again) and would estimate the Vincere system is customizable to an extent of 10%.
Secteur d'activité : Recrutement
Taille de l'entreprise : 51–200 employés
Logiciel utilisé

tous les jours

pendant

plus de deux ans

Provenance de l'avis
---
Excellent system that visualize recruiter sales funnel
I believe Vincere would be able to provide an extensive features for ATS/CRM and able to fulfill your business objectives if maximized.
While we are equipped with enough training from both Vincere Support and Internal Training on utilizing Vincere into our daily recruitment process, the system is so extensive that it would require continuous exploration to optimize Vincere utilization while maximize recruitment outcomes.
One of the issue that Vincere able to solve would be on the Candidate Tracking; with the capability to generate customized email template for each stage, from introduction to job as well as to keep ourselves with the applicants tracking in-check aligned to our business process, and has been more humanised than ever.
Avantages
I have been extensively using Vincere ever since its inception to replace our old system few years back. The expectation I have with Vincere is indeed high and I'm confident to say that after getting used with the system, all the general functions and additional features roll-out are exceptionally beyond my initial impression. Kudos to the support team for able to provide prompt troubleshooting as well as open to suggestion on improvement.
I find that #VincereWay of visualize the overview of sales funnel using stage chevron and traffic light system creates a recruiter-friendly environment even for a starter. It is easy to understand and able to focus on our work accordingly. Other features that in my top priority list would be on a LiveList and Analytics. LiveList give more superior feel of how the systems communicate with the external party at the same time, streamlining the presentation and feedback process. Analytics on the other hand provides great visualization of the progress of the team and organization, eventually improves the forecasting, quality control and decision-making.
Inconvénients
I'm sharing my thought on this as continuous improvement rather than dislikes. I believe there would be more room of improvement for vChat, possibly better in-system notification, more comprehensive mobile app functionalities (so we can be a recruiter on-the-go) as well, more intuitive UI/UX for Task feature. It would be great to have introduction training for every new feature like what we used to have 2 years back.