En savoir plus sur itslearning
Itslearning est une plateforme d'apprentissage internationale basée sur le cloud, qui fournit une solution complète de gestion et de diffusion de cours pour les utilisateurs dans les établissements d'enseignement primaire et secondaire. À l'aide de ressources générées par des fournisseurs de contenu, d'autres utilisateurs d'Itslearning ou eux-mêmes, les enseignants peuvent créer des cours, des évaluations et des outils d'apprentissage personnalisés auxquels les élèves et les parents peuvent ensuite accéder via un ordinateur, une tablette ou un appareil mobile. Les utilisateurs peuvent également collaborer avec des collègues et d'autres professionnels au sein de la solution pour recueillir des idées ou des conseils. Au cours d'une leçon, les outils de reporting et d'analytics permettent à l'instructeur de voir les résultats des affectations en classe en temps réel. Les devoirs et les projets peuvent être consultés par les élèves pour que les instructeurs puissent les évaluer à l'aide de leur propre rubrique personnalisée. Les rapports de test d'Itslearning peuvent aussi recommander des devoirs de suivi en fonction des faiblesses des élèves notées lors de leurs examens. Le prix de la solution Itslearning varie en fonction de la taille de l'établissement. Elle est disponible aux États-Unis, au Mexique et dans la plupart des pays d'Europe.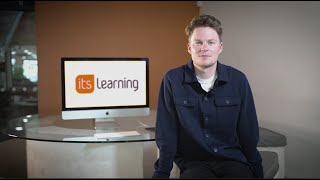 itslearning n'est pas disponible en version gratuite mais propose un essai gratuit.
Version d'essai gratuite :
Oui
Produits similaires à itslearning
Évaluation des fonctionnalités
Logiciel utilisé

tous les jours

pendant

plus de deux ans

Provenance de l'avis
---
Constantly improving product.
Avantages
Back in 2009 we were tired of the same-old, same-old we saw with North American providers and went looking in Europe and Asia to see what others were doing. We have used it for 8+ years and from the beginning (2009) it had key features that the other LMS providers here in North America lacked or charged extra to have included.
Example: Recording voice and video directly into the WYSIWYG editor. That transformed discussion boards. Exam questions could be delivered by voice or video. Student could answer similarly. The ePortfolio feature was included and not an extra integration and fee.
We actually had to turn off some features because we thought it would freak out instructors - like the feature that enabled any instructors from other organizations to enter your course, look around and ask you if they could use parts or all of it.
The point is that in 2009 this crew was ahead of its time and they have continued to add well thought-out improvements to the LMS 3-4 times annually. We are going to renew.... if they still want us.
Inconvénients
It`s time for a new discussion board (as long as we don`t lose the audio/video record features) and more flexibility with how we can integrate 3rd party apps and features as we choose (cough, cough... Zapier... cough, cough).
Réponse de

itslearning

Thanks Paul for the review and the kind words!

Maybe you've noticed the refreshed flash-free A/V recorder?

Regarding Zapier and the like...I'll forward to my product people :)

Répondu le 06/08/2019
Secteur d'activité : Gestion de l'enseignement
Taille de l'entreprise : 201–500 employés
Logiciel utilisé

tous les jours

pendant

plus de deux ans

Provenance de l'avis
---
Comprehensive and User Friendly (teacher and student) way to organize a course.
Excellent. I use it daily and for medium, long-term and collaborative course planning
Avantages
Easy to reproduce courses year to year and have a record of what was taught.
Inconvénients
See specific feature review .The rich text boxes could be more user friendly.Drag and drop and Dropbox integration would be nice.
Secteur d'activité : Biotechnologie
Taille de l'entreprise : Auto-entrepreneur
Logiciel utilisé

tous les jours

pendant

plus de deux ans

Provenance de l'avis
---
Itslearning from a student
It almost never works at school and worked sometimes at home. It wasn't very stable and did have as many great features as blackboard.
Avantages
All my classes were on here and I used it mostly to turn in assignments.
Inconvénients
There's not a lot of information you can put on in. I used it in high school and was switched to blackboard in college. I like blackboard way more. Itslearning never worked on the school wifi and it was always down. I feel like it has a lot of bugs that need to be worked out.
Secteur d'activité : Gestion de l'enseignement
Taille de l'entreprise : 51–200 employés
Logiciel utilisé

tous les jours

pendant

6 à 12 mois

Provenance de l'avis
---
itsLearning Platform - 2023 Review
We have had nothing but an excellent experience with itsLearning. A particular thank you to [sensitive content hidden] who have been nothing but supportive. The teams are well aware of the on-going demands and changes in the sector, and have done nothing but accommodate changes since we selected their platform and rolled out for implementation.
Avantages
We used the itsLearning platform to launch our new suite of hybrid programs and the platform really served its purpose. The integration of O365 was extremely useful so students were not forced to have multiple screens, and by design became a one-stop shop for us. From the student perspective it is really easy to use and navigate, and opportunities to design pages that were more interactive and included learning paths were invaluable to ensure scaffolding of learning and skills practice could be achieved before moving on. From an admin/teacher perspective the platform was really easy to use and adding new content/students was simple (even for any novice). The tracking of student engagement was also extremely beneficial and insightful for ensuring immediate intervention. We had no need to integrate other apps but the implementation team were more than helpful to support activities, and I have no doubt would support any customer in future.
Inconvénients
The platform does exactly what we needed it to do and there are no recommendations to provide. However, if you are considering itsLearning, what I can say is how regular the communications team send new updates and they are always looking to improve and remain up-to-date with sector needs more widely.
Réponse de

itslearning

Hi Laura, thank you so much for your kind words! We are happy to support you and to continue delivering a platform that fits your needs :)

Répondu le 17/02/2023
Secteur d'activité : E-learning
Taille de l'entreprise : 11–50 employés
Logiciel utilisé

tous les jours

pendant

plus d'un an

Provenance de l'avis
---
My Honest Review For ItsLearning
When I am sick, I have to watch ItsLearning to catch up on the work I would have missed on regular school days. When I'm sick, it helps because I can just ask the teacher to make tests for me since I might have big tests. Through ItsLearning, I can also communicate with my teachers, friends, and the school. This is a very convenient feature.
Avantages
Visit the website and you'll see different page cards that help you navigate to the course quickly. ItsLearning also offers ClassLink, which you can use to find the class easily. I also really like the planner page because I can see when I have a deadline. Moreover, you can contact your teacher by message if you have questions. The table also indicates the type of tests/projects due next to the plans. The dashboard is pretty intuitive and lets me go about my day. It is also possible to take quizzes through the settings, and it provides multiple choice or response options.
Inconvénients
There isn't much information you can put in it. As a high school student, I used it, and as a college student, I switched to Blackboard. Blackboard is my favorite. School WiFi always caused problems with itslearning. The program needs to be updated. It always crashes when the server is down. It seems that North American support is going away. But it won't be seized elsewhere. Additionally, old messages should not be placed in a separate column in the messages section.