En savoir plus sur eM Client
eM Client est un client de messagerie complet pour Windows et macOS. Au-delà de la gestion des e-mails, le système offre également des fonctionnalités de gestion des calendriers, des tâches, des événements, des contacts et des notes, ainsi que des fonctions de chat intégrées. Le logiciel prend en charge tous les principaux services de messagerie, y compris Gmail, Exchange, iCloud et Outlook365, tandis que le déploiement est rapidement mis en œuvre grâce à la configuration automatique et à l'importation de données à partir de toutes les principales applications de messagerie (y compris Microsoft Outlook, Outlook Express, Windows Mail, Thunderbird, Incredimail, etc.). eM Client offre une barre latérale multifonctionnelle contenant l'agenda quotidien, l'historique des communications et des pièces jointes avec un contact, des tâches ou un chat sélectionnés. En outre, le système est doté d'une fonction de suspension d'e-mails qui permet de retarder l'envoi de certains e-mails et de ne les renvoyer dans la boîte de réception qu'après une durée déterminée.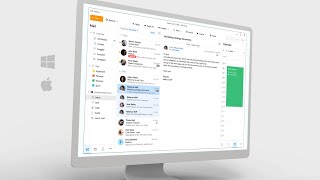 eM Client est disponible en version gratuite et propose un essai gratuit. La version payante de eM Client est disponible à partir de 34,95 €/unique.
À partir de :
34,95 €/unique
Version d'essai gratuite :
Oui
Produits similaires à eM Client
Évaluation des fonctionnalités
Secteur d'activité : Logiciels
Taille de l'entreprise : Auto-entrepreneur
Logiciel utilisé

tous les jours

pendant

plus de deux ans

Provenance de l'avis
---
Bon logiciel de mail
Hormis la partie calendrier qui ne m'a pas convaincue, pour la gestion des mails ce logiciel est top !
Avantages
La gestion des mails est simple et l'interface est agréable et très compréhensible
Inconvénients
Pas mal de soucis de synchronisation du calendrier, avec décalage dans le temps des synchro
Réponse de

eM Client

Hi Grégory, thank you for your review! We're sorry to hear you encounter calendar issues, please make sure to reach out to our support with the errors or logs if possible so we can help you resolve them or provide any fixes if needed.

Répondu le 17/01/2023
Logiciel utilisé

tous les jours

pendant

plus de deux ans

Provenance de l'avis
---
Great email, calendar, contacts, and task manager.
It has completely replaced MS Outlook. I use it multiple times a day for all my email, calendar, contacts, and task management functions.
Avantages
Synchronizes well with Google email and calendar. Easy to use layout with all of the features I want in a combination email, calendar, contacts manager. Pulls up email correspondence chain in separate view. I can customize views, categories, themes, etc.
Inconvénients
Does not have a corresponding Android version. The contacts sync has sometimes resulted in duplicate entries. There is a duplicates tool to remove duplicates but it would be nice to have an easier to use merge contacts function added.
Secteur d'activité : Vente au détail
Taille de l'entreprise : 2–10 employés
Logiciel utilisé

tous les jours

pendant

plus de deux ans

Provenance de l'avis
---
Good basic email client program (used with MS Outlook Live)
It's super-easy to setup, works well and has a clean interface. The developers keep it updated. It does all the simple things we need an email and calender/scheduling client to do.
Avantages
It's simple and the free version is good for our purposes. It is so much easier than having to log into MS Outlook everytime I want to check email. Between my wife and my self we have 4 online freemail Outlook accounts. One of them is for our business which is the most important and highly used. We have a quick and easy view of all for accounts in on window. You can prioritize accounts since uou may want to be notified for some accounts over others when email arrives. Integration is solid with Outlook Live.
Inconvénients
Sometimes the program does not update right away when opening. There are also time you have to click on the folder to see how many emails are in it. It should show this automatically without having to do anyhting. I'm not sure if this is how it operates for everyone or if it's my particular setup. I also wish they had more themes for the free version but this is hardly a big issue.
Pourquoi choisir eM Client 
Thunderbird was more complicated to setup and the interface was not as "clean" looking. It also had more features than we needed. That's not necessarily a bad thing but it just complicated things for me when setting up.
Pourquoi passer à eM Client
We used to use Windows Mail which worked fine but Microsoft discontinued support for it. After that we tried Mozilla Thunderbird (OK but clunky and ugly) and Mailbird Lite which did not have enough features at the time.
Secteur d'activité : Logiciels
Taille de l'entreprise : 2–10 employés
Logiciel utilisé

tous les jours

pendant

plus d'un an

Provenance de l'avis
---
I was excited, but terrible reliability and horrible support changed that.
The reliability is awful, but the customer service... wow. If they were any quieter over there, we'd have to be in the vacuum of space.
If I could buy this company, fire every employee and finish their system I would. I suspect they have very little development capability, or they are outsourcing all of this and that explains why getting fixes done is impossible at best.
Avantages
The interface looks great (but has issues), it's fast and has some good features, but mostly they don't work as expected.
Inconvénients
The search function doesn't work.
That's right IMAP users... No searching for e-mails. No matter what.
If I am looking for an e-mail from my #1 client, I first have to look on my cell phone, find the date and time in eM client and then sort by the Received By name. Sometimes it is there, sometimes it isn't. 99% of the time I am stuck using my cell phone to reply to people because eM client search doesn't work.
If I have an upcoming meeting, occasionally (1 time out of 30) I can find the e-mail by typing in any ONE word that I can think MIGHT be in the e-mail message. You can't search by e-mail address, or name, subject nothing.
I dealt with it for 2 years. I submitted countless documents, proof and technical information to support, and all they do is ignore me. I now am forced to just send them an e-mail every two weeks saying "Hello? Any update?" .... Silence.
I'm a software engineer. I own a software company. I told them how to fix all of it. I offered for free, since it's been 2 years. They're not interested at all in fixing it.
Beyond that, e-mails in the inbox show that they are from different people, people that I haven't talked to since I created my e-mail account. Why you ask? They blame it on "incomplete headers". I submitted header comparisons between all sorts of mixed up messages showing no difference... What was their explanation? Nothing. Silence.
Secteur d'activité : Internet
Taille de l'entreprise : Auto-entrepreneur
Logiciel utilisé

Autre

pendant

1 à 5 mois

Provenance de l'avis
---
Great Product, Just One Major Kink
I had to uninstall eM Client and go back to Thunderbird which has a lot more functionality than eM, but I don't need all of that. I liked that eM was a kind of "middle of the road" (just the right amount) of functionality/features AND they have a nicer GUI than Thunderbird (more modern). But, the syncing errors and issues just drove me crazy. So, I'm back with Thunderbird for now. I may try them again in the near future to see if the kinks were worked out or if it just all of a sudden will sync right with my accounts, because they are worth a second look. If you are someone that needs a little more than just very basic functions, but don't want over kill and aren't a highly advanced email client user, then I will definitely consider eM Client. You may not encounter the issues I did....they are worth a look!
Avantages
I loved the UI of the email client and that they allowed a few emails accounts in their free version. I loved the price on the full/pro version as well and was going to purchase if it weren't for one large kink....But, I will say this: even though the issues wasn't resolved in my case, the customer support and moderators on their forum were all very helpful and responded pretty quickly. I just wish the issue had been able to be fixed because I really did like the software, functionality/features it offered, and the price point to be able to add all my email accounts.
Inconvénients
I kept having sync error problems with my MS emails and my Gmail. I didn't have 2FA initialized so an app password was not needed. Using my email and login (standard setup) should have worked just fine, but i think that there were syncing or connection issues at the time I used it.
Pourquoi choisir eM Client 
I wanted something with a more modern UI, and slim-lined, a little less features so I didn't get lost in functionality overkill.
Pourquoi passer à eM Client
Didn't have the possible spyware (Facebook plugin) that MailBird has and Mailbird was fairly pricey due to all their features. Mailspring was fine, but then started glitching and never responded to support emails asking questions on how to fix, so I just completely uninstalled that one.