En savoir plus sur Safetica
Safetica fournit des solutions DLP (Data Loss Prevention) pour sécuriser les données sensibles et assurer la conformité aux règlementations. Les clients peuvent choisir parmi des solutions sur site (Safetica ONE) et dans le cloud (Safetica NXT). Safetica NXT (cloud natif) Safetica NXT est une solution DLP SaaS de nouvelle génération qui couvre les scénarios clés de sécurité des données grâce à la détection des incidents de points de terminaison axée sur les risques et optimisée par l'analytique des données. Choisissez Safetica NXT si vous recherchez : - Une solution DLP avec console de gestion cloud - Des paramètres simples que les administrateurs informatiques peuvent gérer avec les capacités actuelles - Des abonnements mensuels ou annuels Safetica ONE (sur site) Safetica ONE fournit une prévention tout-en-un des pertes de données et une protection contre les menaces internes avec audit de l'activité des utilisateurs et contrôle de l'espace de travail. La fonction DLP sur site de niveau entreprise couvre une gamme complète de scénarios de sécurité et prend en charge la productivité de l'entreprise. Choisissez Safetica ONE si vous recherchez : - Un logiciel DLP sur site fonctionnant en interne - Des paramètres détaillés autogérés par une équipe dédiée - Un contrôle de l'espace de travail et une analyse du comportement avancés - Des intégrations tierces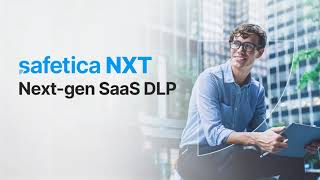 Safetica propose un essai gratuit.
Version d'essai gratuite :
Oui
Produits similaires à Safetica
Évaluation des fonctionnalités
Secteur d'activité : Pétrole et énergies
Taille de l'entreprise : 10 000+ employés
Logiciel utilisé

tous les jours

pendant

plus de deux ans

Provenance de l'avis
---
No confidential data leaks thanks to Safetica.
With the help of Safetica we keep a good control of the handling of our data, no person can steal our information, it is a very necessary software, since we do not want any important information to leak, the analysis of the behavior of the employees helps to prevent any suspicious attempt to steal information, I recommend it to companies with a large flow of information.
Avantages
It is a totally effective system, it is very easy to use, its deployment is very good, it is intuitive, the analyzes are detailed and the concerns about information leaks have disappeared thanks to the security provided by Safetica. We implement it on our premises and in the cloud, technical support is fully responsible.
Inconvénients
It is a product that offers the ideal solutions to protect and avoid data leaks, we have overcome all the barriers in the implementation, since it is a software with a simple learning curve and with fully understandable functions for new and old users.
Secteur d'activité : Conseil en gestion
Taille de l'entreprise : 10 000+ employés
Logiciel utilisé

tous les jours

pendant

plus d'un an

Provenance de l'avis
---
Master security software for endpoint management and data loss prevention. Best of all !
Its great till date. Safetica is best of all DLP solutions used so far. It is a cost effective solution with high catchment rate which ensures 100% proactive detection of endpoints and managing them effectively in speedy manner. It is easy to operate and can be taught to a non tech professional as well. Quite an advanced security solution for endpoint management and restriction of malware entry and threat attacks.
Avantages
It helps in endpoint management and ensure no data leakage case is observed. It is one of the best security softwares for data loss prevention and ensuring data security in all IT devices and softwares. The application is marvelous as it helps in easy integration with 3rd party application and devices without any hiccups. It ensures high level data security and there is no data breach at all. The most confidential information remains secure and there cannot be any data leak. It is not costly at all due to which it attracts high demand and traction from all software companies for ensuring data security intact.
Inconvénients
Every feature is just perfect .Though, It just need little customsations and improvisations to improve the overall performance of the software. The application often slows down when server is heavily loaded and shutdown. It is also advised that security features should be upgraded as per market advancement. Peer feedback is most essential and is should be there in public domain in sufficient numbers
Pourquoi passer à Safetica
Safetica is one of the highly recommended and well tried security software by majorities till date. it helps in managing the data security and sanctity in comprehensive manner by providing all round 24*7 protection which ensures no data breach or data threat at all. Threat prevention and security management becomes an effortless and seamless task with Safetica. A Master piece security software in today's world.
Secteur d'activité : Services et technologies de l'information
Taille de l'entreprise : 201–500 employés
Logiciel utilisé

tous les jours

pendant

Essai gratuit

Provenance de l'avis
---
Safetica trial usage experience.
First steps was pretty nice, easy to deploy, nice user-friendly interface.
Good detected precipitation, but configuration of policies is not so simple like it looks at first sight. And Police hierarchy not working properly, some time police number 3 take action, some time police number 1 overtake control, and it in random state. And even support team was not ably to help, they give a try but with every day they answered less and less, after all support guys just despaired.
Safetica have good detection precision but this cost pretty much for endpoint, with small number of policies and rules simple task some time caused PC freezes and lags, on simple file transfer CPU was overloaded.
Can tell for sure that I have bad experience with Safeties ONE.
Avantages
Very easy to deploy, nice and user-friendly policy configuration.
Inconvénients
Endpoint influence on endpoint, support team.
Secteur d'activité : Sécurité et enquêtes
Taille de l'entreprise : 51–200 employés
Logiciel utilisé

tous les jours

pendant

plus de deux ans

Provenance de l'avis
---
Safetica my protection shield !
what a best experiance i did it, Safetica make my data very protected from loss prevention and insider threat for many years. I encourage anyone concerned about security to try it. For me I will give it five stars
Avantages
what i loved about Safetica how the securty fonction on my data Especially Work related
Inconvénients
maybe the last update generally the form of the platform
Secteur d'activité : Services financiers
Taille de l'entreprise : 10 000+ employés
Logiciel utilisé

tous les jours

pendant

6 à 12 mois

Provenance de l'avis
---
Safetica enables the data loss prevention by mitigating threat risks. Threat management in...
Its great till date. One of the best endpoint management software for ensuring no threat attacks into our systems and devices. It helps in building the governance and ensuring no compliance issues under any circumstances at all. No risks of data threat or data loss at all as its the best platform for securing the devices, cloud servers and applications completely.
Avantages
Safetica is the best solution for bringing compliance management and reduce threat attack.
It helps in reducing the data leak or data loss in best possible manner.
Data protection is done in the best possible way through bringing data loss prevention approaches and methods.
Cost effective solution for ensuring the database management and ensure complete endpoint detection and threat management effectively.
Integration with external devices helps to maintain data security throughout and no loss of information at all.
Inconvénients
Sometimes, we often face integration issues with few dashboards and devices which poses threat alerts and notifications from security point of view. Also, the trial version of this security solution needs to be extended for some long time so that all businesses should use the features and functionalities properly before taking the buying decision throughout.
Pourquoi passer à Safetica
Safetica was chosen above other vendor solutions due to its high security management performance throughout the work flow cycle. It's the best end point management software available at low price. It brings the data security at its best and there is not a loss of even 1% of the data under any circumstance. It is highly customizable and keeps updating their offerings and services now and then with upgrades and version control. Its renewal of annual agreements is easy without any trouble.